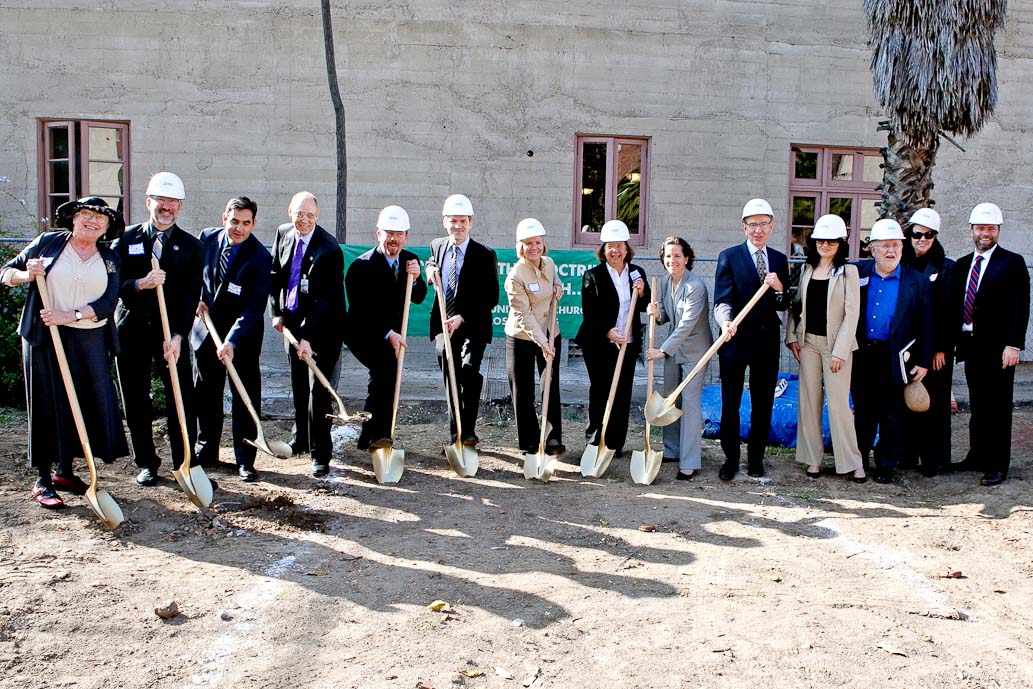 Community Members celebrate groundbreaking at Caroline Severance Manor in Los Angeles, Calif. (photo by Amy Sullivan)

Community Members celebrate groundbreaking at Caroline Severance Manor in Los Angeles, Calif. (photo by Amy Sullivan)
LOS ANGELES, CA – Mercy Housing California broke ground and celebrated the start of construction on its newest affordable housing community in Los Angeles – Caroline Severance Manor – on Wednesday, November 16, 2011, with a ceremony at the First Unitarian Church of Los Angeles, 2936 West 8th Street, Los Angeles, California 90005 with a speakers program, turning of the dirt and luncheon.
To be constructed at 2924 & 2914 West 8th Street and 2933 & 2941 Francis Avenue, adjacent to the First Unitarian Church of Los Angeles, Caroline Severance Manor is located in the Mid Wilshire / Koreatown neighborhood of the City of Los Angeles. Construction on this 85-unit supportive housing and family property begins immediately and is expected to be completed Spring 2013.
The five-parcel property was assembled in partnership with the Community Foundation Land Trust of the California Community Foundation and the First Unitarian Church of Los Angeles, which owns a childcare facility on two parcels, and acquired two nearby parcels for a parking lot. The fifth parcel was acquired by the Land Trust to complete the assemblage. Mercy Housing California is working with the Church and the Ketchum YMCA of Downtown Los Angeles to plan a mixed-use community that will include structured parking for the church and a licensed childcare center in a new development for families, a portion of which will be supportive housing for homeless individuals and families living with severe mental illness. It is anticipated that approximately 56% of the apartments will be designated as supportive housing. Thirty (30) one-bedroom units will be designated for adults (26 to 56) living with severe and persistent mental illness and eighteen (18) of the larger units will be designated for families with children (ages 0 to 15 years) who are dealing with severe emotional disturbances and who have been or are at risk of being removed from their homes by the County.
In a unique partnership with the Los Angeles County Departments of Mental Health, the family units will be targeted to Kincare Families—that is, households in which children are cared for by a relative other than their parent. In order to achieve the best outcomes for children, these families frequently require the extra support that Caroline Severance Manor will provide.
Caroline Severance Manor Financial Partners:
Community Foundation Land Trust of the California Community Foundation
California Housing Finance Agency
Community Redevelopment Agency of the City of Los Angeles (CRA/LA)
Enterprise Community Partners
Federal Home Loan Bank of San Francisco
First Unitarian Church of Los Angeles
Housing Authority of the City of Los Angeles
Los Angeles County Community Development Commission
Los Angeles County Department of Mental Health
Los Angeles Housing Department
The California Endowment
Wells Fargo Bank
Caroline Severance Manor Development Team:
Architect: Togawa Smith Martin, Inc., Architects
General Contractor: Benchmark Construction, Inc.
Property Management: Mercy Housing Management Group
Resident Services: Mercy Housing California, Telecare Corporation and Hope Street Family Center
ADDITIONAL BACKGROUND INFORMATION:
About Mercy Housing California

Mercy Housing California (MHC) is the largest regional division of national nonprofit Mercy Housing, Inc. (MHI), headquartered in Denver and founded in 1981 with the mission to create stable, vibrant, and healthy communities by developing, financing and operating affordable, program-enriched housing for families, seniors and people with special needs who lack the economic resources to access quality, safe housing opportunities. To date, with a presence in 44 states, MHI has developed, preserved and financed more than 40,000 affordable homes nationwide, both rental and single family, serving more than 137,000 adults and children on any given day. In addition to Caroline Severance Manor in Los Angeles, and numerous projects in development statewide, Mercy Housing California has developed 125 rental properties across 36 counties serving low- and very low-income working poor families, senior citizens, persons who are homeless, people with disabilities and persons living with HIV/AIDS. To date, MHC has developed 10,654 affordable homes in California - 7,652 in rental and 3,002 in homeownership. For more information about Mercy Housing, please visit www.mercyhousing.org.
About the First Unitarian Church of Los Angeles
Founded in 1877 by Caroline Severance, a leader of the suffrage movement and a tireless advocate for the rights of society's least powerful, First Church has carried her vision through the decades. The small, vibrant congregation of First Church is an exceptionally diverse group of people who share a firm commitment to trying to make the world a better place. The congregation is characterized by energy, freedom of speech, concern for social justice, a realistic intent to grow the membership and a desire to move ahead with realizing Unitarian Universalist (UU) Faith principles in community life. Its members embrace First Church as a place where they can actively affirm and support UU principles and demonstrate those values through service to the larger community.
About the Community Foundation Land Trust
The Community Foundation Land Trust mission is to acquire and preserve land to create a range of affordable housing opportunities for low-income and working families in targeted communities. Established in 2003 as a supporting organization of the California Community Foundation, the Community Foundation Land Trust (CFLT) provides an innovative way to leverage investments in affordable housing and achieve long-term housing affordability for low-income individuals and families in Los Angeles County. CFLT works with public and private partners to preserve neighborhoods as communities of choice for diverse families and individuals, and to create affordable housing near workplaces, schools and services. CFLT retains long-term ownership of the land it acquires to ensure the preservation of housing opportunity for generations. CFLT works in tandem with the California Community Foundation's competitive grant-making in affordable housing to create a comprehensive Housing and Neighborhoods Program to support stable, livable communities for low-income people. Since its inception, the CFLT has invested more than $24.5 million to initiate the development of more than 550 homes. Another 842 homes and investments of $7.8 million are in the planning stages. These include both for-sale and affordable rental units. CFLT is doing its part to boost the local economy and build the future of Los Angeles. Our initial investments result in even larger economic benefits: affordable homes, well-paying jobs and better communities.
About Caroline Severance
Caroline Severance (January 12, 1820 – November 10, 1914) was born in New York and graduated from the Female Seminary of Geneva, New York, in 1835. She taught in private schools until, in 1840, she married banker Theodoric Severance. She moved with him to Ohio and later to Boston. She became involved in reform causes that her husband and his family supported, including women's rights and abolition. While the name of Caroline Severance is not one of the best-known in social reform and women's rights, she was instrumental in the founding of a number of organizations. She attended national and regional Woman's Rights conventions, and, in 1866, helped Susan B. Anthony found the Equal Rights Association. In 1867, with Lucretia Mott, T. W. Higginson and others, she helped to found the Free Religious Association. In February 1868 she and others founded the New England Woman's Club which she served as president until 1871. With Lucy Stone she helped found the American Woman Suffrage Association in 1869. After the Severances moved to Los Angeles, California, in 1875, Caroline Severance continued her active efforts. She helped establish kindergartens, founded the city's first Unitarian congregation with her husband, and helped to begin three successive woman's clubs. The third, the Friday Morning Club, was in the center of social reform efforts for the city. Caroline Severance continued her work for woman suffrage, was active in the campaign of 1911 which secured the vote for California women, and at age 91, she became the first woman in California to register to vote.
# # #