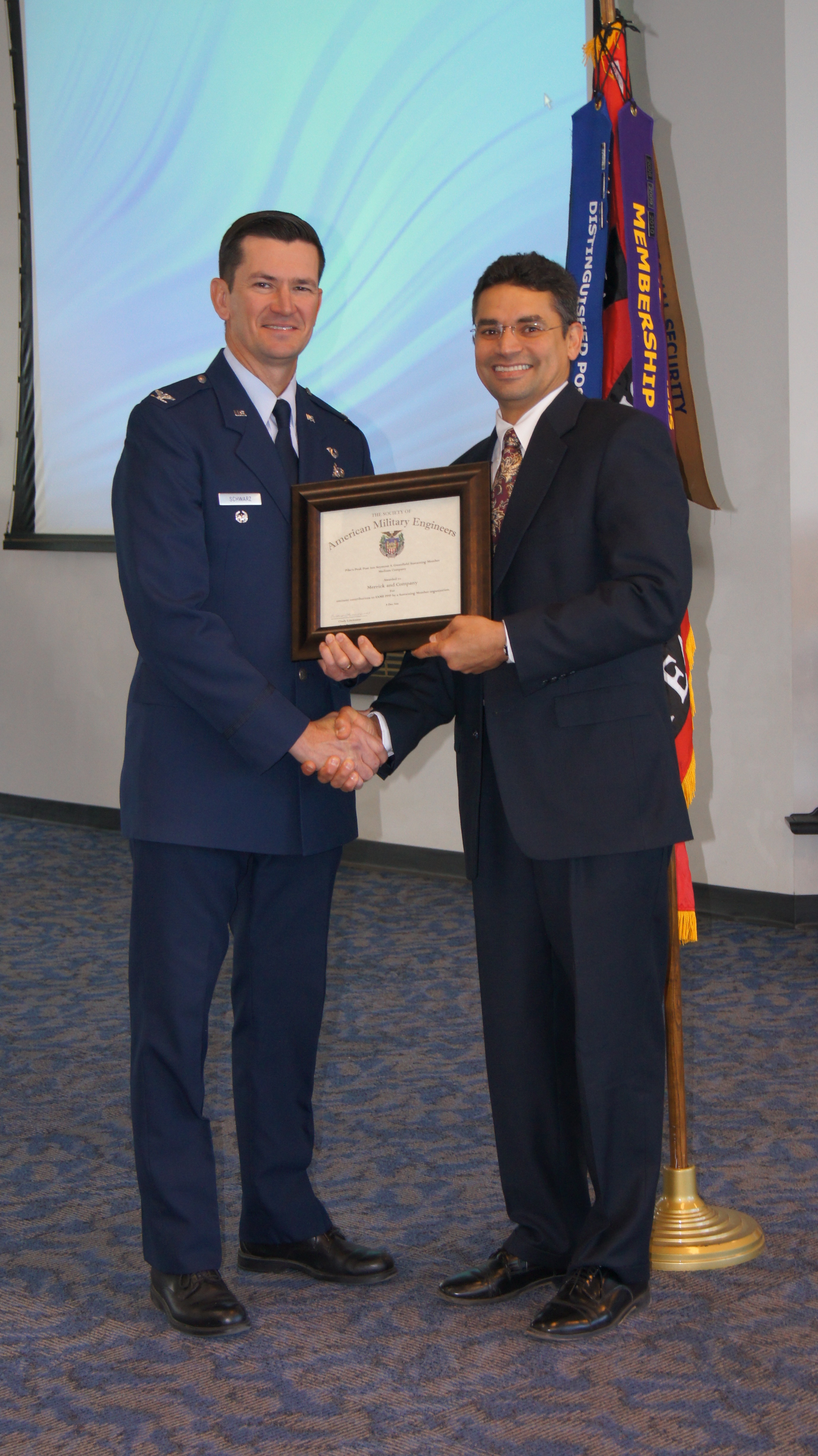 Merrick & Company (www.merrick.com) was recently presented with two awards by the Pikes Peak Post of the Society of American Military Engineers (SAME). Because of Merrick's local contributions, leadership, community activities, planning, and support to SAME; the company received the Pike's Peak Post 2011 Seymour S. Greenfield Sustaining Member Medium Company award, and based on the recommendation of the Post, Merrick is currently being considered at the National Level for the award.
Merrick's own Ruben Cruz, Ph.D., PE, Project Manager, was awarded the SAME Rocky Mountain Region Vice President's Medal for his continued commitment to the Post. In between his work on projects, Cruz's participation with SAME includes his membership on the Board of Directors, committee Chair positions, and community activities. He has also presented seminars to the Pike's Peak Post and other SAME posts on topics like, "Procedures and Practices for Privatization of Military Family Housing," and "Geotechnical Engineering for Air Force Project Managers." Cruz offers over 25 years of engineering experience and leads many of Merrick's infrastructure projects including facilities management work, specifically for the United States Air Force Academy; land development, roadway, water resource, and drainage projects.
Merrick & Company is a $125 million engineering, architecture, design-build, surveying, and geospatial solutions firm, serving domestic and international clients in the energy, national security, life sciences, and sustainable infrastructure markets. The firm is committed to sustainable design and construction practices through its 60+ LEED-accredited professionals and is continually expanding its in-house resources to serve tomorrow's needs. The employee-owned company maintains 10 offices in the U.S. as well as offices in Canada and Mexico.