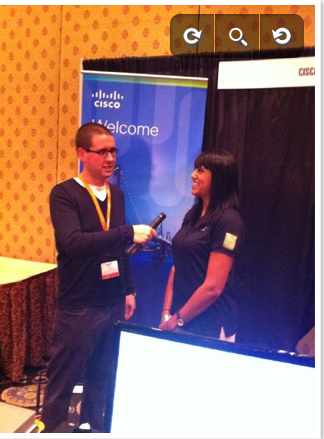 Bellagio, Las Vegas -- Metaswitch has once again raised the bar. Nearly 900 attendees, multiple partners and customers, a magic act that included a dog and a [stuffed, thanks Bellagio] pony, and a brilliant introduction by master of ceremony Steve Gleave, all added up to one MAGNIFICIENT Metaswitch Forum 2011 opening.

Mr. Gleave, Vice President of Marketing for Metaswitch, introduced the meaning behind The Power of M , colorfully explaining the Big 6 of Ms - Management, Multimedia, Migration, Monetization, Mobility, Mosaic. He topped those off by adding a 7th 'M' to rule them all, as it were, Metaswitch. It was a superb presentation, well thought-out, precisely executed, and thoroughly entertaining.

Other executive presentations were:
+ "The CEO Report - E(M)bracing Change in the New Communications Market", by CEO, Kevin DeNuccio
+ "An M-Powered Business" by Executive Vice President, Graeme MacArthur
+ And several Product Strategy Reviews with Metaswitch Staff, including: Simon Williams - SVP Product Management and Product Marketing, Stephen Barnes - Vice President Global Wireless, Matthew Finlayson - Vice President, VoIP and Voice Applications, Piers Finlayson - VP and Head of 4th Generation Communications Product Area, Patrick Fitzgerald - Vice President for SIP Infrastructure and Solutions Marketing, and Martin Taylor - Chief Technical Officer.

Mosaic Partner presentations were well-attended, with packed-houses listening to: Adtran, Cordell, NETXUSA, One Access, Aastra, Polycom and Edgewater.

This year's Forum is also home to a frenzied tweeting community, all using the official event hashtag, #mforum11. Metaswitch encouraged the conversation by awarding cash to the authors of the best tweets.

Tweet of the Moment Winners (each getting a $5 poker chip) included:
Jeremy Hendricks - BTC Broadband, Dave Holzer - Emery Telcom, Jeff Earhart - Earhart Engineering, Doug Mohney - HD Voice, and Jeff Willoughby - Surewest.

The grand prize - $100 chip for Tweet of the Day - went to Jason Brain of Telnet.

The night was capped off with a festive soiree at the Wynn.

Indeed, a great and informative time had by all.

Metaswitch: The Power of M.