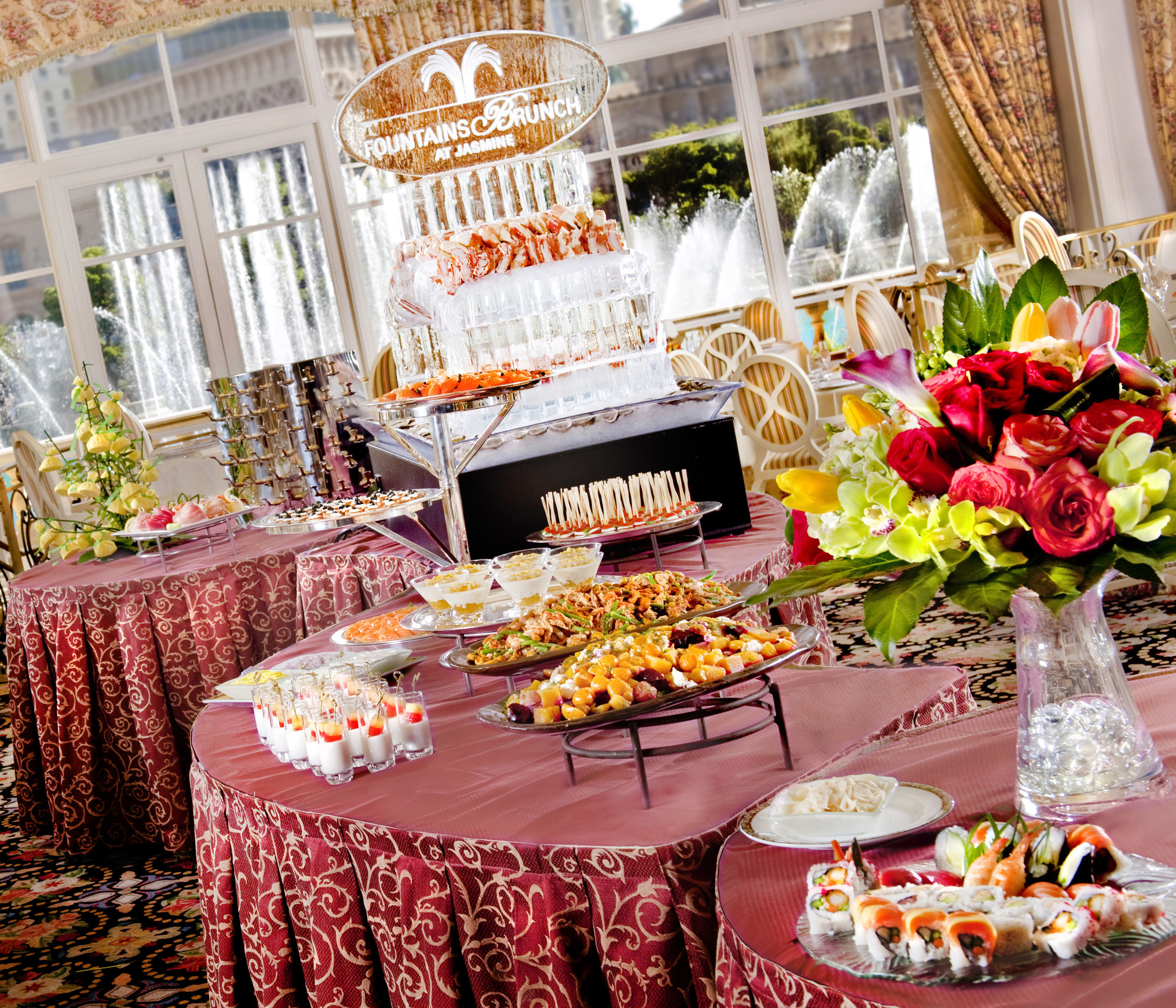 A Mother's Day She Won't Soon Forget – Sunday, May 13
This Mother's Day, show your love and appreciation for mom "Las Vegas-style" with one-of-a-kind experiences that can only be found at MGM Resorts properties.
For more information about Mother's Day dining at MGM Resorts, please contact Janae Melvin, Public Relations, (702) 891-1877 or jmelvin@mgmresorts.com.
For more information about the spas at MGM Resorts, please contact Sara Gorgon, Public Relations, (702) 891-1812 or sgorgon@mgmresorts.com.
It's Easy Being Green on Earth Day – Sunday, April 22
With Earth Day around the corner, here are a few ways MGM Resorts properties are showing their commitment to sustainability and environmental stewardship.
To raise awareness about sustainable seafood, Shark Reef Aquarium at Mandalay Bay provides pocket guides that educate guests about making the right choice when it comes to choosing what fish to consume at restaurants such as Rick Moonen's rm seafood and Border Grill, which are committed to serving sustainable, yet flavorful, seafood options.
The Mirage has created five unique cocktails that feature organic spirits, fruit, juices and garnishes giving guests a clean, pure drink to enjoy. The Naked Mojito, Gaia Mary, Smoke & Zen, Terra Vita Margarita and Prosecco Verde will be served at Kokomo's lounge, Onda Lounge, The Sports Bar and the High Limit Lounge April 19 - 22.
Chef Shawn McClain of Sage at ARIA is committed to using farm-to-table techniques, featuring the highest quality of seasonal produce and artisanal meats. Using ingredients that are in abundance during each season, Chef McClain works with "The Intuitive Forager" Kerry Clasby to source the freshest and most eco-friendly sustainable ingredients such as fruits, flowers, vegetables, eggs and cheeses from California and various farmers' markets.
The first spa in Las Vegas to join the Green Spa Network, Spa & Salon Vdara works with retail partners that share its concern for the environment and are committed to using organic or paraben-free products. Spa materials are printed on 100% recycled paper and the salon employs natural nail services using a vegan treatment line. Recently, Spa & Salon Vdara launched a series of treatments such as the Rejuvenating Glow, which uses a new skin care line called Skin Authority for Esthetics – utilizing pure products with no added dyes or fragrances and free from any animal testing.
For more information about sustainable happenings, please contact Shant Apelian, Public Relations, (702) 891-1887 or sapelian01@mgmresorts.com
Fight Weekend Festivities – Comedy and Cinco de Mayo
Kick off the weekend with a few laughs by taking in the Aces of Comedy series at The Mirage, featureing one of the most comprehensive and diverse comedic line-ups nationwide. The 1,265-seat Terry Fator Theatre will host "Everybody Loves Raymond" star Ray Romano & "King of Queens" star Kevin James May 4 and 5 as they bring their hilarious stand-up routines to the intimate theatre.
Boxing superstar Floyd "Money" Mayweather (42-0, 26 KOs), returns to the ring to challenge three-division world champion Miguel Cotto (36-2, 29 KOs) for the World Boxing Association (WBA) Super Welterweight World title in what will be a colossal showdown between two future Hall of Famers. Mayweather vs. Cotto will take place Saturday, May 5 at the MGM Grand Garden Arena and will be televised live on pay-per-view with the first bout beginning at 9 p.m. ET / 6 p.m. PT.
After taking in the mega-fight, fiesta up and down the Strip with a plethora of Cinco de Mayo dining options. Tacos and Tequila at Luxor starts the party with a $5 happy hour menu from
11 a.m. to 11 p.m., featuring chicken quesadillas, habanero wings, flautas and guacamole. At the Monte Carlo Buffet, enjoy plenty of Mexican choices including Huevos Rancheros, Carnitas, Tequila Lima Pasta con Camarones, Churros and Pepita Rice Pudding.
For more information about Aces of Comedy and the Mayweather vs. Cotto Fight, please contact Scott Ghertner, Public Relations, (702) 650-7508 or sghertner@mgmresorts.com.
For more information about Cinco de Mayo dining at MGM Resorts, please contact Janae Melvin, Public Relations, (702) 891-1877 or jmelvin@mgmresorts.com.
Getting Personal: Andres Garcia: Master of the Garden
Growing up on a small farm in El Salvador, Andres Garcia and his family grew corn, cotton and various herbs. It was there he gained vast knowledge on gardening and farming, sparking his desire to one day turn it into a future career. With his older siblings already taking that path, Garcia's father encouraged him to become an accountant and he even earned a degree, but has yet to work a day in that field. After working as a landscaper at Shadow Creek Golf Course, Garcia transferred to Bellagio before it opened to oversee the irrigation system. After years of dedication and hard work, he now serves as the resort's Executive Director of Horticulture.In his spare time, Garcia enjoys traveling the world with his wife, always seeking inspiration to bring back to the Conservatory & Botanical Gardens.
On view through May 13, the spring display at Bellagio's Conservatory features live, enchanting musical sounds of the harp and violin from 5 p.m. to 6 p.m. daily, a rotating windmill and carousel surrounded by a colorful floral exhibition.
With the spring season in full swing, Garcia offers a few helpful gardening tips:
One of the first things to do is to survey your garden and give it a proper clean-up. The term "spring cleaning" applies to the outside as well. Make sure you remove any weeds that have built up and be sure to stay on top of them.
When you are ready to begin gardening, make sure your plant material is properly zoned for your garden. This can be easily checked when purchasing your plants by looking at the tag.
Check the soil for proper drainage. The best way to do this is to put a tin can with a small hole at the base where you intend to plant. Next, fill the can with water and leave it overnight. If the water is not drained out completely, the soil is not draining well in this area and you may want to plant elsewhere.
Make sure to water your plants as needed according to the needs of the species or the variety of the plant. Also, the proper fertilizer for your plants is essential, which you can purchase at the local gardening center.
Proper sun exposure is just as important to the growth and health of plants as watering.
For more information about Andres Garcia or Bellagio's Conservatory, please contact Brittany Harris, Public Relations, (702) 891-1895 or bharris04@mgmresorts.com
Did You Know…
April 15 marks the centennial of the sinking of the Titanic into the icy Atlantic Ocean. Bringing to life the story of the ill-fated liner through authentic artifacts and dramatic room recreations, Titanic: The Artifact Exhibition at Luxor provides visitors the opportunity to become passengers and experience the tragic events of that evening. The hands-on, interactive exhibition features more than 20 rare artifacts, including gaming chips, passengers' personal papers and decorative sections from Titanic's famed Grand Staircase. Also on display is the "Big Piece," the largest part of the Titanic ever recovered. This 15-ton piece of the Titanic's starboard hull was raised 12,500 feet from the ocean floor and took more than
80 years - and two attempts - to surface.
For more information on the latest news and happenings at MGM Resorts International, please visit M life magazine and M life TV online at mlife.com.
Best,
Shant Apelian
MGM Resorts International Public Relations
PHONE: (702) 891-1887; FAX: (702) 891-1819 or
E-mail: sapelian01@mgmresorts.com