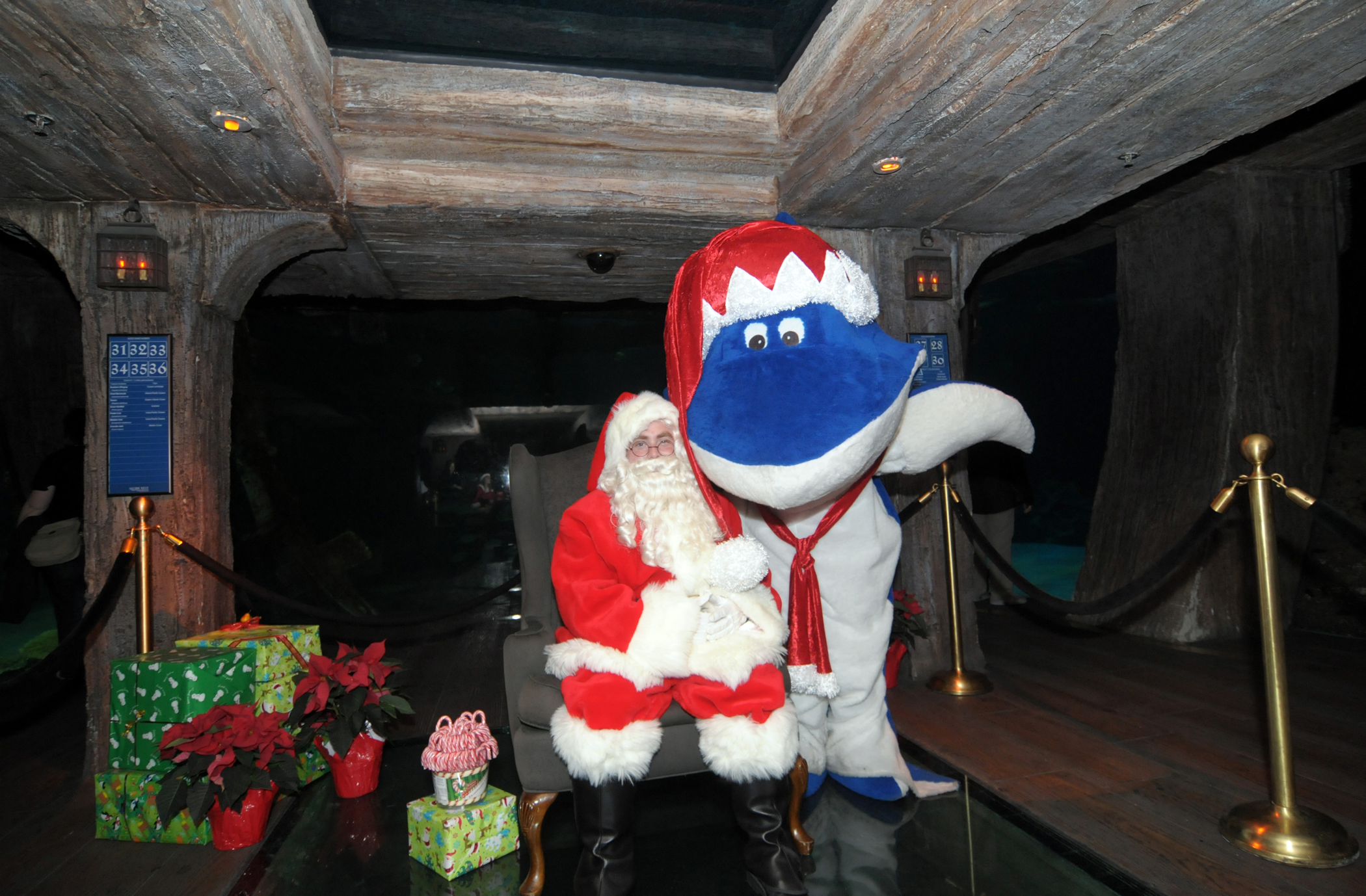 "Santa in the Shipwreck" at Shark Reef at Mandalay Bay

"Santa in the Shipwreck" at Shark Reef at Mandalay Bay

Winter Wonderland at Bellagio's Conservatory & Botanical Gardens

Winter Wonderland at Bellagio's Conservatory & Botanical Gardens
Nearly three million visitors came to Las Vegas last December to experience the variety of holiday entertainment on offer; keeping the neon city a top winter destination.
"Santa in the Shipwreck" at Shark Reef Aquarium at Mandalay Bay
Santa will be making a special trip to The Shark Reef Aquarium at Mandalay Bay from 10 a.m. to 4 p.m. December 21 through 24 to hear any last-minute Christmas wishes. Each child 12 and under with paid admission receives a complimentary candy cane and a photograph with Santa to remember the unique experience.
Winter Wonderland at Bellagio's Conservatory & Botanical Gardens
A spectacular holiday exhibit rich in nostalgia and tradition, Bellagio's Conservatory & Botanical Gardens captivates the imagination with picture-perfect botanical creations. A complimentary attraction running December 2 through January 3, 2012, the display's centerpiece is a majestic 42-foot-tall Shasta Fir with twinkling lights and traditional holiday decorations. Holiday revelers find themselves in a winter wonderland surrounded by over-sized jingle bells, igloos and families of penguins and polar bears.
Holiday Music at Fountains of Bellagio
The Bellagio Fountains pairs its mesmerizing aquatic and light performance to a variety of time-honored melodies this holiday season. With songs such as "Carol of the Bells," "Santa Baby," and "Hallelujah Chorus," this iconic water feature is sure to fill guests with a good dose of holiday cheer.
"A Very Terry Christmas" with Terry Fator at The Mirage
Known for his spot-on singing impressions and ventriloquism skills, Fator cheerfully mixes Christmas songs into his show for the holiday season. From "Grandma Got Run Over by a Reindeer" to "White Christmas," "A Very Terry Christmas" captures the spirit of the holidays without taking away from the hit show that has attracted celebrities such as Mel Gibson and Adam Sandler since its debut.
Chocolate Sensations by Jean-Philippe at Bellagio and ARIA
Jean-Philippe Patisserie's adorable chocolate treats truly shine during the holidays and can make even the grumpiest Scrooge smile. With locations at both ARIA and Bellagio, travelers can easily find delectable gifts such as truffles transformed into Christmas shoes, scrumptious chocolate Santas and delightful Christmas postcards to bring home and share with loved ones this winter.
Tingling Candy Cane Spa Treatments
True holiday enthusiasts can feel like a candy cane with Spa & Salon Vdara's "Add a Twist to the Holidays" promotion featuring:
Candy Cane Scalp Treatment: When guests book a salon treatment they can choose to add this invigorating scalp treatment for only $35. The peppermint tones of the candy cane treatment target and stimulate the scalp leaving guests feeling refreshed, awakened and with revitalized hair.
Candy Cane Mani & Pedi: For $110, this seasonal treatment puts guests into a state of relaxation for 90 minutes and leaves nails and toes looking festive. Top this invigorating duo of services off with a new hair color from the Holiday Glow Collection of Colors featured by SpaRitual.
Shop Til You Drop
Crystals at CityCenter celebrates the holidays with the country's most drool-worthy window shopping: the largest Louis Vuitton in North America and the only Tag Heuer in North America, as well as Prada, Gucci, TOM FORD and more – all filled with retail items exclusively available in Crystals. Even if they aren't buying, shoppers can still enjoy Crystals' holiday-inspired décor, carolers and other live entertainment in honor of the season.
Media Contact
Clara Tsang/Kirvin Doak Communications
(702) 737-3100