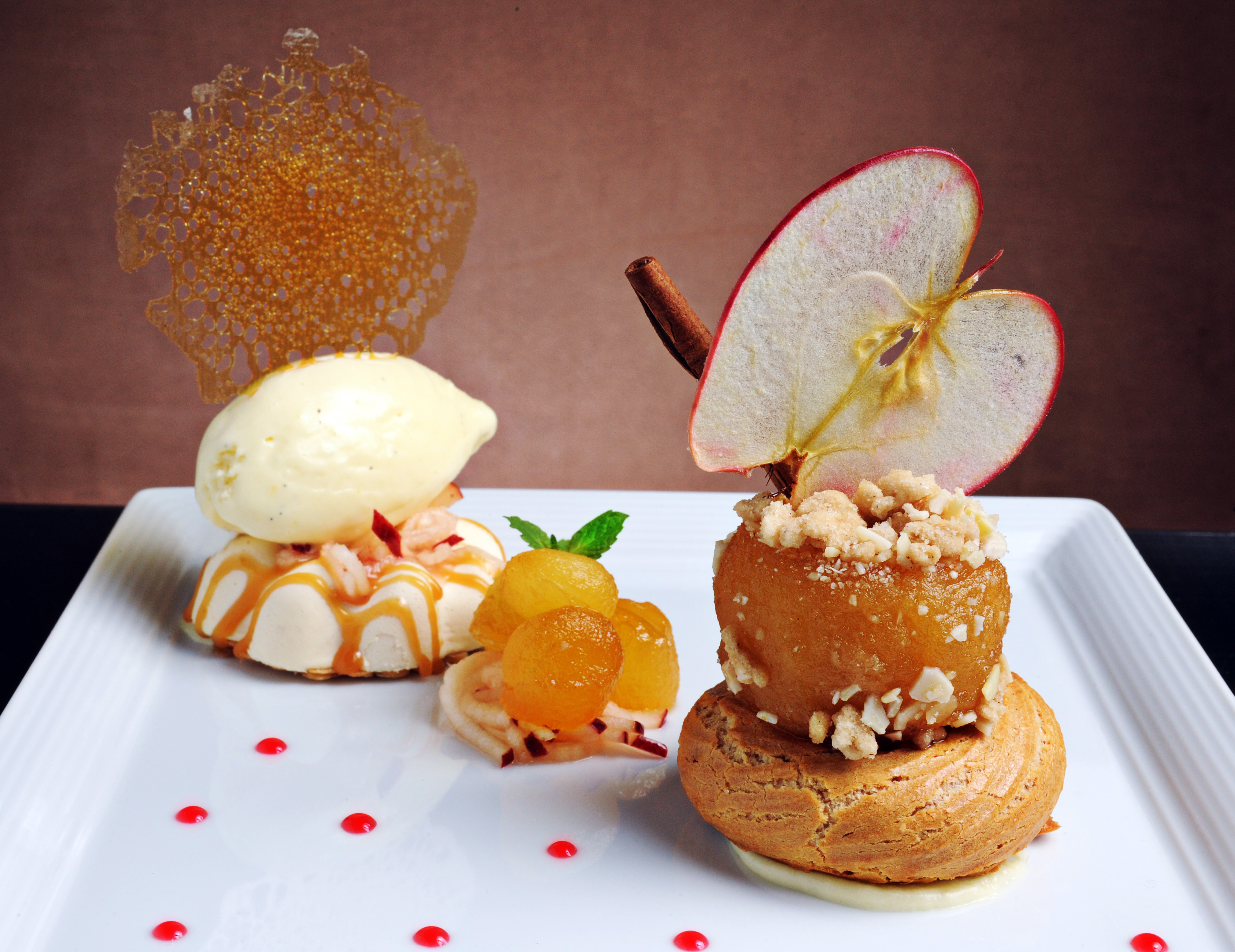 Tom Colicchio's Craftsteak - Almond Brown Butter Cake

Tom Colicchio's Craftsteak - Almond Brown Butter Cake
LAS VEGAS – MGM Resorts International restaurants invite guests to make bold, adventurous choices by ending their meal with a dessert that offers an intriguing yet sensational savory component. Chefs in fine dining and casual restaurants across The Strip are adding out-of-the-ordinary ingredients to the dinner's finale and discovering a new culinary palate for dessert creations.
Some of the many delicious, non-traditional dessert selections include:
The Salt & Pepper Chocolate Cake served at Andre's Restaurant & Lounge at Monte Carlo teases the taste buds with a mixture of sweet, spice and everything nice. Served in a delicate pool of salty caramel sauce, this delicious delicacy is topped with apricot mousse and marzipan. For a little kick, a dusting of red peppercorn flakes is added to the top of the cake creating a spicy bite with each forkful.
The Streusel Baked Lady Gala Apple served at Aureole at Mandalay Bay is a delicious salted caramel bombe served with green cardamom ice cream. Known for its strong herbal and citrusy flavors and aromas, green cardamom adds a delightful tang to this domed dessert.
Known for use of artisanal produce, Tom Colicchio's Craftsteak at MGM Grand offers an Almond Brown Butter Cake. Made with roasted autumn royal grapes, this moist cake is served with fig ice cream and quince that has been poached with star anise, a popular Chinese spice with a slight licorice flavor, and topped with herbal cardamom and vanilla bean ice cream.
Offering a mature twist on the childhood favorite of milk and cookies, the Root Beer Float at MICHAEL MINA Bellagio is the ultimate comfort food. The float is finished with two chocolate chip pecan cookies and a serving of sassafras ice cream, made from the root of a sassafras tree. Sassafras is a medium sized, deciduous shrubby tree that grows 60 feet to 80 feet tall and is primarily used in the creation of the popular soft drink where the roots are boiled with molasses and allowed to ferment until ready to be served. The earthy taste of the root is similar to thyme and is also used to provide distinct flavor to stews and sauces.
Lemongrass at ARIA creates a melody of vegetables and fruits with the Iceberg. Black jelly—which is made from the stalks and leaves of Mesona chinensis, an herb in the mint family—and jack-fruit are combined with shaved ice, a popular combination on Thai menus. The addition of sweet corn and coconut jelly add an explosion of flavor to the dish.
Red bean is a traditional dessert commonly served warm at many Chinese restaurants. Rice & Company at Luxor shakes things up with their Red Bean Gelato. The garnish of fresh mint and mixed berries gives this dish a refreshing twist and offers guests a tasty adventure.
For additional information and high-resolution images of each dessert, please click
here
.
# # #
Media Contact:
Janae Melvin
MGM Resorts International
(702) 891-1877