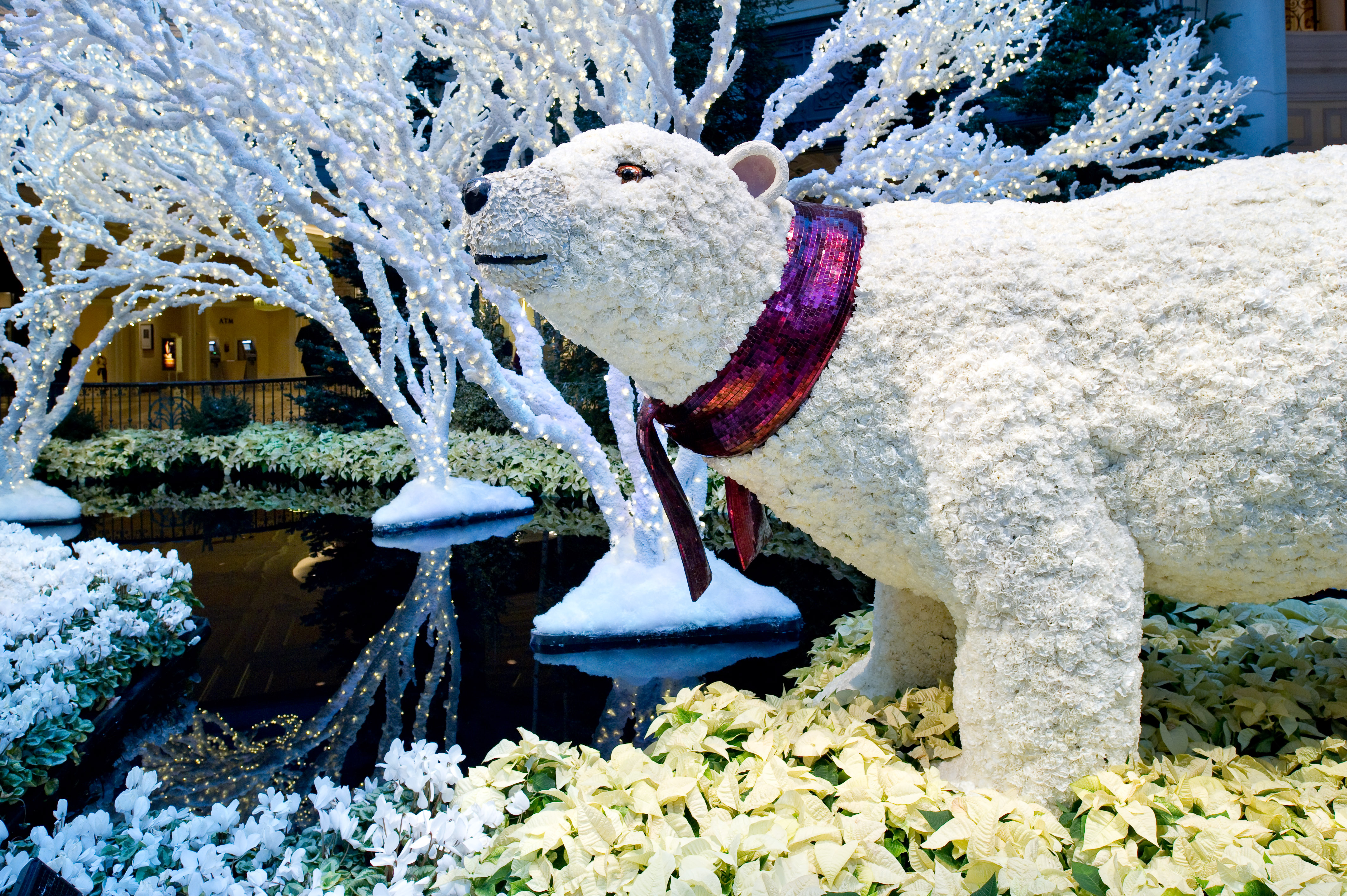 'Tis the Season for Holiday Fun
Winter is fast approaching, which means holiday merriment will once again take over the Las Vegas Strip. A magical winter wonderland, a visit to St. Nick and an appearance by the mean old Grinch are sure to get you in the holiday spirit during the festive season.
Bellagio's Conservatory & Botanical Gardens welcomes winter with a spectacular display rich in nostalgia and filled with picture-perfect botanical creations Dec. 2 - Jan. 2. Visitors will discover a 42-foot-tall Shasta fir decorated with more than 13,500 lights and 1,800 ornaments, a charming polar bear trio created with 35,000 white carnations and a family of 34 penguins on an ice pond. Be wary as right next door at Jean Philippe Patisserie, a six-foot-tall Mr. Grinch, made out of 50 pounds of chocolate and 112 pounds of fondant, could be looking for mischief!
Santa will make his list and check it twice at Mandalay Bay's Shark Reef Aquarium, the country's only predator-based aquarium. Children are invited to share last-minute holiday wishes at "Santa in the Shipwreck" Dec. 21-24 from 10 a.m. to 4 p.m. With each paid admission, children under the age of 12 will recieve a complimentary candy cane and photo with Jolly St. Nick. Admission is $18 for adults; $12 for children 5-12; and free for children four and under.
Join Terry Fator as he celebrates the 2011 holiday season Nov. 29-Dec. 24 (Tuesday-Saturday) at The Mirage with A Very Terry Christmas. In addition to his current show, Terry Fator Ventriloquism in Concert, Fator will complement his routine of fun-filled celebrity singing impressions and unparalleled ventriloquism with 10-12 popular holiday tunes. Tickets can be purchased at the Terry Fator Box Office, online at www.mirage.com or www.ticketmaster.com, or by calling (702) 792-7777.
For more holiday happenings, contact Shant Apelian, Public Relations, (702) 650-7562 or sapelian01@mgmresorts.com
Festive Fare
This holiday season leave the cooking and clean-up to some of the world's best chefs and restaurants with savory seasonal menus.


From traditional holiday fare to inventive dishes with fresh fall flavors, the chefs at ARIA have designed Thanksgiving menus sure to please any palate. Sage's four-course prix fixe menu ($83 per person) includes an array of choices from Roasted Pumpkin Soup and Roasted Organic Turkey to Foie Gras Crème Brulee and Braised Veal Cheeks. In addition to the regular menu, Jean Georges Steakhouse has created a special a la carte menu featuring Roasted Organic Turkey, Grilled Figs with fresh mozzarella, Crispy Sweet Breads and Roasted Squash Soup allowing guests to mix classic Thanksgiving favorites with Jean Georges Steakhouse signatures.
Christmas Day can be spent relaxing and eating instead of cooking and cleaning. Le Cirque at Bellagio is offering a five-course menu ($145 per person) starting with Sauteed Foie Gras with white chocolate and raisin brioche, citrus compote and elderberry emulsion and followed by Paupiette of Sea Bass with crispy potatoes, braised leeks and pinot noir reduction. For an Asian-inspired Christmas dinner, guests can sample the "Taste of Shibuya" menu at MGM Grand. Dishes include Ezi Ebi, which combines Australian Lobster Tail and Day Boat Scallops in uni sake butter sauce as well as the Tataki, Australian Wagyu beef with lemon tamari soy, tarragon oil and garlic chips ($120 per person).

For more information about holiday dining options, please contact Janae Melvin, Public Relations, (702) 650-7565 or jmelvin@mgmresorts.com.
Yee-Haw, Ya'll! The Wrangler National Finals Rodeo Take Over MGM Resorts
Break out your cowboy boots and hats as Wrangler National Finals Rodeo (WNFR) rides into town December 1-10. MGM Resorts is your ultimate destination for meet-and-greets, food and drink specials, entertainment and rowdy room rates. Here's how we're kickin' up our heels to celebrate WNFR 2011.At ARIA, meet the Saddle Bronc Riders at their official autograph session, Saturday, Dec. 3 from noon - 2 p.m. (Location TBD).
At MGM Grand, guests will have a multitude of options including NASCAR driver appearances, Miss Rodeo America Pageant activities, the American Country Music Awards, Rodney Carrington at the Hollywood Theatre, cowboy meet-and-greets and autograph sessions, Saloon 54 at Studio 54 with a special performance by the Eli Young Band and much more.
Mandalay Bay turns into Cowboyville, USA Dec. 1–10 with special performances by Chris Young, Colt Ford, Gary Allan and more.
"The Best Campfire on The Strip," The Mirage will host live performances by Jason Jones, Taylor Farr, John Pardee and The Dirt Drifters. The Mirage also will host the official 10th Night World Champions Awards Show celebrating the 2011 winners and all WNFR contestants.
For special room rates, packages and a complete list of events and entertainment options during WNFR, visit www.mgmresorts.com/NFR2011/.

For more information on the Wrangler National Finals Rodeo in Las Vegas, contact Scott Ghertner, Public Relations, at (702) 650-7565 or sghertner@mgmresorts.com.
The Ultimate Tribute to the King of Pop
A riveting fusion of visuals, dance, music and fantasy will immerse audiences in the King of Pop's creative world as Michael Jackson THE IMMORTAL World Tour by Cirque du Soleil® visits Mandalay Bay Events Center Dec. 3-27. Aimed at lifelong fans as well as those experiencing Jackson's creative genius for the first time, the show captures the essence, soul and inspiration of this entertainment icon, celebrating a legacy that continues to transcend generations.

Tickets are $175, $125, $80 and $50 (inclusive of tax and fees) and are available for purchase at any Mandalay Bay ticketing outlet, online at www.mandalaybay.com or www.ticketmaster.com or by calling (702) 632-7580 or (800) 745-3000.

To kick-off its stop in Las Vegas, fans will have the chance to experience the legacy of Michael Jackson in a whole new way during the first-ever, estate-authorized Michael Jackson Fan Fest taking place for a limited time at Mandalay Bay beginning Dec. 3. Fans will be able to peek inside the interior of the 1999 Rolls-Royce Seraph limousine with 24-karat gold embellishments designed by Michael Jackson himself, check out the 10-foot-tall statue created for the HIStory tour, get the feel of Michael's music videos by wandering through the spaceship set used in "Scream" and sit in the actual throne from the Egyptian-themed set of "Remember the Time."

For more information about Michael Jackson THE IMMORTAL World Tour by Cirque du Soleil, contact Katharine Sherrer, Public Relations, (702) 650-7527 or ksherrer01@mgmresorts.com.
Getting Personal: Ezer Solano, Concierge Supervisor at Crystals
Dedicated to helping both Las Vegas visitors and locals, Ezer Solano has worked in the hospitality industry for nearly 18 years. Born in Manila, Philippines, Solano began his career in food & beverage with Princess Cruises where he not only discovered his passion for service, but also his love for traveling around the world. Solano moved to Las Vegas in 2002 and immediately immersed himself in the culture of helping guests. Solano joined the concierge team at Crystals at CityCenter during the luxury retail district's debut in December 2009 and currently serves as Concierge Supervisor.

As the holidays arrive, Ezer offers quick survival tips to get shoppers through the busiest retail season of the year:
Personal shoppers and fashion consultants are a great asset for even the savviest fashionistas and the concierge at Crystals are able to provide recommendations and make arrangements in order to create a high-end, individualized luxury experience.
We know time is of the essence, so leave dinner and show reservations to us. That's what we're here for!
One of the biggest tips I suggest is to always ask the concierge about enhanced options that can add a special touch to any gift. Many of our stores offer custom engraving, made-to-measure services, special-order items and custom-designed products. These amenities may not be publicized, so it's always important to ask your concierge or sales representative about what's possible. In most cases they are available and can be done the same day.
Guests may be hesitant to ask questions for the fear that they're being a burden in seeking assistance. We're here to make sure our guests' experiences are memorable and we take joy in fulfilling their requests – whether it's helping them locate a particular store or assisting them in making reservations for a show.
The concierge at Crystals offers many unique services year-round, including arranging delivery of purchases. Additional holiday services, at select stores, include gift wrapping and complimentary engraving and tailoring. At most of our stores during the holiday season, shipping an item is complimentary for customers. The concierge at Crystals can also assist guests in reserving seats early to shows and coordinating special holiday show gift packages. You name it, we do it!
For more information about Ezer Solano and the concierge team at Crystals, please contact Shant Apelian, Public Relations, (702) 650-7562 or sapelian01@mgmresorts.com
Did You Know…

The Bellagio Gallery of Fine Art offers daily docent tours beginning at 2 p.m., which are complimentary with the purchase of admission. The 45-minute tour takes guests through the gallery's current exhibition "A Sense of Place: Landscapes from Monet to Hockney," showcasing more than 30 pieces of artwork ranging from paintings, photographs and a video installation that contrast and compare both approach and expressionism in landscape art. Be sure to view "A Sense of Place" before it closes Jan. 8, 2012 in preparation for the gallery's next exhibit, "Claude Monet: Impressions of Light," debuting Feb. 17, 2012.

For more information on the latest news and happenings at MGM Resorts International, please visit M life magazine and M life TV online at mlife.com.


Best,

Shant Apelian
MGM Resorts International Public Relations
PHONE: (702) 650-7562; FAX: (702) 650-7566 or
E-mail: sapelian01@mgmresorts.com