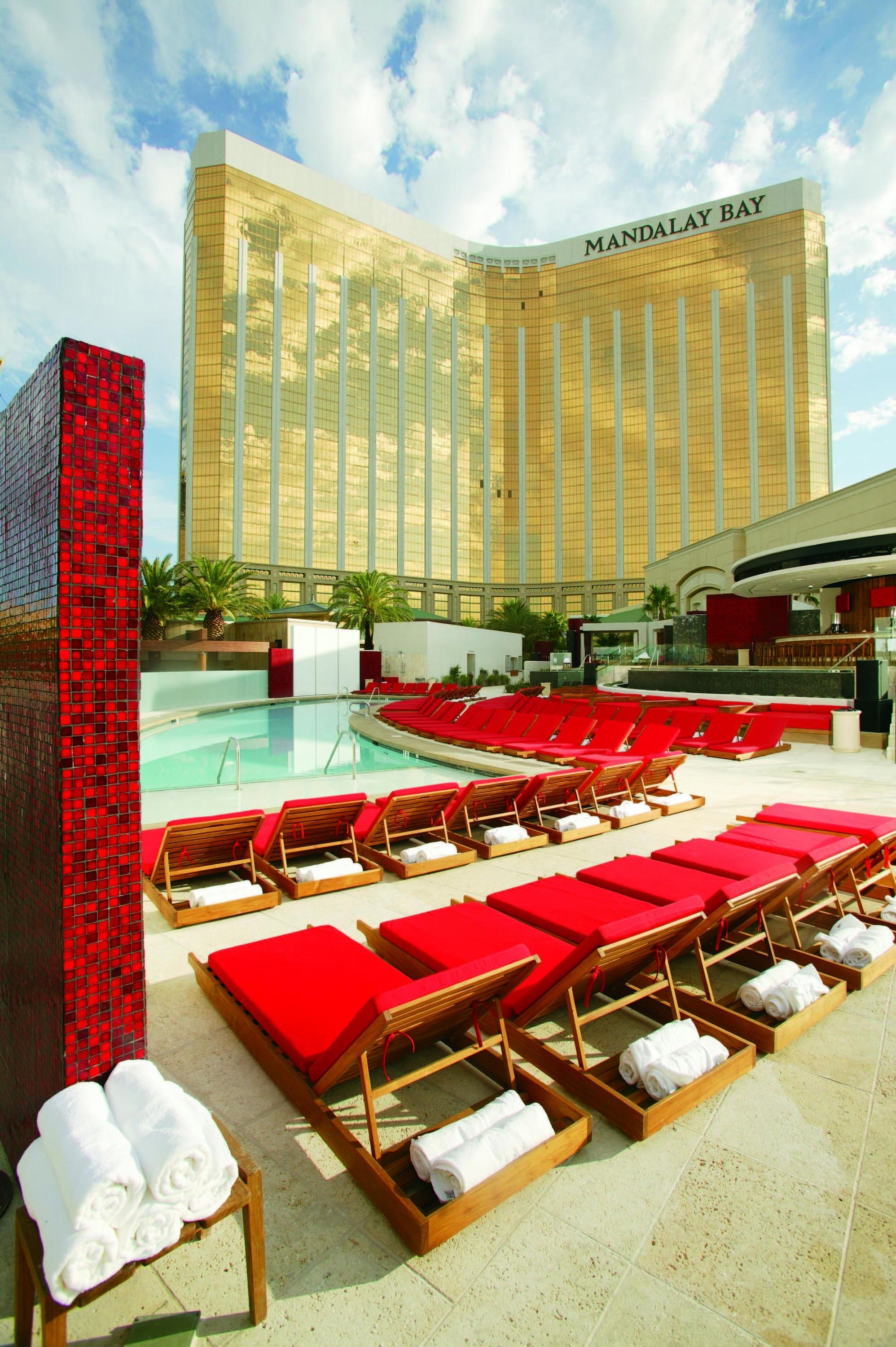 Charles Francois Daubigny, Château-Gaillard at Sunset, About 1873, Oil on canvas, 15 x 27 inches, Collection Museum of Fine Arts, Boston; Gift of Mrs. Josiah Bradlee. Photograph c 2012 Museum of Fine Arts, Boston.

Charles Francois Daubigny, Château-Gaillard at Sunset, About 1873, Oil on canvas, 15 x 27 inches, Collection Museum of Fine Arts, Boston; Gift of Mrs. Josiah Bradlee. Photograph c 2012 Museum of Fine Arts, Boston.
PUBLIC RELATIONS E-MAIL NEWSLETTER FOR MEDIA
Spring Break 2012 - Stay Anywhere, Play Everywhere
Winter blues got you down? Sin City is ready to break you out of your funk. Combining sun, excitement and energy, Spring Break Escape packages feature six resorts, creating one big party.
The south Strip properties of MGM Resorts International – MGM Grand, Mandalay Bay, Monte Carlo, New York-New York, Luxor and Excalibur– will host the biggest Spring Break bash in Las Vegas March 1 through April 30. Packages include competitive pricing on premier accommodations along with tempting food and beverage specials at venues such as Diego at MGM Grand and Il Fornaio at New York-New York. From sun up to sun down the party doesn't stop with complimentary access to the city's hottest daylife and nightlife venues including Moorea Beach Club at Mandalay Bay and LAX at Luxor.
For a complete calendar of events and venues, or to book a Spring Break Escape package, visit mgmresorts.com/SpringBreak2012/.
For more information about Spring Break at MGM Resorts, please contact Shant Apelian, Public Relations, (702) 891-1887 or sapelian01@mgmresorts.com
Culinary Experiences To Spring For
Savor the flavors of spring with culinary journeys that are not only delicious, but educational too. Enjoy exceptional cuisine, spirits and wine while expanding your knowledge of the cooking world with exclusive events sure to satisfy your appetite.
STRIPSTEAK a Michael Mina Restaurant at Mandalay Bay presents an intimate Scotch Dinner Thursday, March 1 at 6 p.m. This one-night-only event will feature a special five-course menu with a Glenfiddich Scotch pairing by Glenfiddich Brand Ambassador Mitch Bechard. This exclusive Scotch Dinner is priced at $80 and is all-inclusive. Reservations are required and can be made by calling (702) 632-7414.
The Epicurean Epicenter series at Bellagio continues Saturday, March 24 with the incredible single-vineyard Chardonnay and Pinot Noir wines crafted by Patz & Hall Winery complemented by a delectable dinner from Bellagio Executive Chef Edmund Wong. Winery owner Donald Patz hosts the event alongside Master Sommelier Jason Smith beginning at 6:30 p.m. in Tuscany Kitchen. All-inclusive tickets are $175 per person and can be purchased by calling (702) 693-7075.
Travel to the northeastern region of Italy and indulge in the cuisine and wines of Veneto during the Discover Italy series at Onda Ristorante & Wine Lounge at The Mirage. The menu, inspired by the romantic city of Venice, is available March 8–24 and features Grilled Mediterranean Cuttlefish, Sea Scallops with braised artichokes and Pork Spare Ribs served with Veneto-style rice and beans. The innovative three-course prix fixe menu is available for $55 with the option to add an unlimited premium wine pairing for $14.
For more information on spring dining experiences, contact Janae Melvin, Public Relations, (702) 891-1877 or jmelvin@mgmresorts.com.
Getting Personal: Tarissa Tiberti: Art Connoisseur
Finding your passion in life isn't easy. Tarissa Tiberti knew early on that her passion was art, which led to receiving a Bachelor in Fine Arts from the University of Colorado as well as a master's degree from Cranbrook Academy of Art in Bloomfield, MI. Living her passion, Tiberti currently serves as Director of Bellagio Gallery of Fine Art and is the curator for the MGM Resorts International Fine Art Collection. As Director, she collaborates with prestigious institutions such as Museum of Fine Arts, Boston and Museum of Contemporary Art, San Diego to secure world-class art for the gallery's exhibitions; and manages the curation and installation of each show. A self-proclaimed "ornamentalist," Tiberti is an accomplished artist in her own right, whose work is influenced by the ornate qualities of cake decorating and architecture.
On Feb. 18, Bellagio Gallery of Fine Art (BGFA), organized in partnership with Museum of Fine Arts, Boston (MFA), will debut "Claude Monet: Expressions of Light." The exhibition features 20 pieces by Monet, the founder of French Impressionist painting, illustrating the height of his engagement with color and light. Eight additional canvases by the master's predecessors and contemporaries will accompany the display.
In anticipation of the upcoming exhibition, Tiberti offers her insights:
The Impressionism movement marked a shift in the history of French landscape painting. Monet and the other Impressionists began to paint 'en plein air' (in the open air), the act of painting outdoors and the world around them, in sketch-like compositions. Their aim was the invention of a new pictorial language. This new movement led to the modern works we have shown in the most recent survey exhibitions at BGFA.
This movement is popular among art connoisseurs because the Impressionists depicted commonplace settings with a sense of poetry. Taking inspiration directly from their surroundings, the scenes and landscapes are familiar to the connoisseur and they can relate to the subject matter.
With MFA having the largest collection of Monet paintings outside of France, this is an incredible opportunity to see 20 paintings by the master himself, at one exhibition. The Impressionist paintings are gorgeous and make incredible use of light and color.
For art connoisseurs, both amateur and advanced, one of the best ways to experience this exhibit is through docent tours, offered daily at 2 p.m. Our docents provide incredible insight and perspective into each piece of art, allowing guests to fully understand what's in front of them.
For more information about Tarissa Tiberti and BGFA, please contact Sara Gorgon, Public Relations, (702) 891-1812 or sgorgon@mgmresorts.com
Did You Know…
With The Grand Renovation at MGM Grand currently underway, guests now can recreate the pampering experience of the newly redesigned rooms after their vacation through "MGM Grand at Home." Whether they're interested in the luxurious comfort of the resort's comfy Aquaplush Comforter, its signature Jasmine or Green Tea scented bath and body products or the plush bath robe, MGM's retail program invites guests to bring home a piece of fresh sophistication. Making a purchase is as easy as browsing mgmgrand.com/amenities/mgmgrand_athome.aspx and calling (702) 891-3069.
For more information on the latest news and happenings at MGM Resorts International, please visit
M life magazine and M life TV online at mlife.com.
If you do not wish to receive the E-mail Newsletter, please hit reply and type "REMOVE" in the subject window.
Best,
Shant Apelian
MGM Resorts International Public Relations
PHONE: (702) 891-1887; FAX: (702) 891-1819 or
E-mail: sapelian01@mgmresorts.com