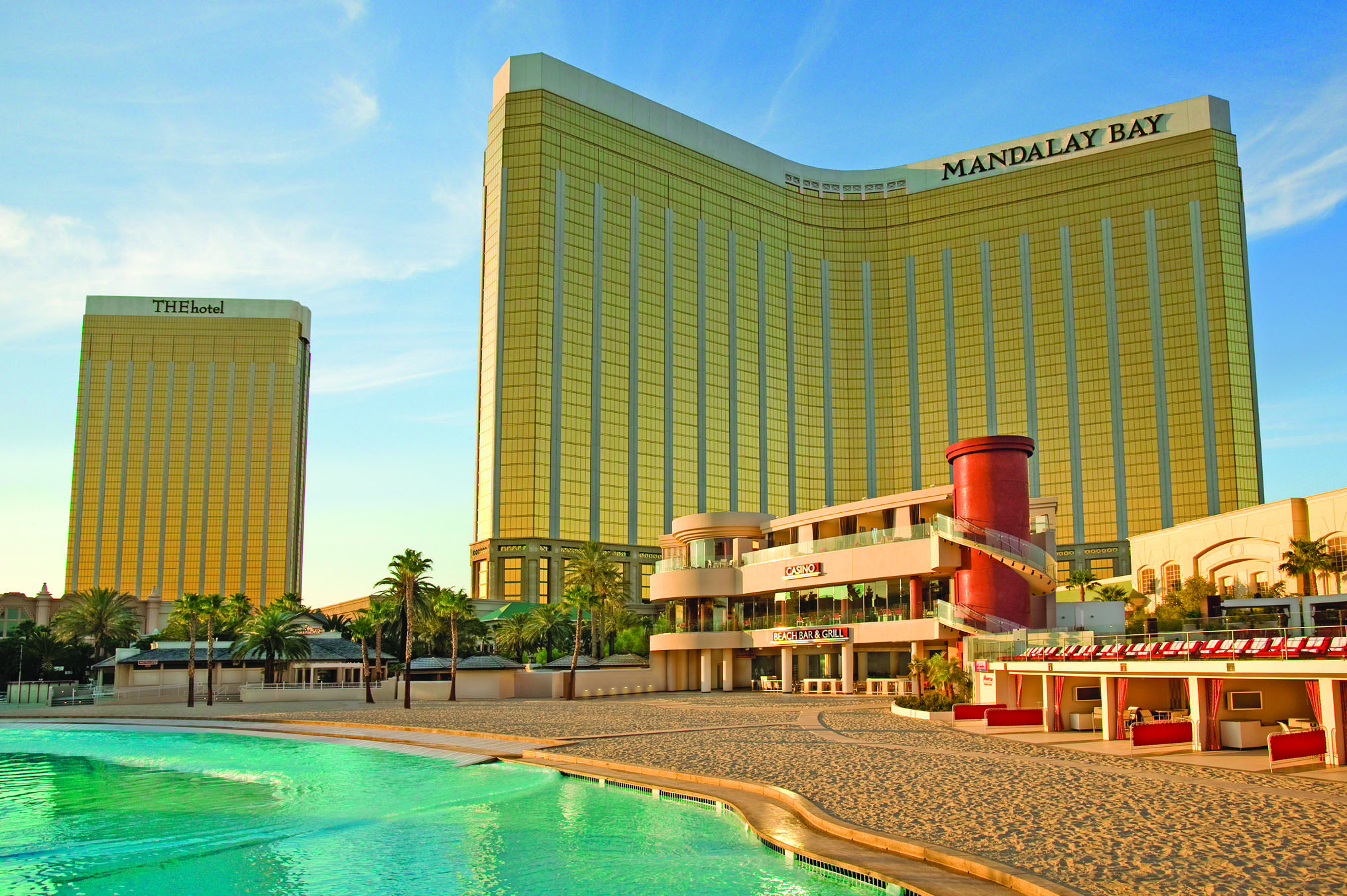 Sizzling Pool Season Heats Up Vegas
As the weather heats up, the pool scene in Las Vegas springs to life providing that much needed opportunity to relax or party poolside. With plenty of options to choose from, the pools at MGM Resorts offer the ideal settings for enjoying some fun in the sun. Here's where you can dive right in:
For more information about pools at MGM Resorts, please contact Shant Apelian, Public Relations, (702) 891-1887 or sapelian01@mgmresorts.com.
Mike Tyson Shares his "Undisputed Truth" at MGM Grand
The world premiere of "Mike Tyson: UNDISPUTED TRUTH – Live on Stage," starring the legendary Mike Tyson, is an electric one-man show. Performing nightly at 8 p.m., Tyson's show is a limited engagement at MGM Grand's Hollywood Theatre April 13 – 18.
"Mike Tyson: UNDISPUTED TRUTH – Live on Stage" is the no-holds-barred life story of the iconic boxer as it has never before been told. In an up-close-and-personal setting featuring images, music and video, Tyson shares the stories of his life and experiences as a professional athlete and the controversies he faced in and out of the ring. Thrilling audiences with untold stories and peeling back layers of tragedy and public turmoil, Tyson unfolds his tale of triumph and survival.
Tickets start at $99.99 plus taxes and service fees, and can be purchased at any MGM Grand Box Office, Ticketmaster location, online at ticketmaster.com or by phone at (800) 745-3000. Special VIP packages are $499.99 and include a meet-and-greet, photo with Tyson and commemorative merchandise.
For more information about "Mike Tyson: Undisputed Truth – Live on Stage," please contact Scott Ghertner, Public Relations, (702) 891-1838 or sghertner@mgmresorts.com.
Bon Appétit! Vegas Uncork'd Returns May 10-13
The highly anticipated four-day food festival Vegas Uncork'd presented by Bon Appétit returns to Las Vegas May 10 – 13. For the sixth consecutive year, foodies can take part in a number of one-of-a-kind events with stars of the culinary world in a setting that can only be found on The Strip. Here's a small taste:
Follow That Food Truck – Bellagio - Thursday, May 10, 8 p.m. – 11 p.m.
Food trucks from Las Vegas and surrounding areas will meet at Bellagio for this celebration of on-the-go cuisine. Sample gourmet bites and mingle with renowned chefs Jean-Georges Vongerichten, Julian Serrano, Michael Mina and Todd English.
Mix-Off – Hyde Bellagio – Friday, May 11, 2 p.m. – 4 p.m.
The iconic Fountains of Bellagio provide the ideal backdrop for a cocktail extravaganza. Join Bellagio Master Mixologist Matt Myers, Hyde Bellagio Mixologist Jose Zepeda and cocktail talent from across the country as they participate in a cocktail competition. Small bites from Sensi Executive Chef Roy Ellamar complement the libations.
Surfside Beach Clambake – Mandalay Bay Beach – Saturday, May 12, 8 p.m. – 10:30 p.m.
Experience a unique twist on a traditional clambake. Celebrity chefs Charlie Palmer, Rick Moonen, Mary Sue Milliken and Susan Feniger present fresh seafood under the stars and alongside the crashing waves of Mandalay Bay Beach.
Steak and Eggs with Charlie Palmer – Aureole – Sunday, May 13, 11 a.m. - 1 p.m.
Make mom merry this Mother's Day by heading to Aureole at Mandalay Bay for a mouthwatering Steak & Eggs Brunch, prepared by acclaimed Chef Charlie Palmer. A great way to cap off an exciting weekend, the brunch will feature sweets by Mandalay Bay Executive Pastry Chef Vincent Pilon and sparkling wine chosen by Mandalay Bay Wine Director and Meilleur Ouvrier de France Sommelier Christophe Tassan.
For more information on Vegas Uncork'd, contact Suzie Rugh, Public Relations, (702) 891-1810 or srugh@mgmresorts.com.
Getting Personal: Everybody Loves Brad Garrett
Comedian Brad Garrett, the first winner of the syndicated television show "Star Search" at the young age of 23, began his career performing stand-up at Los Angeles comedy clubs. The "Star Search" win led to his first appearance on "The Tonight Show Starring Johnny Carson," making him one of the youngest comedians ever to perform on the program. This success was then followed by opening gigs for Liza Minnelli, Frank Sinatra and Sammy Davis Jr. Best known for the CBS hit series' "Everybody Loves Raymond," Garrett's role of Ray Romano's big brother Robert earned him Emmy Awards for Outstanding Supporting Actor in a Comedy Series in 2002, 2003 and 2005.
On March 30, Brad Garrett will debut his eponymous 288-seat comedy club at MGM Grand, providing Garrett, as well as other legendary comedians and the next generation of comics, a place to call "home" in Las Vegas.
In anticipation of the club's debut, Garrett offers insight on what to expect (other than a night of laughter):
On choosing the MGM Grand as "home" to Brad Garrett's Comedy Club: "I chose this location at MGM because I've always wanted to perform next to a shop that sells magnets and pretzels. Actually, I was one of the first performers to work at MGM when it opened in 1993 and I have since enjoyed an amazing relationship and friendship with the staff. To have my own club in this town where I started working back in 1986 has always been a dream of mine, and I am so proud to see it now realized at the greatest property in Las Vegas."
On what guests should feel after leaving a show: "Hopefully not the same feeling you would get from bad shellfish? But I digress. I hope that they leave the club with the feeling that they have just seen the best comedy show ever. I am personally involved with every booking and I make sure that we not only have the top comedians in the country (that have been on "The Tonight Show," "The Late Show," HBO, Comedy Central, Showtime, etc.), but I also like to partake in finding and bringing in the best fresh new talent from off the circuit."
On expecting any surprises at the venue: "Yes! Every third guest gets a kitten!"
On what will separate Brad Garrett's Comedy Club from other clubs in Las Vegas: "What sets my comedy club apart from all the others, besides having the best talent, is my commitment to top-notch customer service and to hosting our guests in a warm and classy environment. We have designed the club to have the look of a 1940s speakeasy and we are compounding that vintage feel by going back to the 'Classic Vegas' approach to individualized attention and service for our patrons. We'll also look forward to having special guests drop in unexpectedly, to keep spontaneity and excitement in the venue."
For more information about Brad Garrett's Comedy Club, please contact Scott Ghertner, Public Relations, (702) 891-1838 or sghertner@mgmresorts.com.
Did You Know…
Since its inception in 2001, the Michael Jordan Celebrity Invitational (MJCI) has raised nearly $6 million for charities including Make-A-Wish Foundation, UC San Diego Nevada Cancer Institute, James R. Jordan Foundation and Cats Care, the NBA's Charlotte Bobcats' charity arm. The 11th annual MJCI tournament, hosted by ARIA Resort & Casino at Shadow Creek, returns to Las Vegas for the second consecutive year March 29-April 1, 2012 with stars including host Michael Jordan, Aaron Rodgers, Ken Griffey, Jr., Wayne Gretzky, Roger Clemens, Brian Baumgartner, Brett Hull, Maury Povich and Chris Chelios. For more information and tickets, please visit arialasvegas.com or MJCIgolf.com.
For more information on the latest news and happenings at MGM Resorts International, please visit M life magazine and M life TV online at mlife.com.
Best,
Shant Apelian
MGM Resorts International Public Relations
PHONE: (702) 891-1887; FAX: (702) 891-1819 or
E-mail: sapelian01@mgmresorts.com