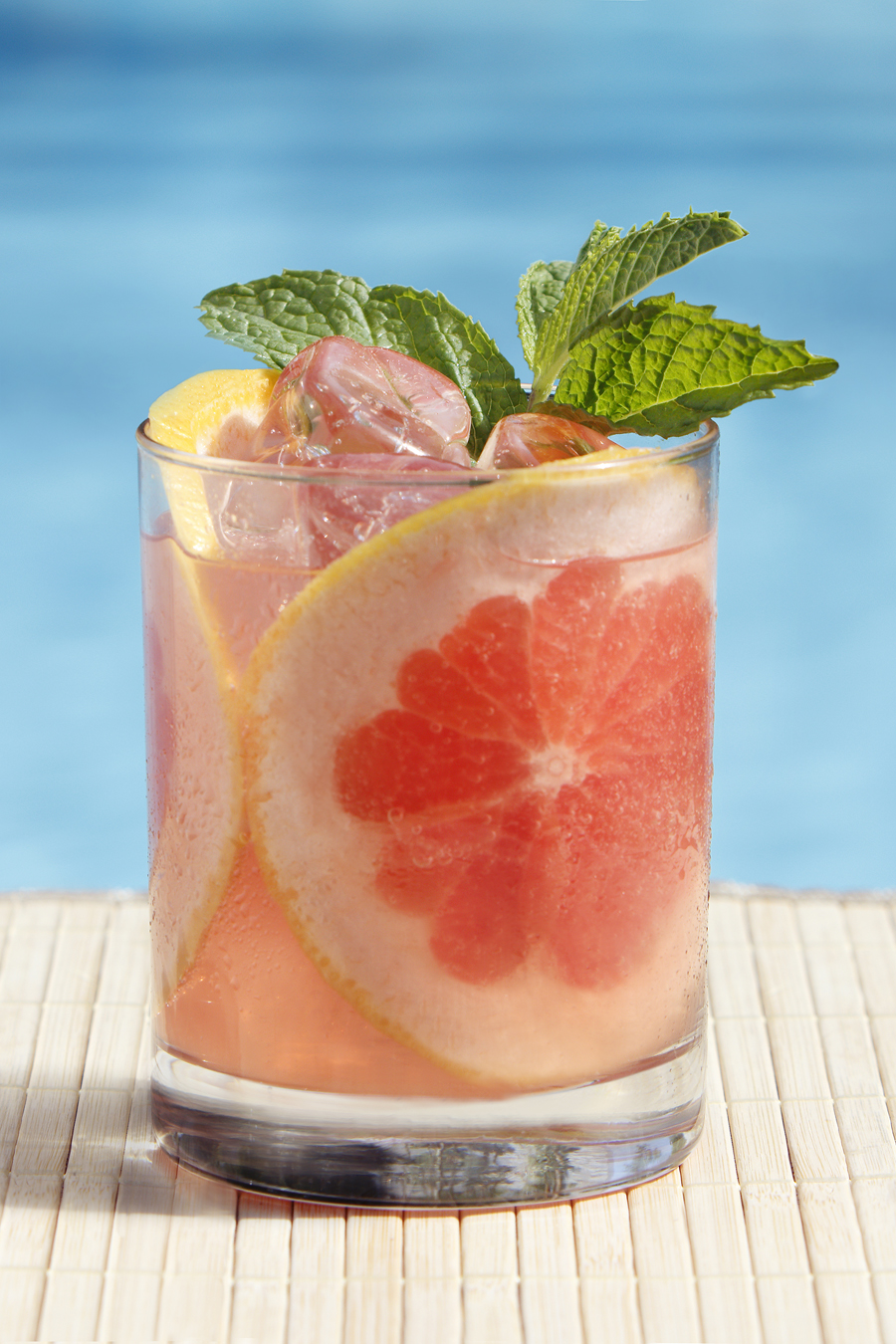 LAS VEGAS
– Whether soaking up the sun, dining in your favorite restaurant or dancing the night away, the mixologists at MGM Resorts International's properties have crafted healthy alternatives to sugary concoctions that pack on the pounds. Each skinny cocktail contains less than 150 calories and is made with fresh ingredients such as juicy berries, fragrant mint leaves, sweet agave nectar and the latest low-calorie liquors for cocktails so flavorful guests will never miss the calories.
Tequila Lovers
It's no secret that tequila is a great way to get a party started, but it's also a tasty ingredient in many low-calorie cocktails. The natural flavors of this agave based spirit mix perfectly with citrus fruits for light creations sure to be party favorites.
Skinny Margaritas, the low-calorie take on the poolside staple, are on the menus at Luxor, Excalibur and Mandalay Bay pools. Luxor and Excalibur's version combines TY KU Citrus Liqueur, Patron Silver Tequila, agave nectar and a splash of club soda while Mandalay Bay keeps it traditional with Patron Silver Tequila, lime juice and club soda.
The Mirage Pool offers two tequila-based selections: the Skinny Senorita, a mix of Patron Silver Tequila, fresh grapefruit and lime juices, agave nectar and club soda and the Ku-Vion Citrus Squeeze containing Avion silver tequila, TY KU citrus liqueur, agave nectar, fresh lemon and lime juices and club soda.
Luxor and Excalibur pools follow suit with the Think Pink, a combination of Patron silver tequila, agave nectar, lemon and pink grapefruit juices, a citrus libation bursting with flavor and vitamin C.
Mint Mania
The scent of green, leafy mint awakens the senses and tantalizes the taste buds. Mint's aromatic qualities make it the perfect way to refresh a summer cocktail without adding unnecessary calories.
Appropriately served outdoors at The Mirage Pool, the Hey, Skinny Girl offers guests their choice of either Skinnygirl tangerine or cucumber vodka mixed with mint leaves, fresh lemon and lime juices and sparkling club soda for a revitalizing way to chill out in the summer heat.
When the party moves indoors, guests can sip on the Antioxidant Mojito, a vitamin-packed twist on the original with Veev Acai Liqueur and fresh blueberries available at View Bar, Bar Moderno and City Bar at ARIA or the Superfruit Mojito made with TY KU Citrus Liqueur and Sierra Mist at Luxor's Aurora Lounge.
Berry-Licious
Fresh berries infuse summer cocktails with a naturally sweet and tangy zest for an intense flavor that won't expand the waistline.
The Acai Caipirinha available at Petrossian Bar at Bellagio is a 136 calorie burst of flavor that combines Cedilla Acai Liqueur, fresh raspberries, fresh lime juice, Pom juice and Splenda sweetener.
The Berry Skinny at MGM Grand's pool is a berry triple threat with TY KU citrus liqueur, Smirnoff blueberry vodka, agave nectar, club soda, cranberry juice and a raspberry garnish.
Sipping on the Skinny Dipping at ARIA's pool isn't nearly as sinful as the name suggests. It's crafted from Voli Lemon Vodka--a new low-calorie vodka--fresh lemon juice, strawberry purée and agave nectar, for a sin-less berry infused delight.
Quench your thirst poolside at The Mirage with the Berry De-Light, a satisfying blend of Little Black Dress Blueberry or Pomegranate vodka, fresh blueberries, mint leaves, lemon juice, Monin sugar-free pure cane syrup and a splash of club soda.
Skinniest of the Skinnies
At less than 100 calories each, these waif-like cocktails achieve the honor of being the slimmest in the bunch by keeping it simple with low calorie liquors, mixers and fresh fruit.
Surely the envy of all other cocktails seeking skinny status, the cleverly named Skinny Beach, at Mandalay Bay and New York-New York pools, contains TY KU Citrus Liqueur, lime juice and club soda and boasts only 40 calories.
Guests with a great sense of humor are sure to get a kick out of Rock & Rita's at Circus Circus. Not only does this fun-loving party bar offer The Skinny Citrus Splash, a mere 97 calorie cocktail made of Kahunaville Citrus Party Rum, slices of lemons, limes and oranges, Splenda and club soda, the delightfully light beverage is available for purchase in a souvenir porcelain toilet bowl cup.
Monte Carlo keeps the skinny cocktails flowing both indoors and out, all summer long. At the pool, guests can keep their energy up with the Skinny Cherry a mix of Smirnoff Cherry Vodka and Sugar Free Red Bull with a splash of cranberry juice. The nighttime hot spot IGNITE Lounge creates a skinny twist on a classic cocktail with the Modern Gimlet, made with Oxley English Dry Gin, hand-extracted cucumber essence and fresh pressed lime.
Aurora at Luxor has two options for skinny cocktails without the fuss. The 90-calorie The Natural combines TY KU Citrus Liqueur, club soda with a squeeze of lemon; for only two more calories the Ty-Tini adds Absolut Citron and all ingredients are strained into a martini glass.
The trendy yet welcoming vibe at EIGHT75 lounge at Beau Rivage in Biloxi, Mississippi makes it the perfect place to sit back, relax and sip on their low-calorie cocktail, The Skinny Starburst. This slim take on the citrus flavored candy, mixes Bacardi Limon, Cointreau, fresh lemon and orange juices and Splenda and weighs in at exactly 100 calories.
# # #
Media Contact:
Heather Yuille
MGM Resorts International
(702) 891-1873
hyuille@mgmresorts.com