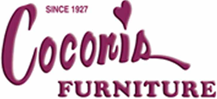 Coconis Furniture, a leading home furniture retailer serving the East-Central and Southeast Ohio region, recently launched an innovative new website designed to help consumers save time, reduce travel, and eliminate the guesswork traditionally associated with the furniture shopping experience.

The new website features visually stunning displays and detailed specifications of all available furniture items as well as a list of current promotions, clearance items, and financing and delivery options. A special room planning tool enables online shoppers to drag and drop furniture and structural items into a visual representation of their own room to ensure the look and fit of the room even before they visit the company's showroom to finalize their purchase.

Coconisfurniture.com shoppers can quickly locate and compare living room, dining room, bedroom, family room, and home office furniture, and accessories by searching and filtering by product type, style, materials, finish, brand, and other characteristics. Complete product descriptions and specifications are provided with each item along with a display of related furniture pieces. The full-featured website also allows visitors to request a price quote, directly email the store, save items to their own "favorites" folder, print and share items via email with their family and friends. The new site was designed and developed in conjunction with online furniture merchandising specialists MicroD Incorporated.
About Coconis Furniture of South Zanesville
The Coconis Furniture Story

In 1927 Nick and Stella Coconis, founders of Coconis Furniture, moved to Zanesville and opened a small second hand furniture store in the downtown named "The Zanesville Furniture Company." Later in 1953, 2nd generation sons, Paul and Don Coconis, took over the business and a new store was built at its present location in South Zanesville. The store's name was also changed to "Hallmark Furniture".

The store remained in business until 1960 when it was converted for a short time to a restaurant called the Burger House. In 1961 the furniture business was reopened under the name "Furniture Discount House".

In 1981 3rd generation sons of Paul Coconis, Randy and Paul Jr. Coconis took over the business and changed the name to Coconis Furniture, Inc. In the past ten years Coconis Furniture has grown from a 45,000 square foot store to over 70,000 square feet. Currently Coconis Furniture employs fourth generation Coconis family members, Chad and Kyle (Bo) Coconis.