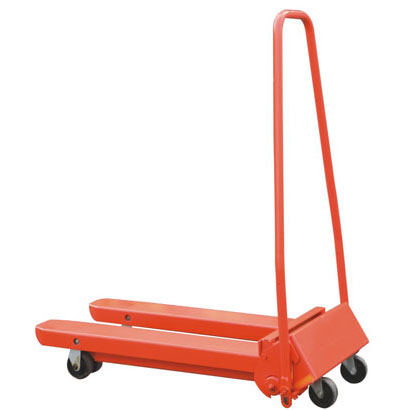 Time and space are two qualities which are always at a premium in the worlds of trade, industry and business. Most companies are always looking for new ways to save time and streamline their work processes, whilst veering away from products which might take up too much space in their workplace of limited size. Even with a product which makes work less time-consuming and doesn't take up much room, there is the issue of budget; is it affordable?
These are not easy rules to adhere to, but Midland Pallet Trucks, a UK provider of pallet trucks and lift tables for over 20 years, have a new solution currently in stock. Their unique range of folding pallet trucks are the perfect solution for those looking to transport goods from A to B without purchasing machinery or units that will take up space when not in use, and eat away at a budget through costly maintenance and repair work.
The ML0308 Folding Pallet Truck weighs in at just 26kg, making it easy to lift and carry around when it is not in use. The folding design also means that it can be stored upright or even hung on a hook on a wall. The mechanical lifter does not have any hydraulic pumps to repair or conduct maintenance on, and no oil can leak from the truck; the leverage principle it uses instead is simple and effective. Pulling on the handle raises the load from the floor efficiently and with minimum effort, while the 300kg capacity means that the truck can be used for a whole variety of heavy or cumbersome goods. This innovative new design is available from Midland Pallet Trucks priced at just £112.95.
The ML0312 Portable Folding Pallet Truck has very similar specifications to its sister product, except it tips the scales at a lightweight 31kg. The leverage principle is in use again here and combined with the hardwearing and durable finish that is standard for all Midland products, the risk of the truck needing maintenance or repair is significantly reduced. Not only can this design be stored efficiently, it can also be transported easily; its size and weight mean that it can be folded and transported in a car or truck, which is perfect for companies which may spread their work across more than one site. Business is a balancing act, and these two new products help to strike the perfect balance between saving time, saving money and saving space. The ML0312 Folding Pallet Truck is available for just £121.95.
To find out more about pallet trucks and buy online, visit http://www.midlandpallettrucks.com or Tel: 01384 841440.
Body Text