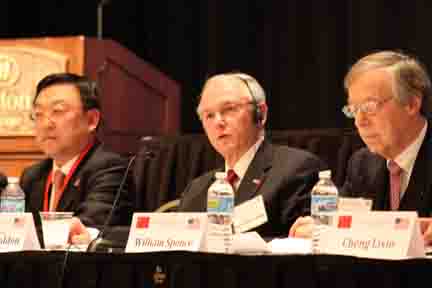 St. Louis, MO (January 19, 2011)-The Midwest U.S. - China Association (MWCA), a nonprofit, bipartisan organization led by former Missouri Governor Bob Holden will increase its efforts to champion the 12-state region's economic promise as part of Chinese President Hu Jintao's much anticipated visit to the Midwest this week.

Governor Holden is slated as a panelist at the U.S. - China Trade and Economic Cooperation Forum being hosted by the Chicago Council on Global Affairs and the China Chamber of Commerce on January 21. He will also represent MWCA at dinner to welcome the Chinese President the evening of January 20. The Forum will feature China's Minister of Commerce, Chen Deming and Vice Commerce Minister, Wang Chao. More than 500 participants are expected, including 400 senior Chinese executives representing key companies from a range of industries.

The invitation places MWCA among the key organizations involved in promoting ongoing development, economic growth, and cultural exchange with China. "As a region, the Midwest represents almost 20% of the national GDP, and Chinese interest in the Midwest as a trade, economic, technology, and business partner is only going to grow," Mr. Holden said. "MWCA is focused on attracting this interest and connecting Chinese and Midwest interests for increased, mutual benefit."

MWCA is already playing a supportive role in helping small and medium sized businesses as well as large industry foster commerce with China. In July 2010, the association was instrumental in helping to place a high-tech production facility in rural Moberly, Mo. Operated by Mamtek International, a Chinese owned sucralose manufacturer, the plant is bringing hundreds of jobs to the state.

"Chicago's role in the Midwest cannot be ignored, and it is good that President Hu will visit," shares Holden. "Yet, beyond that we want China to explore the opportunities offered by our entire 12-state region. We are the air, cargo, and transportation hub of America, and home to agriculture, manufacturing, and energy industries. The Midwest is a valuable global partner and competitor, and MWCA looks forward to continuing to share this message."