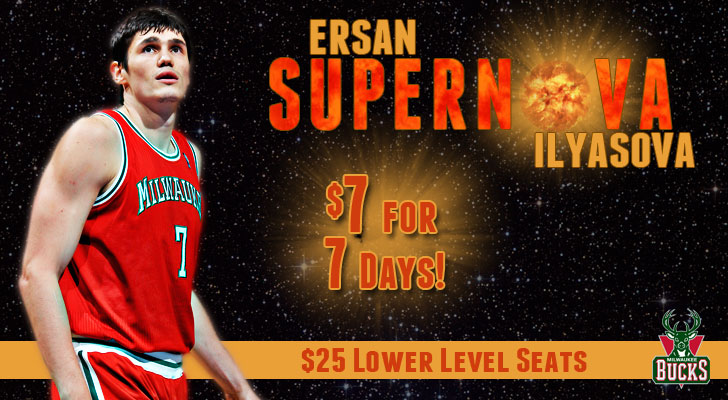 Ersan was named Eastern Conference Player of the Week for March 5-12.

Ersan was named Eastern Conference Player of the Week for March 5-12.
Like a supernova lighting up the galaxy, Ersan Ilyasova has been lighting up NBA teams and the faces of Bucks fans worldwide. Some call him the Turkish Thunder. Others use the term Ersanity. To commemorate his star-studded play of late, Turkish Bucks fan Ibrahim Balcioglu suggested we call him Supernova Ilysova. So we have.
Ersan Ilyasova's play has been stellar in recent weeks, culminating with the NBA naming the fourth-year forward Eastern Conference Player of the Week for games ending Sunday, March. 11. To celebrate, the Bucks last night unveiled the Ersan "Supernova" Ilyasova Ticket Special. In honor of #7's achievement, the Bucks are offering fans special $7 tickets for the next seven days only. Fans can also purchase a $25 lower-level ticket during this special seven-day window to commemorate the career-high 25 rebounds Ilyasova grabbed on Feb. 19 in New Jersey.
How to Order:
Online - here
Phone - 1.800.4.NBA.TIX
Ilyasova averaged 25.0 points and 10.8 rebounds per game last week while shooting 63.8 percent from the field, 66.7 percent from behind the arc and 90.0 percent from the free-throw line. He recorded three double-doubles to add to his team-leading total of 11, and posted the first two 30-point games of his career (including a career-high 32 against Chicago on March 7). The Bucks went 3-1 on the week, posting home wins against Philadelphia and New York before capping the week with a road win in Toronto. The honor was the first of Ilyasova's career and the first for a Bucks player since the 2009-10 season.