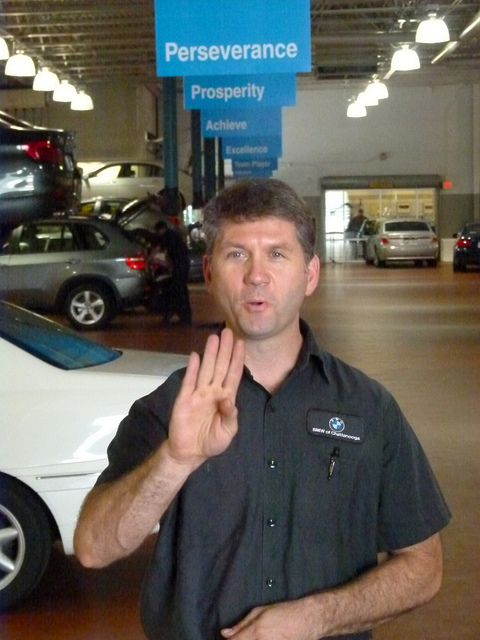 Contact info:
Jon Moss, jon@mmlabs.biz, (423) 285-8886
Monica Parker, monica.parker@bmwofchattanooga.com, (423) 894-5660
October 2012, Chattanooga, TN
- Beginning this week, the fourth and latest BMW of Chattanooga TV commercial produced by Chattanooga-based MMLabs began airing on local television stations. It has the potential to change the standard approach to dealership commercials. The commercial also prominently features a unique employee who is poised to become a local celebrity.
Scott Carpenter, a native of Omaha Nebraska, oversees the detail department at the dealership and has been deaf since he was nine years old. In the commercial, Carpenter uses sign-language to express the importance of having your BMW serviced by a BMW Certified Technician using only BMW Original Parts. And he does so with a smile on his face and a shrug of his shoulders.
This is typical Scott, according to Daniel Bellemare, BMW of Chattanooga's General Manager.
"Scott exemplifies everything great about BMW of Chattanooga. He is a long term employee who is always willing to lead the way into change. He is always a problem solver instead of a problem creator. We love Scott and are so happy he is part of our team."
MMLabs, a new media creative agency based in Chattanooga, was hired to create a series of TV commercials that incorporated BMW's "Customer Pledge". They were also encouraged to make the commercials completely different than a typical dealership.
According the Jon Moss, Flight Director at MMLabs, the fourth commercial was the chance to really do something unique and special. Carpenter's enthusiasm was the key.
"It's been a complete joy working with BMW of Chattanooga. After initially meeting with Scott, it was apparent his involvement would add something special to the spot. We knew, given the right setting, he would light up the screen."
And he did.
According to Monica Parker, Marketing Manager for BMW of Chattanooga, the series of commercials is already getting noticed by the national BMW USA for their "incorporation and personification" of the new BMW Customer Pledge.
Parker said the commercials and Customer Pledge help bring the employees of BMW of Chattanooga closer together.
"The commercials have brought us together and helped us reach new levels of customer service. We watch them all the time around the dealership," she said. "To us, these aren't just commercials. They are a mantra for us as a staff."
The commercial also has received attention from from The National Association of the Deaf.
NAD CEO, Howard A. Rosenblum, said "[We] applaud BMW of Chattanooga for employing deaf and hard of hearing employees, and recognizing the value of such employees by including them in a TV commercial."
Rosenblum encourages other employers to follow BMW of Chattanooga's lead in "promoting the valuable contributions that deaf and hard of hearing people bring as employees."
About BMW of Chattanooga:
Located at East Brainerd Road at I-75 in Chattanooga, TN, BMW of Chattanooga is the areas exclusive BMW dealership and is an 8-time winner of the elite BMW Center of Excellence award.
About MMLabs
MMLabs is a new media agency providing creative marketing services and content creation to corporations, non-profits and professionals.
About The National Association of the Deaf:
The National Association of the Deaf (NAD) is the nation's premier civil rights organization of, by and for deaf and hard of hearing individuals in the United States of America. Established in 1880, the NAD was shaped by deaf leaders who believed in the right of the American deaf community to use sign language, to congregate on issues important to them, and to have its interests represented at the national level. These beliefs remain true to this day, with American Sign Language as a core value.