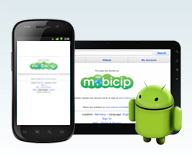 Thousand Oaks, CA - Mobicip.com, the leading Internet filtering service for mobile devices like the iPhone, iPod Touch, iPad, Windows 7 and Linux (laptops or desktops) has just announced that the Mobicip Safe Browser is now live on the Google Play store (formerly Android Market). On smartphones and tablets running the Android operating system, families and school administrators can install the Safe Browser to allow children to access the web safely. An optional web-based Premium service allows for customization of content filtering including setting time limits and monitoring browsing history.
"Mobicip's Safe Browser for Android was built with help from hundreds of our customers who are using it on the iPad, iPhone or the iPod touch and who were willing to take our Android beta for a test drive," says Mobicip's Founder and CEO Suren Ramasubbu. "A typical family, school or business today has an assortment of computers, smartphones and tablets. It is easy to setup Mobicip to create a safe and secure browsing environment across multiple devices and computers. Since the protection works just the same at home, school, a local coffee shop or the library, parents and administrators can be confident that their kids are browsing the web without the risk of landing on inappropriate content."
Mobicip's Safe Browser for Android smartphones and tablets is now available for download on the Google Play store. The Safe Browser for Android is modeled after its bestselling namesake for the iPhone, iPod Touch and iPad, uses the same path-breaking dynamic cloud content filtering engine, and works seamlessly with the Mobicip Premium service. Mobicip for iOS has been a top-selling app with hundreds of thousands of customers and won several awards for providing a safe, secure and educational Internet for families and schools worldwide.
Visit www.mobicip.com and click Get Started today!
About Mobicip
Mobicip is the most popular web content filtering solution for mobile devices like smartphones and tablets. The best-selling Mobicip Safe Browser app on the iOS App Store has been consistently holding its position among the top 50 paid apps for over 3 years, downloaded and used by hundreds of thousands of parents and several K-12 schools and school districts, and was recognized by the Parents' Choice Awards as a Top Mobile App. Mobicip's dynamic content filtering engine now includes a new Safe Browser for Android, Windows 7 Content Filter, and Linux Content Filter for parents and educators to ensure their children's Internet safety while they are on the web. Learn more at www.mobicip.com.