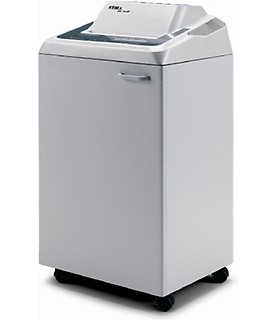 After pulling out our microscope and taking a closer look, the Kobra 310 TS-AF HS6 High Security Shredder with Automatic Feeder has proved to be a worthy machine. It's a fairly versatile machine with a not-too-crazy price tag either (but remember you can often get a better deal if you call or email :-) Overall we'd recommend this machine but I suggest that you take a look at the specs yourself.

Security
NSA Approved, this shredder sports level 6 security which shreds your paper into sand-like particles. You only need this level of security if you are working in or with the government. The downside to level 6 machines is that you can generally only do a few sheets per pass and the cutting heads are more prone to damage from staples or paper clips so you should always remove them to prolong the life of your machine. If you don't need this level of security we recommend you jusm to a level 3 or 4.

Shredable Material
The Kobra 310 TS-AF HS6 High Security Shredder with Automatic Feeder can shred Paper. If you need to be able to shred something else then we recommend that you look at a larger machine and/or look for something with a little bit lower security (the higher the security the less likelihood that the machine shreds something other than paper).

Continuous Motor
This shredder is rated for continuous operation. That means that theoretically you could shred all day long and the machine would not have to shut-down to cool off. Remember that results may vary under real-world operating conditions and things such as the temperature of the room will affect the ability of this motor to stay cool and continue to shred. We give this machine 2 pats on the back for being rated continuous duty and we know that you'll appreciate this feature in due time.

Bin Size
The Kobra 310 TS-AF HS6 High Security Shredder with Automatic Feeder sports a hefty 36 gallon bin. We know that you're not messing around when you get up in this size. You'll be able to go quite some time before you have to actually empty that thing out. Fill up your machine, skip the gym and just carry the full bag around the office all day!

Throat Size
We love the 12.2 inch throat on this shredder because you can put in odd sized paper and it leaves plenty of breathing room when it comes to regular sized paper. Some of the smaller machines will crumple the paper and eventually jam because the throat opening is just not large enough.

Auto Oiler
This machine gets a huge bonus for having the automatic oiler already installed. This means that you don't have to worry about oiling the machine or figuring out who oiled it last. It is a fact that well oiled cutting heads will prolong the life of your machine. All you have to worry about is changing the oil in the reservoir and you're good-to-go.

Price
The MSRP is $10,000.00 but you can find it for much less online if you look around. Don't let the price deter you until you do a little bit of comparison shopping first.

About the Manufacturer
ELCOMAN is today one of the world leaders in production of office shredders capable to shred paper, CDs, DVDs, Floppy Disks and credit cards, professional guillotines and trimmers, flip charts with rewritable steel board adjustable in height through retractable legs. All items are sold under the KOBRA trademark in over 80 countries, through a far-reaching network of agents and retailers and 7 subsidiaries worldwide.

Manufacturer Jargon
This Kobra 310 TS-AF HS6 shreds up to 6 sheets of paper at a time (cross cut rated capacity with lubricated cutting knives). Automatically shreds up to 150 sheets through the special Automatic Feeder, "EPC - Electronic Power Control" System: shows the shredding load required to optimise shredding without jams. "ENERGY SMART®" power saving system: machine goes into power saving stand-by mode after just 8 seconds and switches off automatically after 4 hours of non-operation, "AUTOMATIC REVERSE" System in case of jamming. 24 hour continuous duty motors: no duty cycle or timed cool down periods, Heavy duty chain drive with steel gears "SUPER POTENTIAL POWER UNIT". Carbon hardened cutting knives unaffected by staples and metal clips. New high precision design of cutting. knives allows high shred loads with low power consumption, "AUTOMATIC OILING SYSTEM": automatically lubricates cutting knives.

I hope that our break-down here has helped you make your decision on the Kobra 310 TS-AF HS6 High Security Shredder with Automatic Feeder. We are always available to answer more specific questions that you might have, so don't hesitate to give us a call. As always, remember that the manufacturer stated specs do not always match up to the real-world performance that you get from the machine so keep this in mind when deciding on what to buy.

AUTHOR SECTION----

Located in the hustle and bustle of New York, Mono Machines is an authorized reseller of Kobra Products. Click here for more information on the Kobra 310 TS-AF HS6 High Security Shredder with Automatic Feeder, or click here to browse all Shredders.