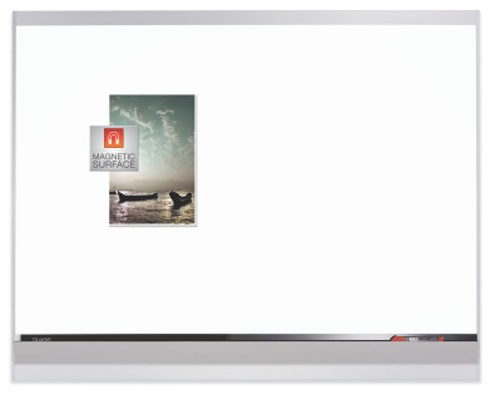 This
Quartet 85260
exceptional top-grade presentation whiteboard is designed for superior functionality in high profile environments. The easy-to-clean writing surface delivers smooth writing performance and will not scratch, dent, stain or ghost. The sleek, modern frame is available in three distinctive finishes.Maximum durability whiteboard with DuraMax® porcelain surface provides superior performance. It comes with a magnetic surface doubles as a bulletin board.
Quick Overview
*
85260 Platinum Plus™
8x4 Porcelain Whiteboard - Aluminum
* 8` W x 4` H Brushed aluminum finish frame
* Removable frame caps and pass-thru mounting system secures board to wall in 4 places for easy installation
* Porcelain surface is C to C Silver certified for material content
* Includes marker tray, magnetic eraser caddy and 4 Quartet® dry-erase markers
* Smooth DuraMax® porcelain board surface will not scratch, dent, stain or ghost and requires only minimal cleaning
Additional Information
Manufactured In China
Manufacturer Quartet
Expected Ship Date 7-10 Days
Weight 1.0000
Warranty Lifetime Surface Warranty
Manuf Part # 85260
Model 85260
Main Board Surface Porcelain
Board Size 8' x 4'
Frame Finish/Color Aluminum
Magnetic Surface Yes
Mounting System Horizontal
Scratch & Dent Resistant Yes
Located in the hustle and bustle of New York City, Mono Machines LLC is an authorized reseller for Quartet 85260 Platinum Plus™ 8x4 Porcelain Whiteboard - Aluminum. Through our unique contracts we are able to ship directly from the manufacturer warehouse, cutting costs and delivering the LOWEST PRICES around.
We strive to provide the best service at the lowest possible price. We have product specialists available for most products. Please call us with any questions or concerns that you may have. We are staffed with highly knowledgeable employees and look forward to meeting your needs.
Highly trained customer service staff and state of the art technologies have made Mono Machines a preferred vendor for many federal and local government agencies as well as schools, churches and fortune 500 companies. Mono Machines is classified as a disadvantaged minority owned business and holds a GSA contract with the federal government.