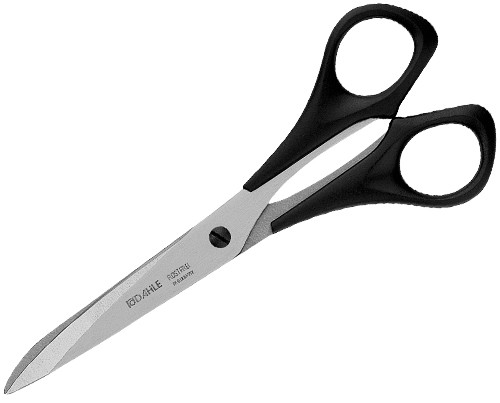 Dahle 50006
Super Shears is designed to accommodate the needs and comfort for both personal and professional use. The handles are made of tough ABS plastic that gentle forms around your fingers. This comfortable fit reduces pressure points and fatigue during extended use. These commercial grade shears can handle the toughest material as well as the most delicate fabric. They feature Solingen steel cutting blades that are machine ground and hardened to 56 Rockwell. This specification is considered the optimal hardness of metal for maintaining a sharp edge. The blades are screw fastened and can easily be tightened to your personal preference. Super Shears are available in 4"-10" sizes. This line also features an 8" All-Around Shear that has an aggressive micro-toothed cutting edge that can be used while cooking, hunting, or anywhere and aggressive shear is needed!
Quick Overview
* Machine ground blades are hand finished and hardened to 56 Rockwell
* Solingen Steel blades are double ground for precision trimming of thicker material
* Handles are made of tough ABS plastic and are virtually unbreakable
* Blades are screw fastened for easy tightening
* Shears cut to the tip for fine trimming
Additional Information
Manufactured In Germany
Manufacturer Dahle
Manuf Part # 50006
Model 50006
Weight 0.3000
Expected Ship Date 1-3 Days
Warranty Lifetime Manufacturer Warranty
Scissor Length 6"
Blade Type Double ground
Handle Type ABS Plastic
Screw Fastened Yes
Material Cut Ability Cardboard, Cardstock, Construction Paper, Paper, Photo Paper, Fabric
Special Info N/A