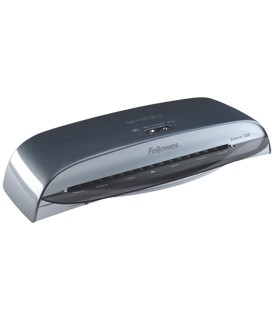 Safety Features: HeatGuard Technology™ keeps heat inside so laminator is cool to touch. Anti-Jam Technology: Release lever disengages pouch for re-centering or removal.
Quick Overview
*
125 Laminator
* THIS LAMINATOR SHIPS IN A MASTER CARTON OF 2 - MUST PURCHASE IN QUANTITIES OF 2
* Designed for small office applications
* 9-1/2" entry width accommodates multiple document sizes
* Hot lamination for 3-mil or 5-mil pouches; ready in 5 minutes
* Cold setting for laminating self-adhesive pouches
* Includes laminating starter kit
Additional Information
UPC 043859610105
Manufacturer Fellowes
Manufactured In China
Manuf Part # 5727701
Model 125
Expected Ship Date 3-5 Days
Weight 6.0000
Warranty 2 Years
Dimensions 4 1/4 x 22 1/2 x 6 1/4"
Color Silver
Type Pouch
Warm-Up Time (mins) 5
Temperature Control Variable
Cold Lamination Setting Yes
Speed (inches/minute) 12
Speed Control Fixed
Maximum Laminate Thickness 5 mil
Thoat (inches) 12.5"
Auto Shutoff No
Number of Preset Settings 1
Reverse Yes
Integrated Trimmer No
Mounting Board Capable No
Number of Rollers 2
Voltage 100 - 120v (Standard)
Located in the hustle and bustle of New York City, Mono Machines LLC is an authorized reseller for Fellowes Saturn™2 125 Laminator. Through our unique contracts we are able to ship directly from the manufacturer warehouse, cutting costs and delivering the LOWEST PRICES around.