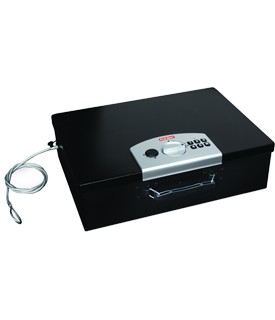 This First Alert 3040DF Digital Security Box with Cable is secure and large enough to store computers up to 17-inches. The box holds 8 1/2 by 11-inch paper flat and is constructed with insulated double steel walls for security. Choose your own 5 digit combination and reprogram it any time for easy access and peace of mind. This security box also includes a security cable that can be attached to stationary objects to allow for additional protection. An emergency override key gives you access should you forget the passcode, and the protective floor mat helps protect valuables from jostling when you're on the move.

Quick Overview
* 3040DF Electronic Security Box
* Reprogrammable 5 digit Passcode with Emergency Override Key
* 0.49 Cubic Foot Capacity and Electronic Digital Lock
* Protective Floor Mat and Convenient Carrying Handle
* Insulated Double Steel Wall Construction
* Includes security cable

Additional Information

UPC 016247206402
Manufactured In China
Manufacturer First Alert
Manuf Part # 3040DF
Model 3040DF
Weight 9.7000
Expected Ship Date 1-3 Days
Shipping Weight 10.8 lbs
Shipping Dimensions 5.9" H x 18.6" W x 13.3" D
Warranty 90 Day Limited Warranty
Color Black/Silver
Outer (Exterior) Dimensions 5.62" H x 17.56" W x 12.81" D
Inner (Interior) Dimensions 4.38" H x 16.63" W x 11.63" D
Lock Type Electronic
Fire Rating N/A
Adjustable Shelves No
Lockable Drawers No
Can you Anchor? No
Casters No
Water Resistant No

Located in the hustle and bustle of New York City, Mono Machines LLC is an authorized reseller for First Alert 3040DF Electronic Security Box. Through our unique contracts we are able to ship directly from the manufacturer warehouse, cutting costs and delivering the LOWEST PRICES around.

We strive to provide the best service at the lowest possible price. We have product specialists available for most products. Please call us with any questions or concerns that you may have. We are staffed with highly knowledgeable employees and look forward to meeting your needs.