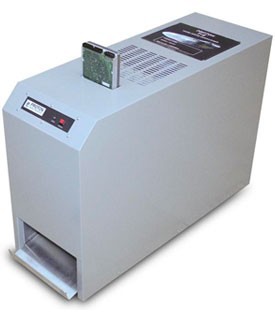 The
Intimus T-4 Hard Drive
Degausser is engineered to provide robust degaussing features for hard drive media up to 5,000 Oe and tape media up to 2,800 Oe. These are the maximum media coercivities available today and the maximum coercivity available for NSA test purposes, he T-4 actually produces 40,000 gauss uniform fields (4 Tesla) and usual NSA requirements are three times the flux versus media coercivity. If this general requirement is extrapolated, the T-4 with 4 Tesla should reliably degauss media with a coercivity of 13,330 Oe. In simple terms, the T-4 will not be outdated soon and will degauss your magnetic media for many years to come, Destruction of confidential, sensitive and classified data is in accordance with recognized standards and provides compliance under FACTA, HIPAA, GLB, DPA, etc. T-4 complies with DoD requirements for destroying classified information on magnetic media and is on the NSA EPL. There is minimal training required to use this machine.
Quick Overview
Degauss / Erase all data from hard drives and magnetic media
Lightweight enables table top or floor operation
Meets NSA/CSS EPL-9-12A-E
Destroys in accordance with FACTA, HIPAA, GLB, DPA, etc.
Continuous cycle
Minimal training required
Additional Information
Manufactured In: USA
Manufacturer Intimus
Manuf Part # T4W1
Model T-4
Weight 128.0000
Dimensions 26" H x 19" D
Expected Ship Date 1-3 Days
Warranty 1 Year Manufacturer Warranty
Degaus Cycle Time Less than 1 minute
Standard Operation (Duty) Cycle Continuous
Magnetic Field 13,330 Oe Intensity, 40,000 G Intensity
Max HDD Dimensions 1" x 6" x 4.3"
Voltage 100 - 120v (Standard)
Power Options / Other Info Available in 120v and 240v
Certifications ISO 9001
NSA Approved Listed on NSA Evaluated Products List (EPL), NSA/CSS Recommended
Special Info NSA Approved
Located in the hustle and bustle of New York City, Mono Machines LLC is an authorized reseller for v. Through our unique contracts we are able to ship directly from the manufacturer warehouse, cutting costs and delivering the LOWEST PRICES around.
We strive to provide the best service at the lowest possible price. We have product specialists available for most products. Please call us with any questions or concerns that you may have. We are staffed with highly knowledgeable employees and look forward to meeting your needs.