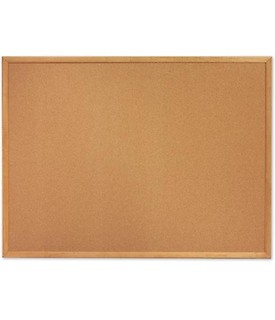 Quartet 303 Cork Bulletin Board Keeps important information on display with this natural corkboard. The hard-working cork creates a convenient display center in break rooms or factory floors. Cork surface self-heals, adding long-lasting durability. Durable frames with heavy-duty mounting systems hold steady for years to come. Cork bulletin boards provide an affordable, functional option for your communication needs.

Quick Overview
* 303 Cork Bulletin Board - Oak
* MINIMUM QUANTITY PURCHASE OF 5 REQUIRED
* 3' x 2' Cork Board
* Depend on cork to hang documents anywhere people stop to gather
* Benefit from cork's natural self-healing surface
* Light, oak finish frame gives the board a bold, contemporary look
* Fasten to the wall securely and simply with heavy-duty, factory installed mounting system

Additional Information

Manufactured In China
Manufacturer Quartet
Manuf Part # 303
Model 303
Shipping Dimensions 40" x 2" x 25.5"
Expected Ship Date 7-10 Days
Weight 8.6500
Dimensions 3' x 2'
UPC 034138303009
Finish Oak
Usage Indoor
Surface Self-healing surface
Number of Displays 1
Comes With Factory-installed mounting system

Located in the hustle and bustle of New York City, Mono Machines LLC is an authorized reseller for Quartet 303 Cork Bulletin Board - Oak. Through our unique contracts we are able to ship directly from the manufacturer warehouse, cutting costs and delivering the LOWEST PRICES around.

We strive to provide the best service at the lowest possible price. We have product specialists available for most products. Please call us with any questions or concerns that you may have. We are staffed with highly knowledgeable employees and look forward to meeting your needs.