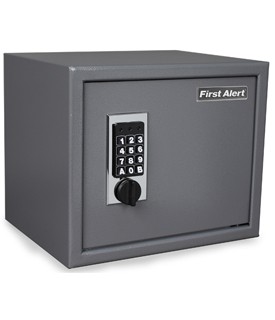 The First Alert 2072F Anti-Theft Safe is perfect for securing your valuables and personal items. The safe features welded steel construction, dual lock access, pry-resistant concealed hinge, and 2 live door bolts. The 1.00 cubic foot safe includes a removable safe to help maximize space and organize your belongings. The safe's electronic keypad lock allows users to program a personal 3 to 8 digit passcode. The digital lock is designed to be used in conjuction with the entry key: the entry key operates the safe's live bolts after the passcode is entered into the digital lock. The entry key can be left in the keyhole using the digital lock to secure the door or it can be removed for an extra level of security. Two entry keys included. Also included is an emergency override key which can be used to bypass the digital passcode and open the safe in case of battery failure (4AA batteries included). The safe includes a protective floor mat and mounting hardware for bolting to the floor, shelf or wall.

Quick Overview
* 2072F Electronic Security Safe
* Dual programmable digital lock and knob key
* Pry-resistant concealed hinges
* Heavy duty welded steel construction
* Floor mat and 4 protective rubber feet
* 1 Removable/Adjustable Shelf & Interior light
* Mounting hardware included

Additional Information

UPC 016247207201
Manufactured In China
Manufacturer First Alert
Manuf Part # 2072F
Model 2072F
Weight 36.1000
Expected Ship Date 1-3 Days
Shipping Weight 38.1 lbs
Shipping Dimensions 13.4" H x 15.70" W x 13.4" D
Warranty 5 Year Limited Warranty
Color Grey
Outer (Exterior) Dimensions 12.38" H x 14.75" W x 12.38" D
Inner (Interior) Dimensions 12.13" H x 14.56" W x 9.75" D
Capacity (Cubic Feet) 1
Lock Type Electronic
Fire Rating N/A
Number of Shelves 1
Adjustable Shelves Yes
Lockable Drawers No
Can you Anchor? Yes
Number of Bolts 2 Live
Casters No
Water Resistant No

Located in the hustle and bustle of New York City, Mono Machines LLC is an authorized reseller for First Alert 2072F Electronic Security Safe. Through our unique contracts we are able to ship directly from the manufacturer warehouse, cutting costs and delivering the LOWEST PRICES around.

We strive to provide the best service at the lowest possible price. We have product specialists available for most products. Please call us with any questions or concerns that you may have. We are staffed with highly knowledgeable employees and look forward to meeting your needs.