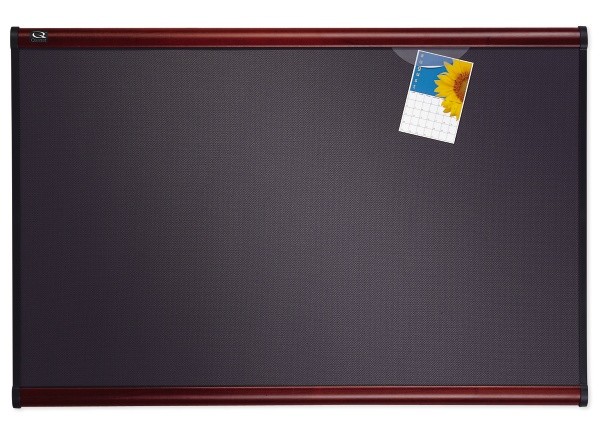 This
Quartet B444M
board is a highly durable, densely woven 4' x 3' diamond-mesh bulletin board backed by high-density fiberboard that effortlessly secures documents with push pins. It delivers quality performance when communication and collaboration is needed in frequent-use offices and conference rooms. The surface is self-healing and eliminates unsightly pin holes. It will not fade or crumble like traditional cork boards, even after years of use. Ideal for high-profile, heavy-use executive offices and conference rooms. You can easily fasten photos or important documents without holes using included Quartet® Quick Clips. The board comes with a Patented Easy Mount™ hanging system to guarantee easy and accurate installation. The sleek mahogany finish frame complements a wide range of interiors.
Quick Overview
*
B444M Prestige Plus®
4x3 Diamond Mesh Fabric Bulletin Board - Mahogany
* MINIMUM QUANTITY PURCHASE OF 2 REQUIRED
* 4' W x 3' H Sleek mahogany finish frame
* Self-healing surface eliminates unsightly pin holes
* Included Quartet® Quick Clips to fasten documents without holes
* Patented Easy Mount™ hanging system
Additional Information
Manufacturer Quartet
Manuf Part # B444M
Model B444M
Expected Ship Date 7-10 Days
Weight 1.0000
Warranty 100% Satisfaction Guaranteed
Finish Mahogany
Frame Sleek mahogany finish frame
Surface Self-healing Diamond Mesh Fabric
Number of Displays 1
Comes With Quick Clips & Mounting Kit
Board Color Dark Grey
Mounting System Included Yes
Board Layout 4' x 3'
Located in the hustle and bustle of New York City, Mono Machines LLC is an authorized reseller for Quartet B444M Prestige Plus® 4x3 Diamond Mesh Fabric Bulletin Board - Mahogany. Through our unique contracts we are able to ship directly from the manufacturer warehouse, cutting costs and delivering the LOWEST PRICES around.
We strive to provide the best service at the lowest possible price. We have product specialists available for most products. Please call us with any questions or concerns that you may have. We are staffed with highly knowledgeable employees and look forward to meeting your needs.
Highly trained customer service staff and state of the art technologies have made Mono Machines a preferred vendor for many federal and local government agencies as well as schools, churches and fortune 500 companies. Mono Machines is classified as a disadvantaged minority owned business and holds a GSA contract with the federal government.