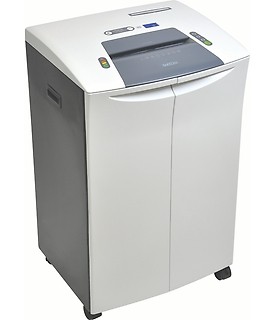 GoECOlife GXC1631TD Meets Carbonfund.org's Carbon Neutral/CarbonFree Product Certification protocol which requires third-party life cycle assessment of the product's carbon footprint, and carbon reductions in support of third-party validated renewable energy and reforestation projects. Part of the GoECOlife Vortex Shredder Series, High-capacity motor delivers commercial-grade performance, perfect for large office use, Virtually silent operation so you do not disturb those around you, ZeroJam™ Overfeed Prevention. VoiceAssist™ Troubleshooting, InfoCenter™ LCD Panel, Auto start/stop, power off, reverse, Manual forward/reverse, Overload & overheat indicator, Dynamic Bin Full Indicator, ParticleSweeper™ Waste Leveler, UL tested for safety.

Quick Overview
* GXC1631TD 16-Sheet Wide Entry Cross-Cut Green Commercial Shredder
* Extra-wide 12.20" throat intake
* Energy-saving and carbon neutral
* 30-minute continuous shredding (60-minute cool down)
* 0.16" x 1.38" crosscut shred for better security
* High-speed (20 feet per minute) means you spend less time shredding
* Large capacity 27.2 gallon removable waste bin for easy emptying
* Shreds credit cards and CDs/DVDs
* Ergonomic T-door design allows for easy emptying in tight spaces
* FREE 12-pack of GoECOlife Shredder Lubricant Sheets included with every GoECOlife Paper Shredder purchase!

Additional Information

UPC 847502002060
Manufactured In China
Manufacturer GoECOlife
Manuf Part # GXC1631TD
Model GXC1631TD
Weight 105.8000
Dimensions 21.3"L x 18.1"W x 34.9"H
Expected Ship Date 1-2 Days
Warranty Three year limited warranty, with lifetime on cutters
Color Grey
Special Info GoECO Energy Saving Technology, Carbon Free Product
Cut Type cross-cut
Security Level 3
Shred Width 0.16"
Shred Length 1.38"
Sheet Capacity (maximum) 16
Bin Capacity (gal) 27.2
Throat Size 12.20"
Shred Speed (Feet/Minute) 20.0
Can Shred: CDs, Credit Cards, DVDs, Paper, Staples
Shred Container Type Plastic Bin
Continuous Motor No
Voltage 100 - 120v (Standard)
Noise Level (db) 53

Located in the hustle and bustle of New York City, Mono Machines LLC is an authorized reseller for GoECOlife GXC1631TD 16-Sheet Wide Entry Cross-Cut Green Commercial Shredder. Through our unique contracts we are able to ship directly from the manufacturer warehouse, cutting costs and delivering the LOWEST PRICES around.

We strive to provide the best service at the lowest possible price. We have product specialists available for most products. Please call us with any questions or concerns that you may have. We are staffed with highly knowledgeable employees and look forward to meeting your needs.