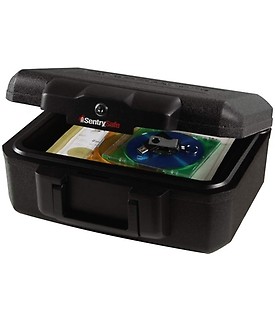 Sentry Safe 1200
Fire Chest is a Compact and versatile, the SentrySafe Fire Chest is popular worldwide. The 1200 protects your family's most important paper documents, media and valuables from fire damage. Features a privacy key lock to keep unwanted viewers away from the contents in the safe as well as prevents the lid from opening in the event of a fire. Replaced the Sentry Safe 1100 Fire Chest.
Quick Overview
*
1200 Fire
Chest
* New contoured body design
* Privacy Key Lock
* Includes two keys to provide back up access in case of emergency
* Convenient carrying handle to assist with ease of transportation
* UL Classified 1/2-hour proven fire protection
* ETL Verified 1/2-hour fire protection for CDs, DVDs, USB drives and memory sticks up to 1550°F
Additional Information
Manufactured In USA
Manufacturer Sentry Safe
Manuf Part # 1200
Model 1200
Weight 14.0000
Expected Ship Date 3-5 Days
Shipping Weight 14 lbs
Warranty 1 Year Limited
Color Black
Outer (Exterior) Dimensions 6.1? H x 14.3? W x 11.2" D
Inner (Interior) Dimensions 3.5? H x 12.0? W x 7.5" D
Capacity (Cubic Feet) 0.18
Lock Type Key Lock
Fire Rating UL Classified 1/2-hour proven fire protection; ETL verified 1/2 hr
Adjustable Shelves No
Lockable Drawers No
Can you Anchor? No
Casters No
Water Resistant No
Located in the hustle and bustle of New York City, Mono Machines LLC is an authorized reseller for Sentry Safe 1200 Fire Chest. Through our unique contracts we are able to ship directly from the manufacturer warehouse, cutting costs and delivering the LOWEST PRICES around.
We strive to provide the best service at the lowest possible price. We have product specialists available for most products. Please call us with any questions or concerns that you may have. We are staffed with highly knowledgeable employees and look forward to meeting your needs.