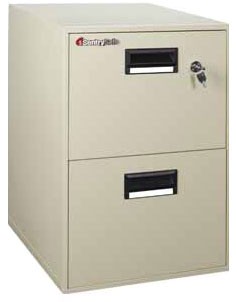 Sentry Safe 2B2100
with fire protection that starts at the core, this new patented design is 35% lighter for easier mobility around the office. Designed with today's small office in mind this new water-resistant fire file provides unsurpassed protection for all your business paper documents and digital records that are stored on CDs, DVDs, USB drives and membory sticks. Also available in Black.
Quick Overview
*
2B2100 Fire-Safe
Filing Cabinets
* ETL verified for 1hr fire protection of CDs/DVDs (1700° F) and water protection against sprinkler/water spray exposure
* UL Classified explosion hazard resistance against explosions in case of sudden exposure to intense heat
* Drawer layout flexibility accommodates letter and legal size hanging file folders
* 35% Lighter than standard 2-drawer fire files
* Color Option: Putty or Black
Additional Information
Manufactured In USA
Manufacturer Sentry Safe
Manuf Part # 2B2100
Model 2B2100
Weight 167.0000
Dimensions 27.8" x 18.6" x 21.0"
Expected Ship Date 3-5 Days
Shipping Weight 167
Warranty 3 year Limited Warranty
Outer (Exterior) Dimensions 27.8" x 18.6" x 21.0"
Inner (Interior) Dimensions 10.2" x 12.0" x 15.0" per drawer
Capacity (Cubic Feet) 2.08 Cubic Feet
Lock Type Key Lock
Fire Rating 1-hour fire protection up to 1700°F
Lockable Drawers Yes
Special Info Made in USA
Located in the hustle and bustle of New York City, Mono Machines LLC is an authorized reseller for Sentry Safe 2B2100 Fire-Safe Filing Cabinets. Through our unique contracts we are able to ship directly from the manufacturer warehouse, cutting costs and delivering the LOWEST PRICES around.
We strive to provide the best service at the lowest possible price. We have product specialists available for most products. Please call us with any questions or concerns that you may have. We are staffed with highly knowledgeable employees and look forward to meeting your needs.
Highly trained customer service staff and state of the art technologies have made Mono Machines a preferred vendor for many federal and local government agencies as well as schools, churches and fortune 500 companies. Mono Machines is classified as a disadvantaged minority owned business and holds a GSA contract with the federal government.