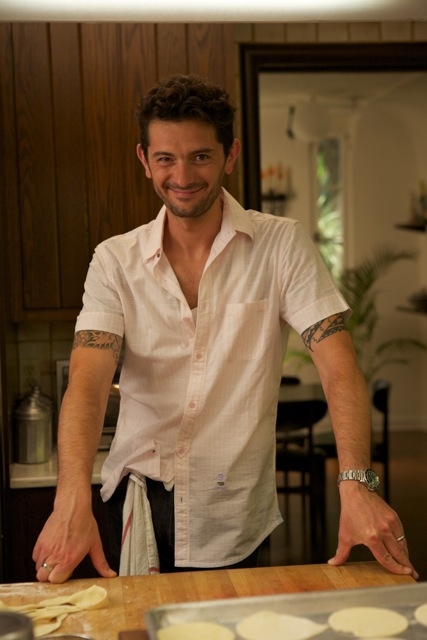 Montauk, NY (March 2, 2012) – The Montauk Yacht Club Resort & Marina (32 Star Island Road, Montauk, NY 11954 [631] 668-3100 or www.montaukyachtclub.com) has named Ryan K. Solien as Chef de Cuisine. Chef Solien will work in coordination with The Tuscan Gun, Consulting Chef Gabriele Corcos, to feature a signature blend of Tuscan food and traditional farmers' cuisine.
Chef Solien joins Montauk Yacht Club with vast experience in the hospitality field. Previously at Sandals Whitehouse, a premier luxury resort on the south coast of Jamaica. Prior to Sandals, Chef Solien was the Executive Chef with the Cirque Du Soleil Touring Show of Ovo, the Executive Chef at Big Sky Resort in Montana.
While serving as personal chef to Tim McGraw and Faith Hill, Executive Chef Solien was featured on Food Network's "Roadie Chefs 2." Other musical celebrities who savored his culinary creativity include Bruce Springsteen and members of rock bands Godsmack and Tool. According to Solien, life in a traveling kitchen equipped him to work anywhere.
Spring Menu
Chef Gabriele Corcos has debuted the Spring Menu for the Gulf Coast Kitchen by Gabriele Corcos, The three-course, prix-fix menu is $29.95 per person and $24.95 per person during Hamptons Restaurant Week, March 18-25, 2012. The menu features a choice of:
To Begin
Cozze ala Tarantina -- Spicy Mussels, White Wine, Grilled Bread, Crushed Garlic
Chowder MYC -- Double Smoked Bacon, Local Clams, Fresh Cream
Zesty Mango Ceviche -- Local Striped Bass, Mango, Ripe Avocado, Diced Jalapeno
Pomegranate Salad -- Butter Lettuce, Mache, Pomegranate Seeds and Champagne Vinaigrette
The Main
Local Prawns -- Linguine, Tomato Puree, Red Pepper, Chopped Garlic, Basil
Roasted Tuscan Chicken -- Arugula, Rosemary, Sliced Lemon
Grilled Hanger Steak -- Fresh Salsa Verde, Rosemary & Sage Roasted Baby Potatoes
The Super Tuscan -- Kobe Burger, Provolone, Lardo Di Colonnata, Avocado
Dessert
Chocolate Decadence
Vanilla Bean Cheesecake
Crème Brulee
Sorbet & Ice Cream
St. Patrick's Day Green Getaway
Montauk Yacht Club is open for the season with starting rates at $129. The resort also has a St. Patrick's Day getaway for those who want to share the luck of the Irish. Starting at $149 per room, per night, Montauk Yacht Club's "Green" getaway includes coupons for complimentary Irish coffee (one per adult) and complimentary roundtrip shuttle to the 50th Annual Montauk St. Patty's parade on March 25, 2012. Promo code "green" at time of booking. This package does not include tax + service and check-out on Sunday, March 25th is required.
The 50th Annual Montauk St. Patrick's Day Parade, billed as the second largest such parade in New York State, will take place on Sunday, March 25, 2010, starting at 10:00 am on Edgemere Road. For more information on the parade, please visit http://www.montaukfriendsoferin.org/parade.html.
# # #
The Montauk Yacht Club Resort & Marina is serenely situated on 35-acres of scenic waterfront property at the East End of Long Island, New York where it has been the preferred playground for a who's who of visitors since famed entrepreneur Carl Fisher built the original clubhouse in 1929. After a multimillion dollar redesign and renovation in 2009, the world-class property features 107 guest rooms; 23 Villa Cottages; 232-slip full-service, mega-yacht Marina; fine dining and cocktails at the Gulf Coast Kitchen by Gabriele Corcos, Hurricane Alley, Barracuda Bar and Turtle Lounge.
The resort also offers a full-service spa and salon, fitness center; a private beach and three swimming pools; Har-tru lighted tennis courts; easy access to fishing and water sports; and 10,000-feet of indoor meeting and event space plus the expansive Great Lawn that can accommodate large-scale tented events up to 1,000 people.
For more information, please visit www.montaukyachtclub.com, call (631) 668-3100. Follow Montauk Yacht Club on Twitter at http://twitter.com/MYC_Hamptons and Facebook at http://www.facebook.com/HamptonsMYC.
Media Contacts:
Rebecca Kollaras/Kollaras Communications – General Resort/Travel 305-439-5314 Rebecca@Kollaras.com
Libbie Hess/Rogers & Cowan - Entertainment & Lifestyle 212 878 5072 EHess@rogersandcowan.com