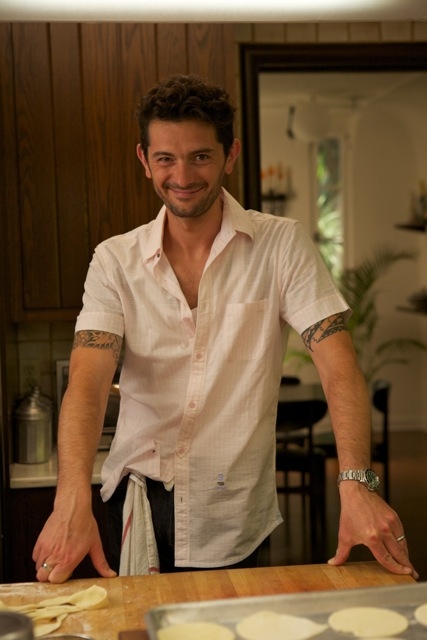 Montauk, NY (February 23, 2012) – The Montauk Yacht Club Resort & Marina (32 Star Island Road, Montauk, NY 11954 [631] 668-3100 or www.montaukyachtclub.com) has named celebrity chef and Cooking Channel star Gabriele Corcos, the resort's Consulting Chef. The resort's signature restaurant, Gulf Coast Kitchen by Gabriele Corcos and will feature his signature blend of Tuscan food and traditional farmers' cuisine. Montauk Yacht Club opens for the season March 1, 2012.
Born in Florence, Italy, Gabriele Corcos was raised in the Olive Country of Fiesole. His grandmother and mother taught him everything he knows about Tuscan food and traditional farmers' cuisine. At the age of six, one Sunday morning alone in the kitchen, Gabriele decided to turn on the oven and baked his first cake. He then delivered it warm to his parents' bedroom for breakfast, but decided to charge them a fee! From then on, his Sunday morning baking experiments became his weekly allowance. Gabriele has not stopped cooking since, and he has an insatiable fascination with food, a love for organic ingredients, and foremost a determination to feed his wife and children in the healthiest and most natural way he knows the Tuscan Way.
Corcos has his own Cooking Channel show, Extra Virgin, that invites viewers into his family's Los Angeles home, where Gabriele and his wife, actress Debi Mazar, share their passion for food and each other. She's a modern girl from Queens, and he's a food purist from the hills of Tuscany. With their two young daughters, they have a home life that is pleasantly chaotic and filled with only home cooked Tuscan meals.
The Montauk Yacht Club Resort & Marina is serenely situated on 35-acres of scenic waterfront property at the East End of Long Island, New York where it has been the preferred playground for a who's who of visitors since famed entrepreneur Carl Fisher built the original clubhouse in 1929. After a multimillion dollar redesign and renovation in 2009, the world-class property features 107 guest rooms; 23 Villa Cottages; 232-slip full-service, mega-yacht Marina; fine dining and cocktails at the Gulf Coast Kitchen by Gabriele Corcos, Hurricane Alley, Barracuda Bar and Turtle Lounge.
The resort also offers a full-service spa and salon, fitness center; a private beach and three swimming pools; Har-tru lighted tennis courts; easy access to fishing and water sports; and 10,000-feet of indoor meeting and event space plus the expansive Great Lawn that can accommodate large-scale tented events up to 1,000 people.
For more information, please visit www.montaukyachtclub.com, call (631) 668-3100. Follow Montauk Yacht Club on Twitter at http://twitter.com/MYC_Hamptons and Facebook at http://www.facebook.com/HamptonsMYC.