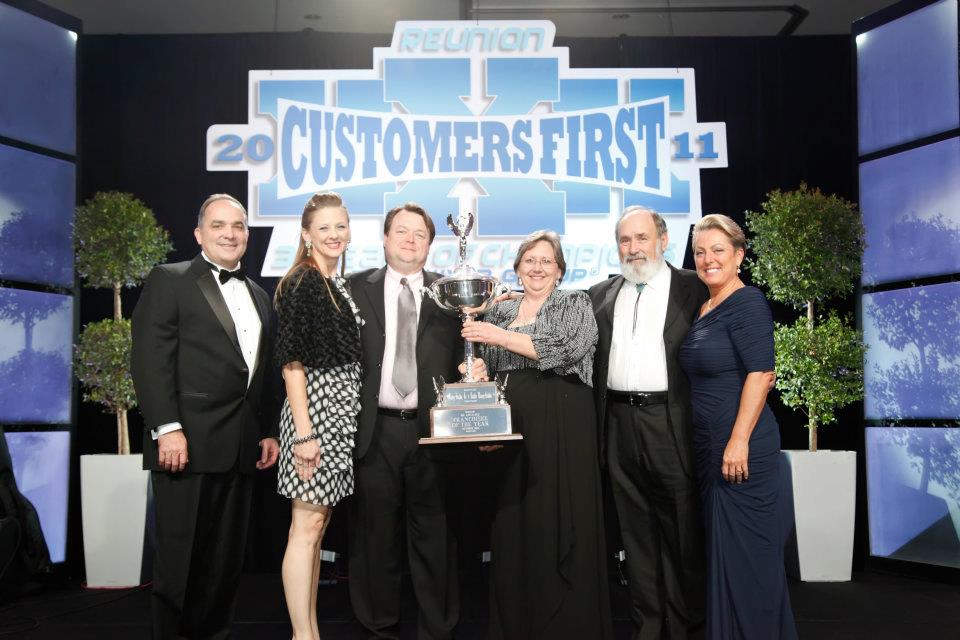 The Grubbs' style of conducting business has been a recipe for success. This year, Mr. Appliance Corp.® recognized Harry Grubbs, Jr. and Natalie Massey-Grubbs of Mr. Appliance of N Harris & Montgomery Countiesfranchise as Franchise Owners of the Year during the company's national conference in Indianapolis, Ind.
In 1998, Harry Grubbs Sr. started his appliance repair business. Then in 2007, Harry Grubbs, Jr., son, and Natalie Massey-Grubbs, wife of Harry, Sr., began operations as business partners.
"I've always tried to continue the legacy created by my husband, Harry, Sr.," said Natalie Massey-Grubbs. "This award means so much to our business, but especially to our family."
Mr. Appliance Corp. presents this award to the franchise owner who has consistently grown through proper training and has a consistently high level of success through high-quality, professional service.
The Grubbs have diligently served the greater Houston area and surrounding communities with their dedicated efforts to deliver superior service and quality care. They strive to exceed customer expectations and make it their goal to build solid relationships with the members of the community.
"I couldn't be more proud of the Grubbs family," said Doug Rogers, president of Mr. Appliance Corp. "Harry Jr. and Natalie have consciously taken the time to improve their business and it truly shows. They have set a notable example and have raised the bar for other franchise owners."
"Perseverance is vital, in addition to hard work," said Harry Jr. " We've been able to build a great team of knowledgeable technicians and customer service representatives. Our successes would not be possible without our team."
One particular member of their team, Tanna Marino, was awarded Service Professional of the Year. This award goes to the service professional who has the best overall performance. The award is based on total sales, customer satisfaction and his or her ability to follow the Mr. Appliance Front Line Service System.
"I'm thrilled that Tanna won this award," Harry Jr. said. " Tanna's approach to customer service and her dedication to the team is outstanding."
Natalie and Harry Jr. are continually looking to enhance their business. They are proud to announce their addition of the dryer vent cleaning service, which will be available in 2012. Accompanying this addition, they plan to develop and expand operations into Sugarland, Texas and southwest Houston areas.
For recipes, appliance and energy tips, follow us on Twitter at @MRANHarrisMont and @MrApplianceCorpand like us on Facebook at www.facebook.com/MrApplianceCorp.