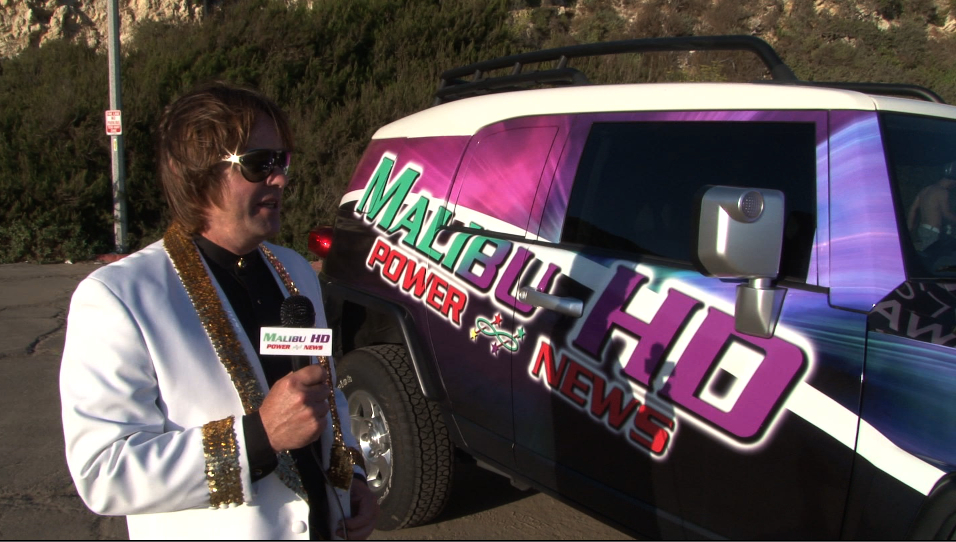 Malibu, CA - Mr. Malibu took delivery of the all new Paul Mitchell sponsored MalibuHD Power News Toyota FJ Cruiser and it has already made waves in Malibu as being the very first Malibu news vehicle in the history of Malibu. Though what may appear as a surprising fact for one of the most famous cities in the world, Malibu is also known as a somewhat reclusive neighborhood due to the large number of very high net worth individuals and entertainment figures representing combined community wealth in excess of $200 Billion.

Mr. Malibu had the great fortune of meeting John Paul DeJoria – co-founder and CEO of John Paul Mitchell Systems and after Mr. Malibu offered the vehicle sponsorship opportunity, the Paul Mitchell team created the sensational Paul Mitchell graphics for the vehicle including the famous two-finger Peace Sign and icon Paul Mitchell messages of Giving Back, Innovation, and more as Paul Mitchell has proven time and again a very strong culture of giving and caring for the planet.

Hundreds of people in Malibu have stopped and stared at the landmark vehicle which is actually a whole new genre of news vehicles perfect for the Mr. Malibu image to show up at major celebrity events, concerts, fashion shows and all types of fun beach activities to raise funds for those in need of health support, inspiration for life, and Green initiatives to improve the environment. Mr. Malibu's views on these efforts are best expressed in the CeleBuzz global headline article "Christina Applegate Brings Her Baby Bump to the World Famous Mr. Malibu Celebrity Surfing Contest." Mr. Malibu is quoted: "The inner pollution of fear, doubt, greed, and anger ultimately reflects in the outer world of our human bodies and the ecosystem in which we live."

On the MalibuHD Power News FJ Cruiser's first day in the 'Bu, Mr. Malibu ran into James L. Brooks ("Jim") – the creator of "The Simpsons" and director of "As Good As it Gets." Jim said it looks fantastic and asked where he could see MalibuHD Power News and Mr. Malibu gave him a MalibuHD.com business card. After Mr. Malibu introduced MalibuHD to Kourtney Kardashian moments later at the Malibu Lumber Yard luxury shopping center, Mr. Malibu was pulling into the Malibu Country Mart in the new vehicle while Kourtney was then pulling out in her new black Mercedes. She stopped to look at the MalibuHD Power News vehicle while Mr. Malibu was waiting for her to pull out. At that point, a TMZ reporter was rolling his camera and asked Mr. Malibu what Koutney's husband had said to Mr. Malibu. Mr. Malibu responded: "Not sure what he was asking about and I just told him that I'm Mr. Malibu" while numerous bystanders were laughing at the hilarity of the whole scene.

The Paul Mitchell sponsorship is highly honored by Mr. Malibu because Paul Mitchell has such a strong history caring for the environment, as reflected in its Green Team Motto: "Reduce, Reuse, Recycle, and Respect!" Paul Mitchell's Awapuhi products are good for people and the environment and the Awapuhi is harvested at Paul Mitchell's sustainable solar powered farm in Hawaii. "John Paul DeJoria is a genuine caring person passionate about protecting the environment" says Mr. Malibu who was very fortunate to interview Mr. DeJoria on camera at the California Wildlife fundraiser event.