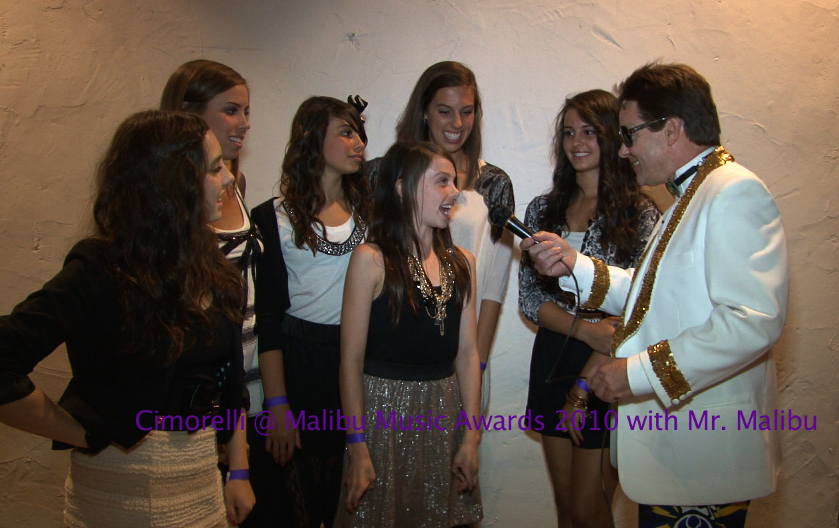 The Malibu Music Awards event on September 24 will feature exciting concert performances and awards ceremony for VIP and general audiences. A thrilling list of performers will entertain an enthusiastic VIP and Malibu community audience who expect nothing but the best.

This year will include Cimorelli- whose YouTube Channel has racked up more than 50 million upload views since it was created two years ago. Also Laine Kazan -a Golden Globe, Emmy, Grammy, and SAG Award nominated Actress/Singer, Frank Stallone, Robert Davi, Honorary Chair Linda Thompson, Renee Taylor, Joe Bologna, Vincent Spano, and many celebrities. Mr. Malibu recently seen on Warner Bros' EXTRA and red carpet celebrity events with world famous movie, TV, and rock stars will interview the red carpet arrivals.

The Malibu Music Awards & Festival celebrates the success and achievements of those who have made a significant contribution to the music industry and the discovery of emerging new talent and upcoming stars.

Past Malibu Music Award recipients include, Dick Van Dyke, Albert Lee, Kenny G, Colbie Caillat, Tom Petty, Pink, Grace Slick, Tanya Tucker, Joel Diamond, Johnny Mandel, Lee Ritenour, and Mort Lindsey (director of the Merv Griffin Orchestra). In his acceptance speech last year, Dick Van Dyke recognized the importance of Malibu Community events like the Malibu Music Awards.

The 2011 Malibu Music Awards & Festival participants and recipients include, Lainie Kazan "Lifetime Achievement Award", Frank Stallone "American Songbook Award", The BackBeats from NBC's The Sing Off, Cimorelli "The Jackson 5 Family Music Award", Robert Davi, Shwayze and Cisco Adler "Urban Music Award", Linda Thompson Honorary Chair and singer/songwriter, Larisa Stow & Shakti Tribe "New Age Music Award", Mike Pinera "Legendary Rocker Award:", Trevor McShane "Southern Folk Pop Award", 11 year old Benjamin Krasner "Classical Music Award", Camryn Kohn "Emily Shane Music & Dance Award, Koss Real Estate "Community Service Award", Julia Holland "Music Educator of the Year Award", Abraham `A.B.' McDonald "Inspirational R&B Award" winner , Peter Torsiello "Worship Music Award", along with Celebrity Presenters such as award winning actors Vincent Spano, Renee Taylor(The Nanny) & Joe Bologna, American Idol finalists & Malibu Residents, Hannah Mulholland & Carson Higgins, Buster, Chris Amodeo, & other VIP's including singer and TV star Rebecca Holden (Knightrider), Japanese Recording artist/actress Genevieve Mariko Wilson and others. The "Community Service Award" will be presented to Koss Real Estate in appreciation for their hosting of the event annually.

Every year, the Malibu Music Awards hosts an Original Songwriting Competition by SonicBids. The winner receives a one year recording contract and distribution deal with Arrival Records that could lead to a longer term if both parties mutually agree, and a recording session at Great Music Studio. The competition is judged by Music Producer Joel Diamond, Music Producer and Malibu Music Awards Founder Terence J. Davis, Rick Rand, CEO Arrival Records, Meg Hanson Universal A&R, Chris Henry- (Nashville), Heath Caan (Live Nation), Jenna Voorhees Universal, Vince Quintero former Sony AR, Kevin Carson EMI, and more.
Buy your tickets before they sell out at malibumusicawards.com

The Malibu Music Awards & Festival benefits the Malibu Symphony Association 501c3 (whose president is Laura Vahl-Gillespie), and children's music programs and community music efforts, with a portion of the proceeds donated to The Simms Mann Center for Integrative Oncology in recognition of the upcoming October's Breast Cancer Awareness Month.