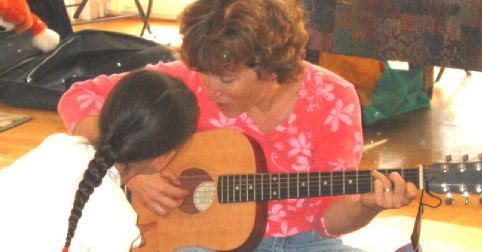 Imagine singing your kid's favorite songs while you play the guitar. Now imagine your pre-schooler strumming your guitar and singing along. If you don't yet play the guitar this may seem like a fairy tale, but Madelyn Clair, of Music With Madelyn, has designed a method whereby even a busy parent can learn to play the guitar after 4 weeks, in just 5 minutes a day.

Madelyn developed a course called Guitar for Busy Parents and has been teaching it in Boulder, CO for five years. Her goal was to develop an efficient guitar program where parents could learn to play 22 favorite kids songs (and since Madelyn has been teaching kids music for 11 years she knows what preschoolers like to sing) in a way that could be worked into a parent's busy life.

While this course is designed for beginners, it also appeals to parents who tried traditional adult guitar lessons but became frustrated and quit. In one private lesson and two group lessons she teaches chords as simple shapes, so that they are easy to picture and remember. And, further, her proprietary practice method is designed to get parents to play a song without looking at the guitar neck (a big mistake beginners make), so that the songs flow naturally, enabling kids to sing along.

As an ex-busy-parent herself (her daughter is a teen now), she knows how precious a parent's spare time is. "A lot of people are super-exicted when they realize I am only asking them to practice 5 mintues a day. But I know something that they will learn AFTER they get started: When you are a parent it is hard to do ANYTHING for 5 minutes a day. Because of that, so I make sure that those 5 minutes are packed with stuff that really accelerates your learning."

One goal in this course is to have kids strumming while the parents play the chords, and the whole family sings together. To demonstrate what this feels like, during part of the evening group workshop she has one parent hold the guitar and play the chords while another parent strums -- the way a toddler or preschooler would strum. "This is the most fun part of the course because kids strum sort of randomly -- and you still have to sing along and change chords in time. Everyone laughs the first time they try this."

Fun learning is key for Madelyn, but for some practicing isn't always fun. "I'm practical. Some parents will only be able to practice for one minute a day... so I designed the course to work with one minute of practice....
But not zero minutes." She emphasized that the key to success is an EVERY DAY commitment... even if it is only one minute.

One minute a day? This is something any parent can do. Picture a new family fun tradition of singing bedtime songs with a guitar, or singing around the campfire. This fun thing for parents and kids to do together is even more special because it inspires a love for music in children at a young age.

The next "Guitar for Busy Parents" starts in November. Visit www.musicwithmadelyn.com for more info or to register online. And don't worry if you don't live in Boulder; she is coming out with a DVD version of the course in June of 2012 - just in time for summer campfiires.

BONUS: If you already know how to play the guitar, or just want some song ideas, you can email her to request a free PDF of Madelyn's Seven Best Campfire Songs.