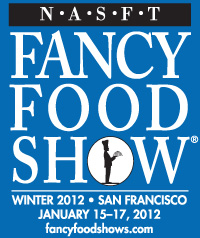 San Francisco -- California lives up to its reputation as an incubator for food trends with more than 360 specialty food makers from the state showcasing their latest culinary innovations at the Winter Fancy Food Show.
Now in its 37th year, the Winter Fancy Food Show is the largest marketplace devoted exclusively to specialty foods and beverages on the West Coast. There will be 1,300 exhibitors from across the U.S. and 35+ countries and regions. California has bragging rights as the largest state showing from the U.S., with almost four times the exhibitors as next-largest, New York, with close to 100 exhibitors.
The show takes place January 15 – 17 at Moscone Center in San Francisco. Italy has the largest international pavilion, followed by Germany, France and Canada.
California products include jalapeno fig jam from Riverside, chia seeds from Livermore, vegan chocolates with banana filling from Irvine and Candy Cap mushrooms from Napa.
Among California's exhibitors are:
Three Twins Ice Cream, Petaluma – organic ice cream
Mia's Kitchen, Sonoma – pasta sauces, olive oil, vinegars
Enray, Livermore – whole grains and sprouted foods
Recchiuti Confections, San Francisco – chocolate bars and hand-made confections
Just Tomatoes, Etc.!, Westley – dried fruit and vegetable snacks
Sierra Nevada Cheese Co., Willows – goat milk yogurt
Cup 4 Cup, Yountville – gluten-free flour
Koda Farms, South Dos Palos – sweet rice
Gabbi's Mexican Kitchen, Orange – hot sauces, infused oil
Savor California – Bringing together dozens of specialties from 27 niche producers statewide
California companies were well represented in the 2011 sofi™ Awards for the outstanding specialty foods and beverages of the year, with six food makers taking home coveted gold awards in the most competitive contest to date. The awards, presented by the National Association for the Specialty Food Trade, Inc. (NASFT), owner of the Fancy Food Show, are the top honor in the $70-billion specialty food industry. All 35 gold winners are on display in a special showcase (Lower Lobby, between North and South halls). A complete list of winners is at http://foodspring.com/sofiawards.
California sofi Gold winners are:
Anette's Chocolates – Chili Lime Tequila Tortilla Brittle
San Ramon-based Brands of Britain – Fever-Tree Ginger Ale
Chaparral Gardens – Blackberry Balsamic
Chuao Chocolatier – Spicy Maya Hot Chocolate
DOGSWELL® - Veggie Life Vitality Chicken & Sweet Potato
Point Reyes Farmstead Cheese Company – Point Reyes Original Blue Cheese
"This year's show is our largest ever in San Francisco," says NASFT president Ann Daw. "Our California exhibitors, with their passion for food, spirit of innovation and diverse product offerings, are a major attraction to buyers from around the world."
The Winter Fancy Food Show is a trade-only event that is closed to the general public. Attendee registration is open throughout the show at www.fancyfoodshows.com. The NASFT provides press badges to qualified journalists. Learn more.
About the NASFT
The NASFT is celebrating its 60th anniversary this year. Based in New York City, NASFT is a not-for-profit trade association established in 1952 that fosters trade, commerce and interest in the specialty food trade. The NASFT's website for consumers, foodspring.com, provides an insider's look at specialty foods and the entrepreneurs and artisans behind them. For more information, go to http://foodspring.com/about/nasft. For information about the NASFT's Winter and Summer Fancy Food Shows, go to www.fancyfoodshows.com
Fancy Food Show Exhibitor News: www.specialtyfood.com/exhibitornews
NASFT MEDIA CONTACTS:
Ron Tanner, VP Communications & Education; 646-878-0115, rtanner@nasft.org
Louise Kramer, Communications Director; 646-878-0130, lkramer@nasft.org