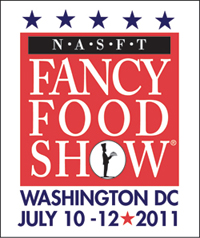 New York, N.Y. -
Argan oil from Morocco, twice-roasted seaweed from Korea, chunky papaya jam from Senegal and gluten-free pasta from Italy will be among the 180,000 foods from around the world on display at the Summer Fancy Food Show in Washington, D.C.
The show is the largest marketplace for specialty foods and beverages in North America. It will take place July 10 - 12, 2011, at the Walter E. Washington Convention Center.
New international exhibitors at the Summer Show include Wales, Kenya, Botswana and Bulgaria. Egypt, Israel, India and Russia are also set to display their culinary treasures. Countries back with bigger exhibits than at last year's Summer Fancy Food Show include Barbados, Tunisia, Peru, Sri Lanka, Greece, Morocco, China and France.
Over all, food artisans and entrepreneurs from some 80 countries and regions will fill the exhibit halls with their nation's gastronomic offerings of spices, confections, teas, vinegars, oils, cheese, yogurts, natural products and new twists on ethnic flavors.
The Italian Trade Commission, the show's largest international exhibitor, plans gelato-making demonstrations, tastings of wine, fresh-pressed juices, cheese and olive oil. Korea will create a pop-up restaurant run by Korean-born Chef Akira Back from Yellowtail Japanese Restaurant & Lounge at the Bellagio Resort & Casino in Las Vegas. Exhibitors from Jamaica will feature new twists on jerk seasonings.
"We've had strong demand from around the world to participate at our Summer Fancy Food Show this year. One third of our exhibit space will be devoted to the latest in international foods and flavors," says Ann Daw, president of the National Association for the Specialty Food Trade, Inc. (NASFT), the show's owner. "We're on track for a great show."
Countries and regions represented at the show include:
Africa Albania Argentina Austria Barbados Belgium Botswana Brazil
Bulgaria Canada China Costa Rica Cyprus Ecuador Egypt France
Germany Greece India Israel Italy Japan Jordan Korea Lebanon
Malaysia Mexico Morocco Panama Peru Poland Portugal Russia
Scotland Spain Sri Lanka Switzerland Syria Thailand Tunisia Turkey
United Kingdom United States Wales West Bank
Select the following link for a complete list of exhibitors:
Fancy Food Show Exhibitor Search
. For exhibitor news, go to
www.specialtyfood.com/exhibitornews
.
About the NASFT
The NASFT is a not-for-profit trade association established in 1952 to foster trade, commerce and interest in the specialty food industry. Today there are more than 2,900 members in the U.S. and abroad. The NASFT's website for consumers,
foodspring.com
, provides an insider's look at specialty foods and the companies, entrepreneurs and artisans behind them. For information on the NASFT, go to
foodspring.com/about/nasft
. For information on the NASFT's Fancy Food Shows, go to
foodspring.com/about/fancy-food
.
Press Registration
The Summer Fancy Food Show is for members of the specialty food trade only. It is closed to the general public. Press registration and show details can be found at
www.fancyfoodshows.com
.