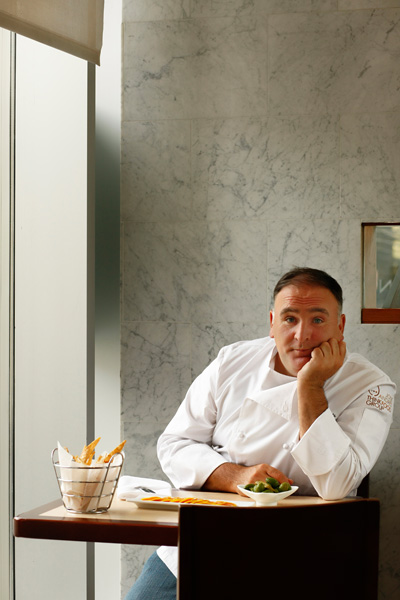 New York, N.Y. – Chef José Andrés will host the 40th annual sofi™ Awards to be presented at the Summer Fancy Food Show in Washington, D.C.
Named "Outstanding Chef" by the James Beard Foundation, and internationally recognized as a culinary innovator, Andrés will serve as keynote speaker and presenter of the awards at a red-carpet ceremony on June 18, 2012.
The sofi Awards are considered the top honor in the $70 billion specialty food industry. They recognize excellence in specialty foods and beverages in 32 categories from outstanding appetizer, antipasto or dip to outstanding vinegar. "sofi" stands for Specialty Outstanding Food Innovation.
The awards event is a highlight of the Summer Fancy Food Show, the largest marketplace for specialty foods and beverages in North America. It is owned and operated by the National Association for the Specialty Food Trade, Inc. (NASFT). The show will take place June 17 – 19, 2012, at the Walter E. Washington Convention Center.
Andrés is credited with introducing Americans to avant-garde and traditional Spanish cooking, and is a passionate advocate for food and hunger issues. His ThinkFoodGroup is responsible for some of the most noted dining concepts in Washington, D.C., including minibar by josé andrés, Jaleo, Zaytinya, Oyamel and America Eats Tavern.
In honor of his participation in the sofi Awards, NASFT will donate Andrés' speaking fee to World Central Kitchen, a global organization he leads that is committed to ending world hungerand DC Central Kitchen, the renowned non-profit in Washington he has long supported.
"Our sofi™ Awards recognize innovation and excellence. José Andrés is sure to provide inspiration to our honorees and the hundreds of specialty food artisans and entrepreneurs attending our gala event," says NASFT President Ann Daw.
"I am so happy to welcome the Fancy Food Show to Washington and to be a part of the sofi Awards this year," Andrés says. "World Central Kitchen is a new organization, and NASFT's contribution will be a great help toward pursuing our initiatives."
The sofi Awards event, including a pre-ceremony reception, will take place June 18 at 4:30 p.m. at the Walter E. Washington Convention Center. sofi Ceremony tickets may be purchased starting in mid-March via the Fancy Food Show registration page.
The Fancy Food Show is open to members of the specialty food trade and qualified journalists. It is not open to the general public. Attendee registration is open. Press registration opens March 19. For Press Badge requirements, visit the Press Registration Information Page.
About the NASFT
The NASFT is celebrating its 60th anniversary this year. Based in New York City, is a not-for-profit trade association established in 1952 that fosters trade, commerce and interest in the specialty food trade. Today there are more than 2,900 member companies in the U.S. and abroad. The NASFT's website for consumers, foodspring.com, provides an insider's look at specialty foods and the entrepreneurs and artisans behind them. For information about the NASFT and its Fancy Food Shows, go to specialtyfood.com.
NASFT MEDIA CONTACTS:
Ron Tanner, VP Communications & Education; 646-878-0115, rtanner@nasft.org
Louise Kramer, Communications Director; 646-878-0130, lkramer@nasft.org
Jill Collins, D.C. Press Consultant; 703.716.0925, or 703.626.5797, jill@jillcollinspr.com