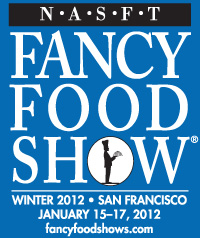 New York, N.Y. -- The Winter Fancy Food Show is on track to be the largest ever. The sold-out exhibit halls will be filled with inspiration for stories on the latest in specialty foods and beverages, emerging flavor trends, hot products and the artisans and entrepreneurs behind them. The show will be held Jan. 15 – 17, 2012, at Moscone Center.
To register for a press badge, go to fancyfoodshows.com.
Now in its 37th year, the Winter Fancy Food Show is the largest marketplace devoted exclusively to specialty foods and beverages on the West Coast. It is strategically held in January when buyers are looking to stock up for the new year, and to plan way ahead for the important holiday season. The show has a strong presence of buyers and exhibitors from the Pacific Rim, and the trend-setting West Coast.
Show highlights include:
80,000 products
1,300 exhibitors from 35+ countries and regions
17,000 attendees
First-time pavilions from Japan, China, Poland, Morocco and Chile
Pavilion featuring 30 emerging food entrepreneurs in special NASFT program
130 companies making their Fancy Food Show debut
20+ seminars, including Top 10 Mistakes Beginning Manufacturers Make
Trio of tastings: American Artisan Cheeses; New World Olive Oil; Salt & Pepper
Tweet Up: Event to share show finds and network (follow @nasft for info.)
Major food donation to Bay Area anti-hunger programs
The Fancy Food Show is an exclusive event for the specialty food trade; it is closed to the general public. The National Association for the Specialty Food Trade, Inc., (NASFT), the show's owner, provides complimentary press badges to qualified journalists. Learn more and register.
About the NASFT
The NASFT, based in New York City, is a not-for-profit trade association established in 1952 that fosters trade, commerce and interest in the specialty food trade. The NASFT's website for consumers, foodspring.com, provides an insider's look at specialty foods and the entrepreneurs and artisans behind them. For more information, go to http://foodspring.com/about/nasft. For information about the NASFT's Winter and Summer Fancy Food Shows, go to www.fancyfoodshows.com.
NASFT MEDIA CONTACTS:
Ron Tanner, VP Communications & Education; 646-878-0115, rtanner@nasft.org
Louise Kramer, Communications Director; 646-878-0130, lkramer@nasft.org