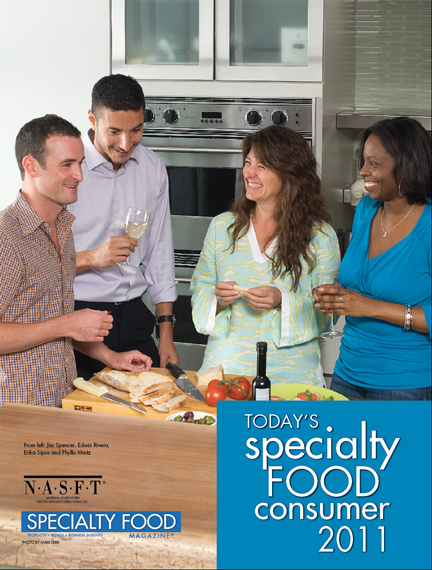 New York, N.Y. -
Shoppers are embracing specialty foods across all age groups and regions of the U.S. this year, according to new research from the National Association for the Specialty Food Trade, Inc.
Meanwhile, chocolate has knocked out coffee as the top specialty food purchase reported, and consumers say food contests with professional chefs are their favorite television food shows.
Amid weakening consumer confidence, 59 percent of consumers said they are purchasing specialty foods this year, a slight decline from 2010, according to "Today's Specialty Food Consumer 2011," the NASFT's annual report on consumer purchasing habits and trends.
Still, more than two thirds of consumers surveyed report buying specialty foods to treat themselves, and almost as many say they buy the foods for everyday meals at home.
"Economic challenges spell opportunity for the $70 billion specialty food industry," says Ron Tanner, Vice President, Communications and Education for the NASFT. "Specialty foods like dark chocolate, artisanal cheeses and creative condiments have become an integral part of the culinary landscape and consumers continue to enjoy them."
More than half of those surveyed said they are buying smaller portions of specialty foods they enjoy, such as smaller wedges of cheese or single-serving sizes of chocolate versus bars. The research revealed that 81 percent of specialty food consumers say they are cooking more at home to save money.
The report is based on a survey conducted in July 2011 by Mintel International and Toluna USA of 1,500 adults aged 18 and older, and published in the October issue of Specialty Food Magazine.
Shoppers 24-35 dominate specialty food purchasing, supplanting 2010's strongest purchasing group, consumers 18 - 24. Women are much more likely than men to purchase specialty foods and Midwesterners are least likely to make such a purchase.
After chocolate, the top specialty food purchases reported this year are olive oil and specialty oils; cheese, yogurt and kefir and cold non-alcoholic beverages. Coffee ranks sixth. Farmers markets are gaining as a source for specialty food, but supermarkets still dominate.
The NASFT will present an in-depth analysis of this research in a live webinar on Wednesday, October 5 at 2 p.m. ET. The session is available for purchase online, and for replay later this month at the
Knowledge Store on specialtyfood.com
.
Here are highlights from the report:
59 percent of U.S. consumers purchase specialty foods.

More than two-thirds of consumers buy specialty foods to treat themselves.

Consumers 25 - 34 are most likely to purchase specialty foods, at 71 percent.

Almost half of specialty food consumers purchase foods that support charities, up from one third in 2010. Cancer research, children's charities and local food banks lead the list of causes.

Facebook is by far the most prevalent social media tool, used by 72 percent of specialty food consumers.

Specialty food consumers spend an average of $90 per week on food for home, showing no change from 2010.

73 percent of specialty food consumers say they are willing to spend more for the highest quality ingredients, and 67 percent say they buy ingredients from different countries for specific recipes.

Coffee, chocolate and tea are the top three specialty products purchased online.

More than 80 percent of specialty food consumers are cooking at home and nearly three-quarters are dining out less at casual restaurants.

Women spend more per week than men on food for home: $94 for women; $86 for men.
About the NASFT
The NASFT is a not-for-profit trade association established in 1952 to foster trade, commerce and interest in the specialty food industry. Today there are more than 2,900 members in the U.S. and abroad. The NASFT's website for consumers, foodspring.com, provides an insider's look at specialty foods and the companies, entrepreneurs and artisans behind them. For information on the NASFT, go to
foodspring.com/about/nasft
. For information on the NASFT's Fancy Food Shows, go to
foodspring.com/about/fancy-food
.