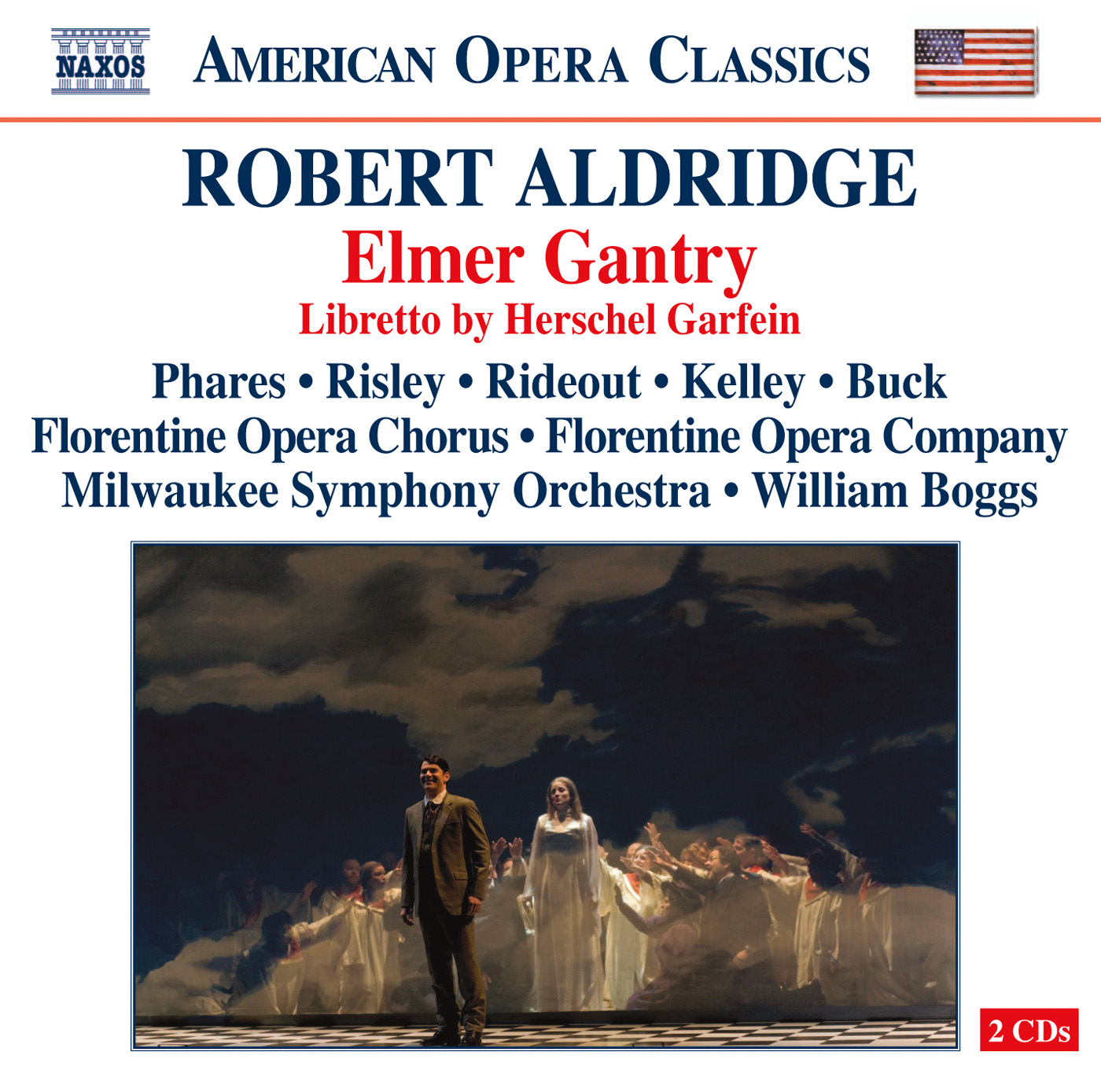 The Recording Academy® honored artists from Naxos, 2L, Bee Jazz, Cedille, Chandos, Dacapo, New Amsterdam, Ondine, Opus Arte, OUR Recordings, Sono Luminus and Warner Classics — with a combined 26 nominations across 11 categories this year. The 54th Annual Grammy® Awards will be announced on February 12, 2012.
Jim Selby, CEO of Naxos of America commented, "I am delighted to again see so many fine recordings from the NOA family of labels receive Grammy nominations. My congratulations to the artists, engineers and producers involved in each of these projects. Their talent and dedication creates the vitality and excitement that makes our industry so unique."
For a full list of nominations received by the Naxos of America family of labels, see below.
Robert Aldridge: Elmer Gantry (Naxos)
Robert Aldridge, composer; Herschel Garfein, librettist; Byeong-Joon Hwang & John Newton, engineers; Jesse Lewis, mastering engineer (William Boggs, Keith Phares, Patricia Risley, Vale Rideout, Frank Kelley, Heather Buck, Florentine Opera Chorus & Milwaukee Symphony Orchestra)
Nominations:
Best Engineered Album, Classical
Best Contemporary Classical Composition
Item number: 8669032-33
UPC: 730099903271

Gabriela Lena Frank: Hilos (Naxos)
Gabriela Lena Frank, composer; ALIAS Chamber Ensemble
Nomination:
Best Small Ensemble Performance
Item number: 8559645
UPC: 636943964521

Joseph Schwantner: Concerto for Percussion & Orchestra (Naxos)
Giancarlo Guerrero, conductor; Christopher Lamb (Nashville Symphony)
Track from: Schwantner: Chasing Light…
Nomination:
Best Classical Instrumental Solo

Item number: 8559678
UPC: 636943967829

Steven Mackey: Lonely Motel - Music from Slide (Cedille)
Steven Mackey composer; Tom Lazarus & Bill Maylone, engineers; Joe Lambert, mastering engineer (Rinde Eckert, Steven Mackey & Eighth Blackbird)
Nominations:
Best Contemporary Classical Composition
Best Engineered Album, Classical
Best Small Ensemble Performance
Item number: CDR 128
UPC: 735131912822
Kjetil Almenning, conductor; Morten Lindberg, surround mix engineer; Morten Lindberg, surround mastering engineer; Morten Lindberg, surround producer (Kjetil Almenning, Ensemble 96 & Nidaros String Quartet)
Nominations:
Best Choral Performance
Best Surround Sound Album

Item number: 2L076SABD
UPC: 7041888515722
York Bowen: Symphonies Nos. 1 & 2 (Chandos)
Andrew Davis, conductor (BBC Philharmonic)
Nomination:
Best Orchestral Performance
Item number: CHAN 10670
UPC: 095115167021

Benjamin Britten: Billy Budd (Opus Arte)
Mark Elder, conductor; John Mark Ainsley, Phillip Ens, Jacques Imbrailo, Darren Jeffery, Iain Paterson & Matthew Rose; James Whitbourn, producer (London Philharmonic Orchestra; Glyndebourne Chorus)
Nomination:
Best Opera Recording
Item number: OA 1051D
UPC: 809478010517
Hannu Lintu, conductor; Jaakko Kortekangas, Hannu Niemelä, Johanna Rusanen-Kartano & Mati Turi; Seppo Siirala, producer (Tampere Philharmonic Orchestra; Kaivos Chorus)
Nomination:
Best Opera Recording
Item number: ODE 1174-2
UPC: 761195117422

Guiseppe Verdi: La Traviata (Opus Arte)
Antonio Pappano, conductor; Joseph Calleja, Renée Fleming & Thomas Hampson; James Whitbourn, producer (Orchestra of the Royal Opera House; Royal Opera Chorus)
Nomination:
Best Opera Recording
Item number: OA 1040D
UPC: 809478010401

The Natural World of Pelle Gudmundsen-Holmgreen (Dacapo)
Paul Hillier, conductor (Ars Nova Copenhagen)
Nomination:
Best Choral Performance
Item number: 6220583
UPC: 747313158362

The Kingdoms of Castille (Sono Luminus)
Richard Savino, conductor; El Mundo
Nomination:
Best Small Ensemble Performance
Item number: DSL-92131
UPC: 053479213129

Chinese Recorder Concertos - East Meets West (OUR Recordings)
Lan Shui, conductor; Michala Petri (Copenhagen Philharmonic)
Nomination:
Best Classical Instrumental Solo
Item number: 6220603
UPC: 747313160365

Winging It - Piano Music of John Corigliano (Cedille)
Ursula Oppens
Nomination:
Best Classical Instrumental Solo
Item number: CDR 123
UPC: 735131912327

Grieg/Thommessen: Veslemøy Synsk (2L)
Marianne Beate Kielland (Nils Anders Mortensen)
Nomination:
Best Classical Vocal Solo
Item number: 2L078SABD
UPC: 7041888515920

Jefferson Friedman: String Quartet No. 3 (New Amsterdam)
Jefferson Friedman
Track from: Jefferson Friedman: Quartets
Nomination:
Best Contemporary Classical Composition
Item number: NWAM030
UPC: 884501469388
John Hollenbeck, composer (John Hollenbeck, Daniel Yvinec & Orchestre National de Jazz (ONJ))
Track from: Shut Up and Dance
Nomination:
Best Instrumental Composition
Item number: BEE042
UPC: 3760002134529

Alexander Glazunov: Complete Concertos (Warner Classics)
Richard King, engineer (José Serebrier, Alexey Serov, Wen-Sinn Yang, Alexander Romanovsky, Rachel Barton Pine, Marc Chisson & Russian National Orchestra)
Nomination:
Best Engineered Album, Classical
Item number: 2564679465
UPC: 825646794652

Mieczyslaw Weinberg: Symphony No. 3 & Suite No. 4 from 'The Golden Key' (Chandos)
Torbjörn Samuelsson, engineer (Thord Svedlund & Gothenburg Symphony Orchestra)
Nomination:
Best Engineered Album, Classical
Item number: CHSA 5089
UPC: 095115508923
Producer Of The Year, Classical
Blanton Alspaugh
Aldridge: Elmer Gantry (William Boggs, Keith Phares, Patricia Risley, Vale Rideout, Frank Kelley, Heather Buck, Florentine Opera Chorus & Milwaukee Symphony Orchestra) [Naxos] • Beethoven: Complete Piano Sonatas (Peter Takács) [Cambria]
David Frost
Chicago Symphony Orchestra Brass Live (Chicago Symphony Orchestra Brass) [CSO Resound] • Mackey: Lonely Motel - Music from Slide (Rinde Eckert, Steven Mackey & Eighth Blackbird) [Cedille]
Peter Rutenberg
The Vanishing Nordic Chorale (Philip Spray & Musik Ekklesia) [Sono Luminus]
Judith Sherman
Capricho Latino (Rachel Barton Pine) [Cedille] • 85th Birthday Celebration (Claude Frank) [Sono Luminus] • Notable Women - Trios by Today's Female Composers (Lincoln Trio) [Cedille] • The Soviet Experience, Vol. 1 - String Quartets By Dmitri Shostakovich & His Contemporaries (Pacifica Quartet) [Cedille] • Speak! (Anthony De Mare) [Innova] • Winging It - Piano Music of John Corigliano (Ursula Oppens) [Cedille]