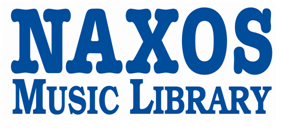 Franklin, TN - On May 7, 2012,
Naxos Music Library
, the world's largest collection of streaming classical, jazz, wind band, choral, classic rock and world music, surpassed one million tracks in its online catalog. This benchmark further cements Naxos Music Library's place as the pre-eminent educational music streaming service and a go-to resource for orchestras, schools, universities, and music lovers around the world.
Currently boasting the catalogs of 425 labels, Naxos Music Library was launched in 2004 by the world's leading classical music label, Naxos. Growing by more than 1,000 full-length recordings per month, the NML now offers liner notes, cover artwork, tracklists, instrumentation, libretti and synopses along with its streamed recordings. In addition to the Naxos Music Library, Naxos also offers the
Naxos Video Library
, launched in 2010 and offering streaming of over 1300 operas, ballets and concerts;
Naxos Music Library Jazz
;
Naxos Spoken Word Library
, an audiobook resource; and the
Naxos Sheet Music
, a downloadable sheet music database.
###
Naxos Music Library is a streaming audio resource that features over almost 70,000 albums from over 425 prestigious record labels, including ARC, Berlin Classics, BIS, Capriccio, Chandos, CPO, EMI Classics, Haenssler Classic, Hungaroton, Marco Polo, Naïve, Naxos, Nimbus, Ondine, Vanguard Classics and Virgin Classics, Sun Records, Nettwerk, and many others. As of January 2012, over 39,000 composers were represented on the NML, which is accessible to 15 million college students worldwide. When not at a computer, Naxos Music Library can be enjoyed from an iPad, Android, and Kindle Fire. NML is available for institutional and professional subscriptions and is currently being enjoyed by over 1,200 universities, performing arts organizations, and public libraries in the United States and Canada.
Celebrating 25 years in 2012, Naxos has evolved from its beginnings as a budget label to a leading classical music group. Headquartered in Hong Kong with distribution and marketing subsidiaries in fifteen countries, the group distributes its Naxos, Naxos AudioBook and Marco Polo labels and provides distribution and licensing services to more than 200 independent and major CD and DVD labels. The Naxos group is also an industry leader in music education boasting a wide range of physical and digital educational products. Operating across six platforms, The Naxos Group's digital products include the Naxos Music Library, Naxos Spoken Word Library and Naxos Video Library subscription services, as well as the ClassicsOnline download platform. Please visit
www.naxos.com
.