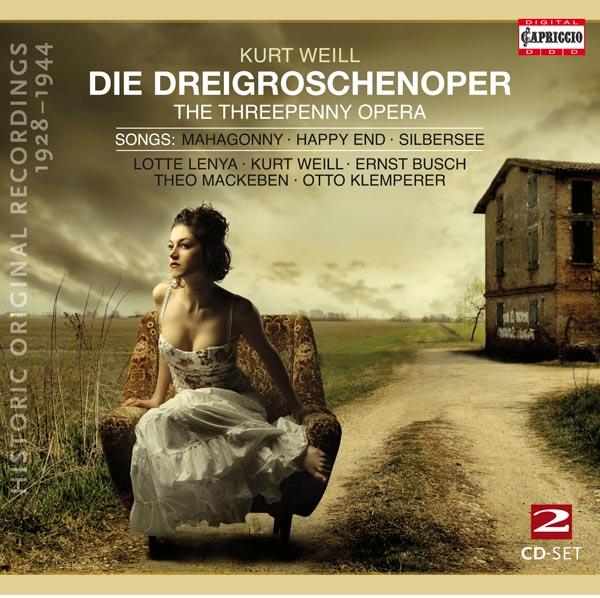 Naxos Distributed Label Priority Opera Releases for August 2011

Laurent Petitgirard; Guru; Petitgirard; Claessens; Petrovna; Do; Wierzba; Kahn; Vidal; Budapest Studio Choir & Honvéd Male Choir; Hungarian Symphony Orchestra Budapest; 2 CD; Naxos Opera 8660300-01 UPC 730099030076
Prize-winning French composer, Laurent Petitgirard, has written music in many forms, notably symphonic and music for film and television, but it is as an operatic composer that he has received perhaps the greatest acclaim. His opera on the subject of Joseph Merrick, the Elephant Man [Naxos CD 8.557608-09 / Marco Polo DVD 2.220001] was hailed as "a compelling and moving score-the composer's melodic gift is very much his own" (Sunday Telegraph). Guru, completed in 2009, is a work of similar stature. Ostensibly it concerns mass suicides in a cult, reminiscent of the 1978 Jonestown suicides, but Petitgirard's pleas for humanity, and against manipulation, are expressed with tremendous, very personal power, and compelling theatrical immediacy.

Kurt Weill, The Threepenny Opera Songs (Original Historic Recordings); Lotte Lenya; Kurt Weill; Lewis Ruth Band; Ernst Busch; Otto Klemperer; 2 CD; Capriccio C5061 UPC 845221050614
Capriccio presents a valuable addition to the history of recorded music. Between 1928 and 1930 more than 40 recordings of Kurt Weill's Dreigroschenoper (Threeepenny Opera) songs were made - vocal recordings as well as instrumental versions and dance arrangements. The first disc of this new release offers a representative selection of the best of those recordings, featuring various members of the original cast at the Schiffbauerdamm. The second disc in this set offers historic restorations from other Weill works recorded between 1927 and 1933. Also included - rare recordings by Kurt Weill and Lotte Lenya from 1943-44.

Giovanni Simone Mayr, La Lodoiska; Panzarella; Belfiore; Ovenden; Hasanagic; Reinhardt; Huh; Megele; Cilic; Maennerchor des Prager Philarmonischen Chors; Muenchner Rundfunkorchester; Petrou; Oehms Classics; 2 CD; OC 954 UPC 4260034869547
Giovanni Simone Mayr's "La Lodoiska" premiered in 1796 in Venice. It was among the most popular operas of its time. At the center of Mayr's turbulent opera, which is full of power politics, is a couple trying to find each other. Gripping and suspenseful throughout, the action of the choral and ensemble scenes supports this tableau from beginning to end. The figure of Lodoiska and her musical characterization are among Mayr's best creations. Giovanni Simone Mayr, the master of Italian opera from Bavaria, is experiencing a rightful Renaissance. In 2009 and 2010, his opera "Media in Corinto" underwent two great successes: at the Theater St. Gallen and the Bavarian State Opera.

Robert Schumann, Manfred, Johann von Bülow as Manfred, Directed and Artistic Visualisation by Johannes Deutsch, Düsseldorfer Symphoniker, conducted by Andrey Boreyko; 1 DVD; Arthaus 101575 UPC 807280157598
This musical adaptation of Lord Byron's famous Romantic closet drama, "Manfred", has been described as "truly spectacular" (Das Opernglas) In this Düsseldorf production, the audience "becomes" Manfred, experiencing through the eyes of the eponymous hero a projection of the visually alienated world of the Swiss mountains in which the story is set. Conducted by Andrey Boreyko and directed by Johannes Deutsch, this is one DVD you must watch.


Josquin des Prez, Missa Pange Lingua, Kammerchor Josquin des Prez; Ludwig Boehme; 1 CD; Carus CV83345 UPC 4009350833456
This musical setting of the Ordinary of the Mass by Franco-Flemish composer Josquin des Préz, is now available on CD with extensive liner notes in both English and French. The voices of the Kammerchor Josquin des Préz, under the baton of Ludwig Böhme, cannot help but to lift hearts to heaven in the celebration of the Holy Eucharist.

Ravel meets Gershwin, Berliner Philharmoniker, Sir Simon Rattle, Diane Reeves; 1 DVD; EuroArts 2053648 UPC 880242536488
It is a true celebration to welcome the New Year with one of the best orchestras in the world. The Gala from Berlin 2003 presents the outstanding Berliner Philharmoniker, conducted by Sir Simon Rattle with works by Maurice Ravel and songs by George Gershwin. Grammy-award winning jazz singer, Dianne Reeves, solos in this wonderful cross-over approach that joins two musical worlds at the highest level.

Richard Wagner, Der Fliegende Holländer, Rundfunk-Sinfonieorchester und Choir Berlin /Janowski/soloists; 2 SA-CD; PentaTone PTC5186400 UPC 827949040061
"Fliegende Holländer" (Flying Dutchman) is the beginning of a complete Wagner cycle (all 10 major operas) to be recorded/released in three years time (2013 is the Wagner year, as he was born in 1813). For the first time in recorded history one will be able listen to the complete cycle recorded by the same musicians. The artists here are the Rundfunk-Sinfonieorchester und Chor Berlin conducted by Marek Janowski and a stellar cast of soloists (Salminen, Merbeth, Dean Smith, Hablowetz, Davislim, and Dohmen).