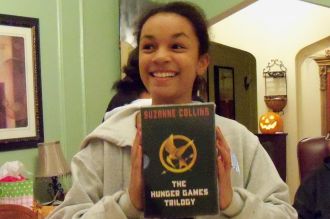 New Moon Girls has what no other book lists do: the top books for girls, chosen by girls. For the second year running, girls have voted for their favorite books in the Girls' Choice 2012 Book Awards.
"You can count on NMG to recommend media that girls love and that empowers them," says Nancy Gruver, Founder. And who better to recommend the best books around than the girls themselves?
Girls' Choice Award winners are nominated by girls in our annual survey at NewMoon.com. We also asked girl advocates to nominate their favorites in our adult survey. The Girls Choice Award winners were announced for the first time ever in 2011, and girls raved over the results.
"This is great! A lot of the books (on the list) are books I love, and a few of them gave me ideas!" said Emma, 13, of last year's winners.
Find out what books made the cut this year in our January/February 2012 issue. From fiction and nonfiction to mystery and fantasy, these lists are great for girls, teachers, parents, and other girl advocates who want to recommend a good read. They feature girls who are smart, brave, bold, funny, and adventurous!
We're also celebrating the Girls' Choice Book Award winners on NewMoon.com with girl-created book reviews, fun quizzes and more.
Don't miss out on the best book list of the year for girls worldwide!
###