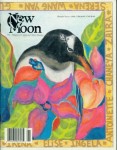 It's rare enough for a small independent media company to stay in business for 18 years. Even rarer is doing it without any advertising revenue, EVER. Then add on the major turmoil print periodicals have faced in the past 3 years, intensified by the great recession.
How has New Moon Girl Media thrived and remade itself? By keeping accountability to its reader-members uppermost in its mind with every decision.
Now NMGM provides both a safe, social network and a bi-monthly print magazine for girls ages 8 and up. It's come a long way from the creation of the first issue of the magazine in 1992 in the living room of the Gruver-Kelly family. That's when Nancy Gruver resolved to counteract the negative impact of media on tween and teen girls.
NMGM is the pioneer in making healthy media and community with girls. Since NMGM started, research affirms that health media is an important counter-balance to the sexualization of girls and women in media.
2007 report by the American Psychological Association
tells us that sexualization is linked to three of the most common girls' and women's mental health problems: eating disorders, low self-esteem, and depression.
New Moon Girls has helped a generation of girls grow up. Fans of NMG hold it close to their hearts. As one of its members says, "I love New Moon Girls! I love that girls like me get to express their own thoughts, without having them being re-interpreted by an adult. This magazine has given me the courage to be myself, and the confidence to take that with me where ever I go! Thank you!" - Virginia, 12, Idaho
Girls, parents, teachers and librarians alike are sharing their favorite memories of the media company that told them "We're listening," at:
http://www.newmoon.com/topic/?id=81
and
http://ar.gy/BSs
Girls today still love NMG as their source of positive and healthy media with supportive community.
###