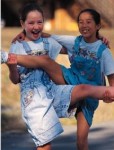 A new study says the desire to be popular causes kids to bully. Tara Parker-Pope reports in
The New York Times
. ".the authors argue that when it comes to mean behavior, the role of individual traits is "overstated," and much of it comes down to concern about status." The full study is in this month's
The American Sociological Review
. The researchers say, "Educators and parents are often unaware of the daily stress and aggression with which even socially well-adjusted students must cope."
What Does Popularity Really Mean to Tween Girls?
Always focused on the girls'-eye view,
New Moon Girls
asked our members (ages 8-14 worldwide) to let us in on this very prevalent issue in their lives:
NMG Popularity Survey
.
Girls told us:
If they feel they can be themselves when with friends
What they've done or said to be more popular
What other girls do to be more popular
If they have stayed friends with someone because that friend was popular
What makes them feel popular or content with themselves
and more!
Responses to "what makes them feel popular or content with themselves" may be the most heartening to read. Anyone who cares about girls or works with them needs to get this inside look at the lives of girls.
The safe social network at
newmoongirls.com
gives girls inspiring information and stories to support them in being happy being themselves while they navigate the twists and turn of finding their place in tween and teen society.
To further the conversation in families, Nancy Gruver, founder of New Moon Girls, is leading a
webinar
on Popularity Ups and Downs for girls and their parents on March 1, 2011.
###