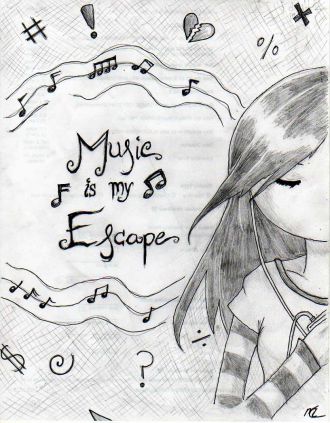 Girls' ears are flooded every day with music from TV, radio, MP3s, and their friends' favorite playlists. That's why it's too bad that many song lyrics have a negative influence, giving girls the message that they need to act sexually precocious, and, perhaps worst of all, making them feel inadequate in their own skin. The result is negative messages being constantly repeated in girls' minds, often below the level of conscious thought.
"Sometimes when I am listening to 'popular music,' which I sometimes like because of the beat or the tune, but rarely like for the lyrics, I can see what the song is saying and why I don't like it. But feel sad that sometimes other people I know can't do the same thing," says Molly, a NMG Girls Editorial Board member.
Concerned about the negative effect of some popular song lyrics,
New Moon Girls
asked girls to name the songs that make them feel powerful and satisfied being themselves. The questions were, "What are your favorite inner beauty songs? What songs make you feel good about
just being you
in the face of media that makes you feel like you will never be good enough?"
Girls nominated songs, and then voted on their favorites. Today we're
announcing the winners
:
5th Place: "Mean," by Taylor Swift
4th Place: "Just The Way You Are," by Bruno Mars
3rd Place: "Who Says," by Selena Gomez
2nd Place: "Born This Way," Lady Gaga
And the #1 song by leaps and bounds is Katy Perry's song, "Fireworks."
"I find this song inspiring because it tells you that 'you're a firework,' and that no matter what, you're important," says Marianna, 12, California.
Music has a powerful positive impact on how girls feel about themselves. Girls relate to it in times that they feel isolated from even supportive friends and family. Congratulations to
our winners
for making music that girls can be inspired by without having to degrade themselves or others in the process.
To see more inspiring girl-created content, and hear how girls on NewMoon.com feel about their favorite inner beauty songs,
click here
.