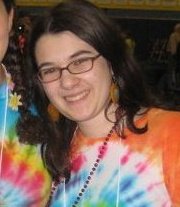 When middle school girls are dealing with bullying, boys, cliques, body image, drinking, smoking and other tough issues, the best resource is an older girl who's already been there.
New Moon Girls
is teaming with Sarah Manavis, a former NMG member now in high school, to give younger girls that support. The Sister to Sister program mentors members on
New Moon Girls
a safe social network.
Sarah and two other high schoolers, Alexa Salvato and Hallie Davis, are the founding mentors. Sarah approached NMG with the idea because she wants to help elementary and middle-school girls learn about and get ready to face the peer pressures and challenges that will bombard them in middle and high school.
"I remember being that age and having a hard time with the ebbs and flows of elementary school and junior high, and having older girls to help me was a life-saver," she said.
They moderate the
Sister to Sister message board,
interacting with girls and starting important discussions along the way.
Hallie says: "I remember the struggles I went through at that age and luckily, I had my older friends to help me figure out what to do, but I know a lot of girls don't have someone to fill that role, and I want to be able to help pass down some of my experiences to younger girls."
Girls can
ask any and all questions on the board
and expect to get a conversational, factual, honest, not preachy, age-appropriate support from one of the mentor to help them cope in healthy ways.
Sister to Sister
mentors also
blog on topics like bullying
. Posts address the concerns girls express on NMG's safe social network. From friendship and dating issues to the pressures of drugs, alcohol and body image, the mentors have it covered.
Alexa, who`s been a part of NMG since she was 8, says, "I hope to be the 'big sister' that at least one of the girls on New Moon needs when she's desperately wishing for advice one day. I hope to make them feel less alone, and more confident in themselves and their abilities."
Girls don't have to be their own worst enemies. Every day, NMG's Sister to Sister mentors show girls how they can support each other and get through the challenges of growing up.