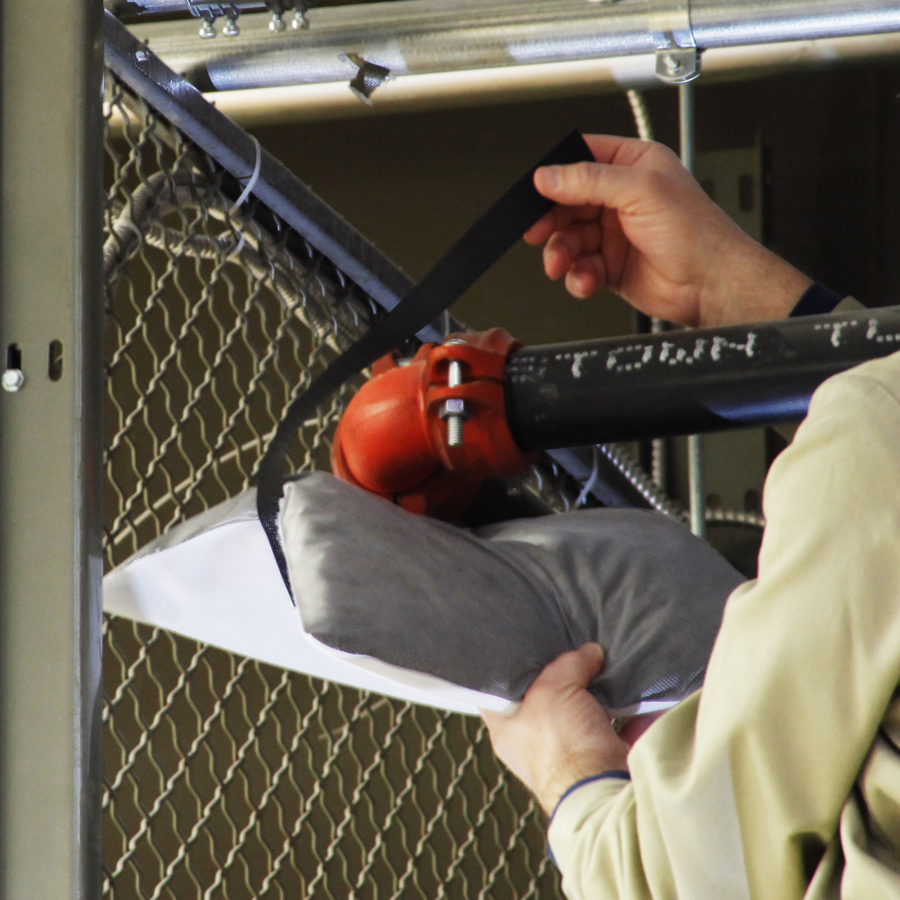 Tipton, PA, October 12, 2011 - New Pig Corporation has recently introduced the PIGr LEAKTRAPPERT Universal Absorbent Pillow - specifically designed to capture and absorb nuisance leaks at their source, before they hit the floor and become a hazard.

The PIGr LEAKTRAPPERT Universal Absorbent Pillow's [loop-backed bottom] attaches securely to heavy-duty Velcror hooks so that it can be easily positioned, and repositioned, around hose connections, or virtually anything that leaks. The Pillow's cellulose filler absorbs oils, coolants, solvents and water while its puncture-resistant, impermeable poly backing prevents strike-through onto surfaces.

Ideal for catching and retaining high-volume leaks and persistent drips, the PIGr LEAKTRAPPERT Pillow absorbs up to 33 oz. per pillow. Available in several sizes as well as an oil-only [option] version. For more information on this or any of New Pig's products, please visit newpig.com or call 1-800-HOT-HOGS.

In 1985, New Pig invented the first contained absorbent, the Original PIGr Absorbent Sock, changing leak and spill management forever. Built around its award-winning Pigalogr catalog, innovative product line, and legendary service, the company has thrived. Now a multi-channel, multi-brand supplier of innovative liquid management solutions to industrial, institutional, and government facilities in over 40 countries, PIGr products, services, and technical expertise help keep workplaces clean and safe.

The company's Pigalogr catalog features a wide variety of exclusive and innovative PIGr Brand products, including the largest selection of absorbent socks, mats, pillows, pans, and booms in the world. In addition, the expanding product line includes material handling equipment, personal protection apparel, spill response supplies, disposable and pre-moistened wipers, and other workplace safety products.

PIGr products and other quality brands are also available through its website at newpig.com. Other channels offering PIGr products include all Safety-Kleen branches, select Integrated Suppliers, and B-to-B E-Commerce exchanges.

###

For more information or a FREE Pigalogr catalog, contact New Pig at One Pork Avenue, Tipton, PA 16684-0304 or call 1-800-HOT-HOGSr (468-4647). The company's email address is hothogs@newpig.com and website is http://newpig.com.

NOTE: PIGr, 1-800-HOT-HOGSr and Pigalogr are registered trademarks of New Pig Corporation.