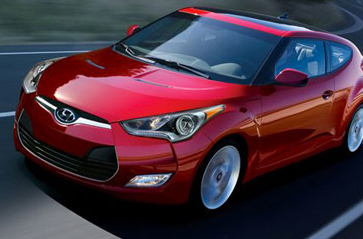 Hilton Head Hyundai is thrilled to report that The International Car of the Year Awards (ICOTY) announced the all-new Hyundai Veloster as the 2012 International Sporty Coupe of the Year – Most Personality! Selected by the ICOTY jury, a group of nationally-renowned automotive journalists, the 2012 Hyundai Veloster was deemed the most emotionally compelling new sporty coupe for the year.
"The Veloster is one of the most exciting and fun vehicles we've seen pass through the sporty coupe category in a long time," said Courtney Caldwell, ICOTY founder and executive producer. "The ICOTY jury agreed that the new Veloster had the most personality and will bond effortlessly with consumer lifestyles in both mind and spirit."
The 16th annual ICOTY presenters included Courtney Caldwell, editor-in-chief, Road & Travel Magazine; Denise McCluggage, famed auto journalist and author; and Ken Gross, auto writer for Playboy and Hemisphere's magazine.
"Conceived to attract new, youthful drivers to the Hyundai brand, Veloster stands out from the crowd with a stylish yet functional design that combines the best characteristics of both a coupe and hatchback," said Scott Margason, director, Product Planning, Hyundai Motor America. "The unique personality of the car is attracting many different types of shoppers and we're honored that the ICOTY jury agrees."
The Veloster is an innovative compact coupe that features ground-breaking design, with a unique third door for easy rear-seat access, Hyundai's Blue Link® telematics system, Pandora® internet radio with seven-inch touch-screen display and a new 1.6-liter direct-injected four-cylinder engine that can be mated to either Hyundai's first EcoShift™ dual-clutch transmission or a six-speed manual transmission. The Veloster is also one of four Hyundai vehicles that achieve 40 mpg on the highway, along with the Accent, Elantra and Sonata Hybrid.
To learn more about the Hyundai Veloster, or any of the other great vehicles in the Hyundai line up, click here.
ICOTY
The ICOTY Awards were founded in 1996 by Courtney Caldwell, editor-in-chief of Road & Travel Magazine. Its unique and pioneering theme was created by Caldwell to recognize automakers that successfully designed their vehicles to consumer lifestyles eliciting an emotional connection to, and passion for, the cars they own and drive, which translates into consumer loyalty. Today, many automakers use the 'emotional connection' theme in their national marketing and advertising campaigns to connect with consumers.
About Hilton Head Hyundai
Hilton Head Hyundai, a member of the New River Auto Mall, is located on U.S. Highway 278 approximately five miles east of Interstate I-95, Exit 8 in Jasper County, just west of Sun City and the University of South Carolina-Beaufort campus. Launched in 2002, New River Auto Mall encompasses 42 acres. It currently accommodates 10 dealerships: Audi Hilton Head, Hilton Head Chrysler Jeep Dodge Ram, Hilton Head Hyundai, Jaguar Land Rover Hilton Head, Infiniti of Hilton Head, Hilton Head Mazda, Hilton Head Nissan, Porsche of Hilton Head, Subaru of Hilton Head and Hilton Head Volkswagen.

The dealerships at the New River Auto Mall are owned by retail auto industry veterans Warner Peacock and Don Mealey, professional baseball legend Ken Griffey, Jr., and attorneys Greg Humphries and Jay Brennan. The organization is known for its quality service and broad selection of vehicles.