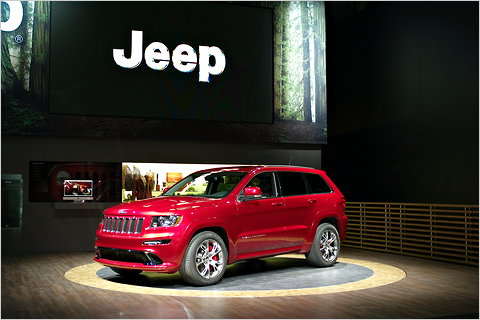 The Sales Professionals at Hilton Head Chrysler Jeep Dodge Ram are looking forward to summer, and this summer they have even more to look forward to than ever! The most powerful, technologically advanced, high-performance Jeep vehicle ever - the all-new 2012 Jeep Grand Cherokee SRT8r - arrives this summer with a combination of Jeep's legendary capability and utility, merged with the renowned advanced performance engineering from Chrysler Group LLC's Street and Racing Technology (SRT) team!
Delivering outstanding driving performance in all conditions, and complemented by key SRT attributes - including functional, performance-oriented styling, world-class ride and handling, benchmark braking and race-inspired interior appointments - the 2012 Jeep Grand Cherokee SRT8 broadens the Jeep vehicle lineup and builds upon the successful launch of the award-winning 2011 Jeep Grand Cherokee.
"The all-new 2012 Grand Cherokee SRT8 is the ultimate performance SUV, delivering a combination of Jeep capability and utility, world-class performance, luxury and refinement, and advanced innovative technology," said Mike Manley, President and CEO - Jeep Brand, Chrysler Group LLC. "Jeep vehicles have long been known for their off-road capability. In addition to Jeep four-wheel-drive traction and utility, the Grand Cherokee SRT8 takes capability to a new level by giving driving enthusiasts extreme performance for the street and track.
Designed and built using the proven SRT formula that raises the performance to astonishing levels, the new 2012 Jeep Grand Cherokee SRT8 runs from 0-60 mph in 4.8 seconds, 0-100-0 mph in the mid-16 second range, can cover the quarter mile in the mid-13 second range, has a top speed of 155 mph, and brakes from 60-0 mph in 116 feet.
Powering the 2012 Jeep Grand Cherokee SRT8 is Chrysler Group's all-new 6.4-liter HEMIr V-8 with Fuel Saver Technology that delivers an estimated 465 horsepower and 465 lb.-ft. of torque - an improvement of 45 horsepower and 45 lb.-ft. torque over the 6.1-liter HEMI V-8 it replaces.
An active intake manifold and high-lift camshaft with cam phasing delivers maximum low-end torque while optimizing high-end power across a wider and improved rpm band. Specifically, 90-percent of peak torque is available between 2,800 and 6,000 rpm, allowing for inspired standing starts and improved straight-line performance.
Standard Fuel Saver Technology and a new-for-2012 active valve exhaust system allows four-cylinder operation to engage over a wider rpm range, to deliver both improved fuel efficiency - an estimated 13-percent increase on the highway - and an extended range of approximately 450 miles on one tank of gas.
Standard steering wheel mounted paddle shifters join the standard AutoStick on the floor. Both are mated to a proven automatic transmission, allowing a choice of spirited shifting on the road and the race track. Both methods give the driver the ability to shift while the transmission controller calibration prevents situations that might over rev the engine. Fully adaptive electronic control of all shifting makes the powertrain more responsive while minimizing harshness.
Hilton Head Chrysler Jeep Dodge Ram,
a member of the
New River Auto Mall,
is located on U.S. Highway 278 approximately five miles east of Interstate I-95, Exit 8 in Jasper County, just west of Sun City and the University of South Carolina-Beaufort campus.  Launched in 2002, New River Auto Mall encompasses 42 acres. It currently accommodates 9 dealerships: Audi Hilton Head, Hilton Head Chrysler Jeep Dodge Ram, Hilton Head Hyundai, Jaguar Land Rover Hilton Head, Key Infiniti, Key Mazda, Key Nissan, Porsche of Hilton Head and Hilton Head Volkswagen.
The dealerships at the New River Auto Mall are owned by retail auto industry veterans Warner Peacock and Don Mealey, professional baseball legend Ken Griffey, Jr., and attorneys Greg Humphries and Jay Brennan. The organization is known for its quality service and broad selection of vehicles.